Versículos de la Biblia sobre el Aprendizaje
«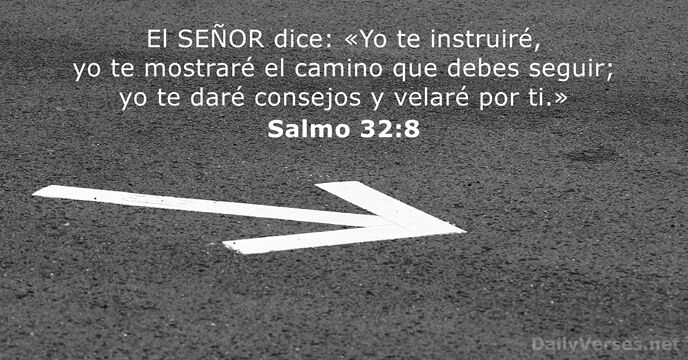 »
El S

eñor

dice: «Yo te instruiré, yo te mostraré el camino que debes seguir; yo te daré consejos y velaré por ti.»

I will instruct you and teach you in the way you should go; I will counsel you with my loving eye on you.

Pongan en práctica lo que de mí han aprendido, recibido y oído, y lo que han visto en mí, y el Dios de paz estará con ustedes.

Whatever you have learned or received or heard from me, or seen in me—put it into practice. And the God of peace will be with you.

Por eso, anímense y edifíquense unos a otros, tal como lo vienen haciendo.

Therefore encourage one another and build each other up, just as in fact you are doing.

El temor del S

eñor

es el principio del conocimiento; los necios desprecian la sabiduría y la disciplina.
The fear of the L

ord

is the beginning of knowledge, but fools despise wisdom and instruction.
Hijo mío, no desprecies la disciplina del S

eñor

, ni te ofendas por sus reprensiones. Porque el S

eñor

disciplina a los que ama, como corrige un padre a su hijo querido.
My son, do not despise the L

ord

's discipline, and do not resent his rebuke, because the L

ord

disciplines those he loves, as a father the son he delights in.
S

eñor

, hazme conocer tus caminos; muéstrame tus sendas.
Show me your ways, L

ord

, teach me your paths.

Que habite en ustedes la palabra de Cristo con toda su riqueza: instrúyanse y aconséjense unos a otros con toda sabiduría; canten salmos, himnos y canciones espirituales a Dios, con gratitud de corazón.

Let the message of Christ dwell among you richly as you teach and admonish one another with all wisdom through psalms, hymns, and songs from the Spirit, singing to God with gratitude in your hearts.

Encamíname en tu verdad, ¡enséñame! Tú eres mi Dios y Salvador; ¡en ti pongo mi esperanza todo el día!

Guide me in your truth and teach me, for you are God my Savior, and my hope is in you all day long.

El que ama la disciplina ama el conocimiento, pero el que la aborrece es un necio.

Whoever loves discipline loves knowledge, but whoever hates correction is stupid.

Yo te guío por el camino de la sabiduría, te dirijo por sendas de rectitud.

I instruct you in the way of wisdom and lead you along straight paths.

Enséñame a hacer tu voluntad, porque tú eres mi Dios. Que tu buen Espíritu me guíe por un terreno sin obstáculos.

Teach me to do your will, for you are my God; may your good Spirit lead me on level ground.

Carguen con mi yugo y aprendan de mí, pues yo soy apacible y humilde de corazón, y encontrarán descanso para su alma. Porque mi yugo es suave y mi carga es liviana.

Take my yoke upon you and learn from me, for I am gentle and humble in heart, and you will find rest for your souls. For my yoke is easy and my burden is light.

Bueno y justo es el S

eñor

; por eso les muestra a los pecadores el camino. Él dirige en la justicia a los humildes, y les enseña su camino.
Good and upright is the L

ord

; therefore he instructs sinners in his ways. He guides the humble in what is right and teaches them his way.

En cuanto a ustedes, la unción que de él recibieron permanece en ustedes, y no necesitan que nadie les enseñe. Esa unción es auténtica —no es falsa— y les enseña todas las cosas. Permanezcan en él, tal y como él les enseñó.

As for you, the anointing you received from him remains in you, and you do not need anyone to teach you. But as his anointing teaches you about all things and as that anointing is real, not counterfeit—just as it has taught you, remain in him.

Por tanto, vayan y hagan discípulos de todas las naciones, bautizándolos en el nombre del Padre y del Hijo y del Espíritu Santo, enseñándoles a obedecer todo lo que les he mandado a ustedes. Y les aseguro que estaré con ustedes siempre, hasta el fin del mundo.

Therefore go and make disciples of all nations, baptizing them in the name of the Father and of the Son and of the Holy Spirit, and teaching them to obey everything I have commanded you. And surely I am with you always, to the very end of the age.

Tú, en cambio, predica lo que está de acuerdo con la sana doctrina.

You, however, must teach what is appropriate to sound doctrine.

Mi enseñanza no es mía —replicó Jesús—, sino del que me envió.

Jesus answered, "My teaching is not my own. It comes from the one who sent me."

Y día tras día, en el templo y de casa en casa, no dejaban de enseñar y anunciar las buenas nuevas de que Jesús es el Mesías.

Day after day, in the temple courts and from house to house, they never stopped teaching and proclaiming the good news that Jesus is the Messiah.

Todo mi ser te desea por las noches; por la mañana mi espíritu te busca. Pues, cuando tus juicios llegan a la tierra, los habitantes del mundo aprenden lo que es justicia.

My soul yearns for you in the night; in the morning my spirit longs for you. When your judgments come upon the earth, the people of the world learn righteousness.

Pero el Consolador, el Espíritu Santo, a quien el Padre enviará en mi nombre, les enseñará todas las cosas y les hará recordar todo lo que les he dicho.

But the Advocate, the Holy Spirit, whom the Father will send in my name, will teach you all things and will remind you of everything I have said to you.

Reconoce en tu corazón que, así como un padre disciplina a su hijo, también el S

eñor

tu Dios te disciplina a ti.
Know then in your heart that as a man disciplines his son, so the L

ord

your God disciplines you.

Ustedes saben que no he vacilado en predicarles todo lo que les fuera de provecho, sino que les he enseñado públicamente y en las casas.

You know that I have not hesitated to preach anything that would be helpful to you but have taught you publicly and from house to house.

Todo el que infrinja uno solo de estos mandamientos, por pequeño que sea, y enseñe a otros a hacer lo mismo, será considerado el más pequeño en el reino de los cielos; pero el que los practique y enseñe será considerado grande en el reino de los cielos.

Therefore anyone who sets aside one of the least of these commands and teaches others accordingly will be called least in the kingdom of heaven, but whoever practices and teaches these commands will be called great in the kingdom of heaven.

Instrúyeme, S

eñor

, en tu camino para conducirme con fidelidad. Dame integridad de corazón para temer tu nombre.
Teach me your way, L

ord

, that I may rely on your faithfulness; give me an undivided heart, that I may fear your name.
Pues Dios no nos ha dado un espíritu de timidez, sino de poder, de amor y de dominio propio.
Plan de lectura de la Biblia
Registrar y configurar su plan de lectura de la Biblia que desea ver su progreso y el siguiente capítulo para leer aquí!