Versículos de la Biblia sobre Libre de Culpa
«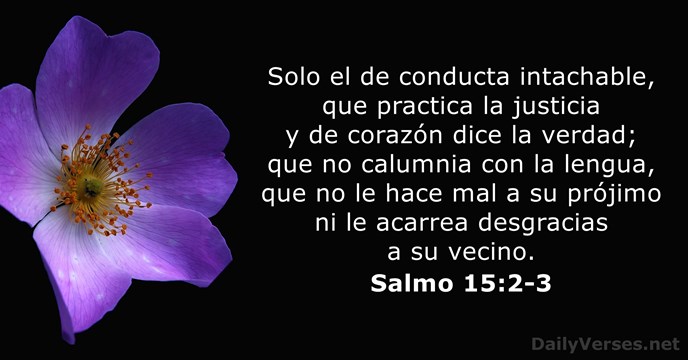 »
Solo el de conducta intachable, que practica la justicia y de corazón dice la verdad; que no calumnia con la lengua, que no le hace mal a su prójimo ni le acarrea desgracias a su vecino.

The one whose walk is blameless, who does what is righteous, who speaks the truth from their heart; whose tongue utters no slander, who does no wrong to a neighbor, and casts no slur on others.

Todos fallamos mucho. Si alguien nunca falla en lo que dice, es una persona perfecta, capaz también de controlar todo su cuerpo.

We all stumble in many ways. Anyone who is never at fault in what they say is perfect, able to keep their whole body in check.

Háganlo todo sin quejas ni contiendas, para que sean intachables y puros, hijos de Dios sin culpa en medio de una generación torcida y depravada. En ella ustedes brillan como estrellas en el firmamento, manteniendo en alto la palabra de vida.

Do everything without grumbling or arguing, so that you may become blameless and pure, "children of God without fault in a warped and crooked generation." Then you will shine among them like stars in the sky as you hold firmly to the word of life.

No se amolden al mundo actual, sino sean transformados mediante la renovación de su mente. Así podrán comprobar cuál es la voluntad de Dios, buena, agradable y perfecta.

Do not conform to the pattern of this world, but be transformed by the renewing of your mind. Then you will be able to test and approve what God's will is—his good, pleasing and perfect will.

Asegúrense de que nadie pague mal por mal; más bien, esfuércense siempre por hacer el bien, no solo entre ustedes, sino a todos.

Make sure that nobody pays back wrong for wrong, but always strive to do what is good for each other and for everyone else.

Por encima de todo, vístanse de amor, que es el vínculo perfecto.

And over all these virtues put on love, which binds them all together in perfect unity.

El camino de Dios es perfecto; la palabra del S

eñor

es intachable. Escudo es Dios a los que en él se refugian.
As for God, his way is perfect: The L

ord

's word is flawless; he shields all who take refuge in him.

Les suplico, hermanos, en el nombre de nuestro Señor Jesucristo, que todos vivan en armonía y que no haya divisiones entre ustedes, sino que se mantengan unidos en un mismo pensar y en un mismo propósito.

I appeal to you, brothers and sisters, in the name of our Lord Jesus Christ, that all of you agree with one another in what you say and that there be no divisions among you, but that you be perfectly united in mind and thought.

Dichosos los que van por caminos perfectos, los que andan conforme a la ley del S

eñor

.
Blessed are those whose ways are blameless, who walk according to the law of the L

ord

.

Él, en cambio, conoce mis caminos; si me pusiera a prueba, saldría yo puro como el oro. En sus sendas he afirmado mis pies; he seguido su camino sin desviarme.

But he knows the way that I take; when he has tested me, I will come forth as gold. My feet have closely followed his steps; I have kept to his way without turning aside.

Hasta ahora no han pedido nada en mi nombre. Pidan y recibirán, para que su alegría sea completa.

Until now you have not asked for anything in my name. Ask and you will receive, and your joy will be complete.

La religión pura y sin mancha delante de Dios nuestro Padre es esta: atender a los huérfanos y a las viudas en sus aflicciones, y conservarse limpio de la corrupción del mundo.

Religion that God our Father accepts as pure and faultless is this: to look after orphans and widows in their distress and to keep oneself from being polluted by the world.

Él reserva su ayuda para la gente íntegra y protege a los de conducta intachable.

He holds success in store for the upright, he is a shield to those whose walk is blameless.

El camino de Dios es perfecto; la palabra del S

eñor

es intachable. Escudo es Dios a los que en él se refugian.
As for God, his way is perfect: The L

ord

's word is flawless; he shields all who take refuge in him.

Toda buena dádiva y todo don perfecto descienden de lo alto, donde está el Padre que creó las lumbreras celestes, y que no cambia como los astros ni se mueve como las sombras.

Every good and perfect gift is from above, coming down from the Father of the heavenly lights, who does not change like shifting shadows.

Si quieres ser perfecto, anda, vende lo que tienes y dáselo a los pobres, y tendrás tesoro en el cielo. Luego ven y sígueme.

Jesus answered, "If you want to be perfect, go, sell your possessions and give to the poor, and you will have treasure in heaven. Then come, follow me."

Y, consumada su perfección, llegó a ser autor de salvación eterna para todos los que le obedecen.

And, once made perfect, he became the source of eternal salvation for all who obey him.

Les he dicho esto para que tengan mi alegría y así su alegría sea completa.

I have told you this so that my joy may be in you and that your joy may be complete.
Pues Dios no nos ha dado un espíritu de timidez, sino de poder, de amor y de dominio propio.
Plan de lectura de la Biblia
Registrar y configurar su plan de lectura de la Biblia que desea ver su progreso y el siguiente capítulo para leer aquí!