19 Bible Verses about Freedom
«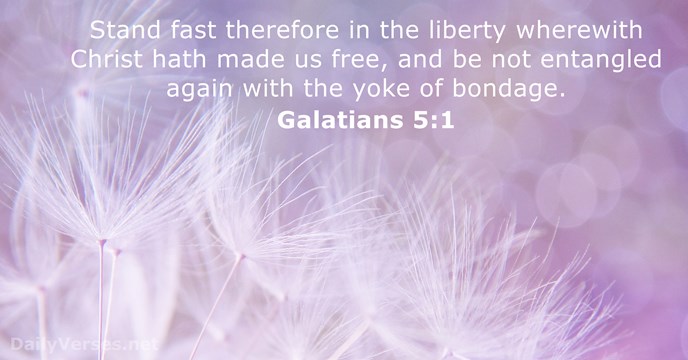 »
Stand fast therefore in the liberty wherewith Christ hath made us free, and be not entangled again with the yoke of bondage.

Christus heeft ons bevrijd. Daardoor kunnen we als vrije mensen leven. Houd dus vol en laat niemand je weer slaaf maken.

Now the Lord is that Spirit: and where the Spirit of the Lord is, there is liberty.

En de heilige Geest maakt mensen vrij, zodat ze alles kunnen begrijpen.

If the Son therefore shall make you free, ye shall be free indeed.

Zo iemand heeft geen plaats bij God. Maar de Zoon van God kan je bevrijden. En als je bevrijd bent, heb je voor altijd een plaats bij God.

For, brethren, ye have been called unto liberty; only use not liberty for an occasion to the flesh, but by love serve one another.

Vrienden, God wil dat jullie als vrije mensen leven. Maar gebruik die vrijheid niet om toe te geven aan slechte verlangens. Gebruik die vrijheid om met liefde voor elkaar te zorgen.

All things are lawful unto me, but all things are not expedient: all things are lawful for me, but I will not be brought under the power of any.

Jullie zeggen: 'Wij mogen doen wat we willen.' Maar ik zeg: Ja, maar niet alles is goed! Jullie zeggen: 'Wij mogen doen wat we willen.' Maar ik zeg: Laat je leven niet beheersen door slechte verlangens!

The Spirit of the Lord G

od

is upon me; because the L

ord

hath anointed me to preach good tidings unto the meek; he hath sent me to bind up the brokenhearted, to proclaim liberty to the captives, and the opening of the prison to them that are bound.

Gods dienaar zegt: 'God, de Heer, heeft mij uitgekozen. Hij heeft mij zijn geest gegeven. Hij heeft mij gestuurd om aan arme mensen het goede nieuws te brengen. En om aan mensen die lijden, weer hoop te geven. Hij heeft me gestuurd om tegen gevangenen te zeggen: 'Jullie zijn vrij!''

And I will walk at liberty: for I seek thy precepts.

Als ik blijf denken aan uw woorden, zal mijn leven niet moeilijk zijn.

Many are the afflictions of the righteous: but the L

ord

delivereth him out of them all.

Goede mensen hebben het vaak moeilijk. Maar de Heer redt hen steeds weer.

Then said Jesus to those Jews which believed on him, If ye continue in my word, then are ye my disciples indeed; And ye shall know the truth, and the truth shall make you free.

Jezus zei tegen de Joden die in hem geloofden: 'Mijn boodschap moet in jullie hart zijn. Alleen dan zijn jullie echt mijn leerlingen. Dan zullen jullie de waarheid kennen, en daardoor zullen jullie bevrijd worden.'

As free, and not using your liberty for a cloke of maliciousness, but as the servants of God.

Jullie zijn bevrijd van jullie vroegere leven. Maar die vrijheid is geen excuus om je slecht te gedragen. Jullie zijn nu dienaren van God, en hij wil dat jullie goede dingen doen. Misschien stoppen de ongelovigen dan met het vertellen van onzin over jullie.

There is therefore now no condemnation to them which are in Christ Jesus, who walk not after the flesh, but after the Spirit. For the law of the Spirit of life in Christ Jesus hath made me free from the law of sin and death.

De mensen die bij Jezus Christus horen, zijn bevrijd van Gods straf. Wij waren in de macht van de zonde en de dood. Maar de heilige Geest heeft ons uit die macht bevrijd. En dankzij Jezus Christus krijgen we het eeuwige leven.

But now being made free from sin, and become servants to God, ye have your fruit unto holiness, and the end everlasting life.

Maar nu zijn jullie bevrijd van de zonde. Nu zijn jullie slaven van God, nu leven jullie als mensen die bij God horen. Zo'n leven leidt tot het eeuwige leven.

The Spirit of the Lord is upon me, because he hath anointed me to preach the gospel to the poor; he hath sent me to heal the brokenhearted, to preach deliverance to the captives, and recovering of sight to the blind, to set at liberty them that are bruised.

God heeft mij uitgekozen. Daarom is zijn Geest bij mij. God heeft mij gestuurd om aan arme mensen het goede nieuws te vertellen. En om tegen gevangenen te zeggen dat ze weer vrij zijn. Om blinden te vertellen dat ze weer zullen zien. En om mensen die het moeilijk hebben, te helpen.

What then? shall we sin, because we are not under the law, but under grace? God forbid.

Betekent dit dat we kunnen doorgaan met het doen van verkeerde dingen? Nee, natuurlijk niet!

But whoso looketh into the perfect law of liberty, and continueth therein, he being not a forgetful hearer, but a doer of the work, this man shall be blessed in his deed.

Je moet je altijd laten leiden door Gods wet. Want die wet is volmaakt, en geeft je vrijheid. Je moet niet alleen maar naar Gods wet luisteren, en Gods woorden meteen weer vergeten. Nee, je moet ook doen wat God van je vraagt. Dan zul je gelukkig zijn!

God setteth the solitary in families: he bringeth out those which are bound with chains: but the rebellious dwell in a dry land.

God geeft aan eenzame mensen een thuis. Aan gevangenen geeft hij de vrijheid, hij maakt hen gelukkig. Maar mensen die zich tegen hem verzetten, zullen ongelukkig worden.

Ye that love the L

ord

, hate evil: he preserveth the souls of his saints; he delivereth them out of the hand of the wicked.

Alle mensen die de Heer liefhebben, moeten het kwaad haten. De Heer beschermt zijn volk, hij beschermt de mensen die hem trouw zijn. Hij redt hen uit de macht van zijn vijanden.

Be it known unto you therefore, men and brethren, that through this man is preached unto you the forgiveness of sins: And by him all that believe are justified from all things, from which ye could not be justified by the law of Moses.

Vrienden, luister goed naar wat ik zeg. Dankzij Jezus wil God onze fouten vergeven. Ook alle fouten die volgens de wet van Mozes niet vergeven kunnen worden. Als je in Jezus gelooft, dan word je gered.

Help us, O God of our salvation, for the glory of thy name: and deliver us, and purge away our sins, for thy name's sake.

U bent machtig, help ons en red ons. U bent onze God, red ons en vergeef ons!
Who is he that overcometh the world, but he that believeth that Jesus is the Son of God?
And Jesus said unto him, Go thy way; thy faith hath made thee whole. And immediately he received his sight, and followed Jesus in the way.
Read more
Who is he that overcometh the world, but he that believeth that Jesus is the Son of God?
Personal Bible reading plan
Create an account to configure your Bible reading plan and you will see your progress and the next chapter to read here!
Read more...