Bible Verses about Healing
«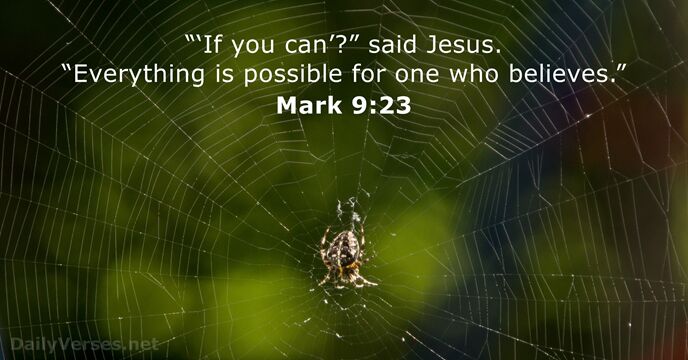 »
"'If you can'?" said Jesus. "Everything is possible for one who believes."

Jesús le dijo: —Si puedes creer, al que cree todo le es posible.

Hearing this, Jesus said to Jairus, "Don't be afraid; just believe, and she will be healed."

Oyéndolo Jesús, le respondió: —No temas; cree solamente y será salva.

He heals the brokenhearted and binds up their wounds.

Él sana a los quebrantados de corazón y venda sus heridas.

Is anyone among you sick? Let them call the elders of the church to pray over them and anoint them with oil in the name of the Lord. And the prayer offered in faith will make the sick person well; the Lord will raise them up. If they have sinned, they will be forgiven.

¿Está alguno enfermo entre vosotros? Llame a los ancianos de la iglesia para que oren por él, ungiéndolo con aceite en el nombre del Señor. Y la oración de fe salvará al enfermo, y el Señor lo levantará; y si ha cometido pecados, le serán perdonados.

"Go," said Jesus, "your faith has healed you." Immediately he received his sight and followed Jesus along the road.

Jesús le dijo: —Vete, tu fe te ha salvado. Al instante recobró la vista, y seguía a Jesús por el camino.

Heal the sick, raise the dead, cleanse those who have leprosy, drive out demons. Freely you have received; freely give.

Sanad enfermos, limpiad leprosos, resucitad muertos, echad fuera demonios; de gracia recibisteis, dad de gracia.

A cheerful heart is good medicine, but a crushed spirit dries up the bones.

El corazón alegre es una buena medicina, pero el espíritu triste seca los huesos.

Therefore confess your sins to each other and pray for each other so that you may be healed. The prayer of a righteous person is powerful and effective.

Confesaos vuestras ofensas unos a otros y orad unos por otros, para que seáis sanados. La oración eficaz del justo puede mucho.

If my people, who are called by my name, will humble themselves and pray and seek my face and turn from their wicked ways, then I will hear from heaven, and I will forgive their sin and will heal their land.

Si se humilla mi pueblo, sobre el cual mi nombre es invocado, y oran, y buscan mi rostro, y se convierten de sus malos caminos; entonces yo oiré desde los cielos, perdonaré sus pecados y sanaré su tierra.

But he was pierced for our transgressions, he was crushed for our iniquities; the punishment that brought us peace was on him, and by his wounds we are healed.

Mas él fue herido por nuestras rebeliones, molido por nuestros pecados. Por darnos la paz, cayó sobre él el castigo, y por sus llagas fuimos nosotros curados.

But for you who revere my name, the sun of righteousness will rise with healing in its rays. And you will go out and frolic like well-fed calves.

Mas para vosotros, los que teméis mi nombre, nacerá el sol de justicia y en sus alas traerá salvación. Saldréis y saltaréis como becerros de la manada.

"He himself bore our sins" in his body on the cross, so that we might die to sins and live for righteousness; "by his wounds you have been healed."

Él mismo llevó nuestros pecados en su cuerpo sobre el madero, para que nosotros, estando muertos a los pecados, vivamos a la justicia. ¡Por su herida habéis sido sanados!

Go back and tell Hezekiah, the ruler of my people, 'This is what the L

ord

, the God of your father David, says: I have heard your prayer and seen your tears; I will heal you. On the third day from now you will go up to the temple of the L

ord

.'

Vuelve, y dile a Ezequías, príncipe de mi pueblo: "Así dice Jehová, el Dios de David, tu padre: He oído tu oración, he visto tus lágrimas y voy a sanarte: dentro de tres días subirás a la casa de Jehová."

Heal the sick who are there and tell them, 'The kingdom of God has come near to you.'

Y sanad a los enfermos que en ella haya, y decidles: "Se ha acercado a vosotros el reino de Dios."

On hearing this, Jesus said, "It is not the healthy who need a doctor, but the sick."

Al oír esto Jesús, les dijo: —Los sanos no tienen necesidad de médico, sino los enfermos.

If you listen carefully to the L

ord

your God and do what is right in his eyes, if you pay attention to his commands and keep all his decrees, I will not bring on you any of the diseases I brought on the Egyptians, for I am the L

ord

, who heals you.

Si escuchas atentamente la voz de Jehová, tu Dios, y haces lo recto delante de sus ojos, das oído a sus mandamientos y guardas todos sus estatutos, ninguna enfermedad de las que envié sobre los egipcios traeré sobre ti, porque yo soy Jehová, tu sanador.

On a Sabbath Jesus was teaching in one of the synagogues, and a woman was there who had been crippled by a spirit for eighteen years. She was bent over and could not straighten up at all. When Jesus saw her, he called her forward and said to her, "Woman, you are set free from your infirmity." Then he put his hands on her, and immediately she straightened up and praised God. Indignant because Jesus had healed on the Sabbath, the synagogue leader said to the people, "There are six days for work. So come and be healed on those days, not on the Sabbath." The Lord answered him, "You hypocrites! Doesn't each of you on the Sabbath untie your ox or donkey from the stall and lead it out to give it water? Then should not this woman, a daughter of Abraham, whom Satan has kept bound for eighteen long years, be set free on the Sabbath day from what bound her?" When he said this, all his opponents were humiliated, but the people were delighted with all the wonderful things he was doing.

Enseñaba Jesús en una sinagoga en sábado, y había allí una mujer que desde hacía dieciocho años tenía espíritu de enfermedad, y andaba encorvada y en ninguna manera se podía enderezar. Cuando Jesús la vio, la llamó y le dijo: —Mujer, eres libre de tu enfermedad. Puso las manos sobre ella, y ella se enderezó al momento y glorificaba a Dios. Pero el alto dignatario de la sinagoga, enojado de que Jesús hubiera sanado en sábado, dijo a la gente: —Seis días hay en que se debe trabajar; en estos, pues, venid y sed sanados, y no en sábado. Entonces el Señor le respondió y dijo: —¡Hipócrita!, ¿no desatáis vosotros vuestro buey o vuestro asno del pesebre y lo lleváis a beber en sábado? Y a esta hija de Abraham, que Satanás había atado dieciocho años, ¿no se le debía desatar de esta ligadura en sábado? Al decir él estas cosas, se avergonzaban todos sus adversarios; pero todo el pueblo se regocijaba por todas las cosas gloriosas hechas por él.

Heal me, L

ord

, and I will be healed; save me and I will be saved, for you are the one I praise.

Sáname, Jehová, y quedaré sano; sálvame, y seré salvo, porque tú eres mi alabanza.

The Spirit of the Lord is on me, because he has anointed me to proclaim good news to the poor. He has sent me to proclaim freedom for the prisoners and recovery of sight for the blind, to set the oppressed free.

El Espíritu del Señor está sobre mí, por cuanto me ha ungido para dar buenas nuevas a los pobres; me ha enviado a sanar a los quebrantados de corazón, a pregonar libertad a los cautivos y vista a los ciegos, a poner en libertad a los oprimidos.

He sent out his word and healed them; he rescued them from the grave.

Envió su palabra y los sanó; los libró de su ruina.

The L

ord

gives sight to the blind, the L

ord

lifts up those who are bowed down, the L

ord

loves the righteous.

Jehová abre los ojos a los ciegos; Jehová levanta a los caídos; Jehová ama a los justos.
The Lord loves righteousness and justice; the earth is full of his unfailing love.
Personal Bible reading plan
Create an account to configure your Bible reading plan and you will see your progress and the next chapter to read here!
Read more...