Bible Verses about Heaven
«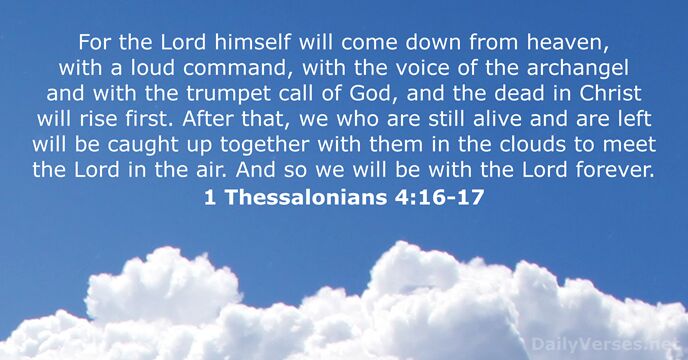 »
For the Lord himself will come down from heaven, with a loud command, with the voice of the archangel and with the trumpet call of God, and the dead in Christ will rise first. After that, we who are still alive and are left will be caught up together with them in the clouds to meet the Lord in the air. And so we will be with the Lord forever.

Porque o mesmo Senhor descerá do céu com alarido, e com voz de arcanjo, e com a trombeta de Deus; e os que morreram em Cristo ressuscitarão primeiro; depois, nós, os que ficarmos vivos, seremos arrebatados juntamente com eles nas nuvens, a encontrar o Senhor nos ares, e assim estaremos sempre com o Senhor.

Set your minds on things above, not on earthly things.

Pensai nas coisas que são de cima e não nas que são da terra.

My Father's house has many rooms; if that were not so, would I have told you that I am going there to prepare a place for you?

Na casa de meu Pai há muitas moradas; se não fosse assim, eu vo-lo teria dito, pois vou preparar-vos lugar.

But our citizenship is in heaven. And we eagerly await a Savior from there, the Lord Jesus Christ.

Mas a nossa cidade está nos céus, donde também esperamos o Salvador, o Senhor Jesus Cristo.

Whom have I in heaven but you? And earth has nothing I desire besides you.

A quem tenho eu no céu senão a ti? E na terra não há quem eu deseje além de ti.

The heavens declare the glory of God; the skies proclaim the work of his hands. Day after day they pour forth speech; night after night they reveal knowledge.

Os céus manifestam a glória de Deus e o firmamento anuncia a obra das suas mãos. Um dia faz declaração a outro dia, e uma noite mostra sabedoria a outra noite.

There is a time for everything, and a season for every activity under the heavens.

Tudo tem o seu tempo determinado, e há tempo para todo o propósito debaixo do céu.

Do not store up for yourselves treasures on earth, where moths and vermin destroy, and where thieves break in and steal. But store up for yourselves treasures in heaven, where moths and vermin do not destroy, and where thieves do not break in and steal.

Não ajunteis tesouros na terra, onde a traça e a ferrugem tudo consomem, e onde os ladrões minam e roubam. Mas ajuntai tesouros no céu, onde nem a traça nem a ferrugem consomem, e onde os ladrões não minam, nem roubam.

Heaven and earth will pass away, but my words will never pass away.

O céu e a terra passarão, mas as minhas palavras não hão de passar.

Jesus said, "Let the little children come to me, and do not hinder them, for the kingdom of heaven belongs to such as these."

Jesus, porém, disse: Deixai os pequeninos e não os estorveis de vir a mim, porque dos tais é o Reino dos céus.

Ah, Sovereign L

ord

, you have made the heavens and the earth by your great power and outstretched arm. Nothing is too hard for you.
Ah! Senhor J

eová

! Eis que tu fizeste os céus e a terra com o teu grande poder e com o teu braço estendido; não te é maravilhosa demais coisa alguma.

The Lord will rescue me from every evil attack and will bring me safely to his heavenly kingdom. To him be glory for ever and ever. Amen.

E o Senhor me livrará de toda má obra e guardar-me-á para o seu Reino celestial; a quem seja glória para todo o sempre. Amém!

For we brought nothing into the world, and we can take nothing out of it. But if we have food and clothing, we will be content with that.

Porque nada trouxemos para este mundo e manifesto é que nada podemos levar dele. Tendo, porém, sustento e com que nos cobrirmos, estejamos com isso contentes.

Dear friends, now we are children of God, and what we will be has not yet been made known. But we know that when Christ appears, we shall be like him, for we shall see him as he is. All who have this hope in him purify themselves, just as he is pure.

Amados, agora somos filhos de Deus, e ainda não é manifesto o que havemos de ser. Mas sabemos que, quando ele se manifestar, seremos semelhantes a ele; porque assim como é o veremos. E qualquer que nele tem esta esperança purifica-se a si mesmo, como também ele é puro.

Be exalted, O God, above the heavens; let your glory be over all the earth.

Exalta-te sobre os céus, ó Deus, e a tua glória sobre toda a terra.

After he said this, he was taken up before their very eyes, and a cloud hid him from their sight.

E, quando dizia isto, vendo-o eles, foi elevado às alturas, e uma nuvem o recebeu, ocultando-o a seus olhos.
Our help is in the name of the L

ord

, the Maker of heaven and earth.
O nosso socorro está em o nome do S

enhor

, que fez o céu e a terra.
He builds his lofty palace in the heavens and sets its foundation on the earth; he calls for the waters of the sea and pours them out over the face of the land— the L

ord

is his name.
Ele é o que edifica as suas câmaras no céu, e a sua abóbada fundou na terra, e o que chama as águas do mar, e as derrama sobre a terra; o S

enhor

é o seu nome.

When he had led them out to the vicinity of Bethany, he lifted up his hands and blessed them. While he was blessing them, he left them and was taken up into heaven.

E levou-os fora, até Betânia; e, levantando as mãos, os abençoou. E aconteceu que, abençoando-os ele, se apartou deles e foi elevado ao céu.

As the heavens are higher than the earth, so are my ways higher than your ways and my thoughts than your thoughts.

Porque, assim como os céus são mais altos do que a terra, assim são os meus caminhos mais altos do que os vossos caminhos, e os meus pensamentos, mais altos do que os vossos pensamentos.

For our struggle is not against flesh and blood, but against the rulers, against the authorities, against the powers of this dark world and against the spiritual forces of evil in the heavenly realms.

Porque não temos que lutar contra carne e sangue, mas, sim, contra os principados, contra as potestades, contra os príncipes das trevas deste século, contra as hostes espirituais da maldade, nos lugares celestiais.
"Who can hide in secret places so that I cannot see them?" declares the L

ord

. "Do not I fill heaven and earth?" declares the L

ord

.
Esconder-se-ia alguém em esconderijos, de modo que eu não o veja? — diz o S

enhor

. Porventura, não encho eu os céus e a terra? — diz o S

enhor

.

Jesus answered, "If you want to be perfect, go, sell your possessions and give to the poor, and you will have treasure in heaven. Then come, follow me."

Disse-lhe Jesus: Se queres ser perfeito, vai, vende tudo o que tens, dá-o aos pobres e terás um tesouro no céu; e vem e segue-me.

Everyone comes naked from their mother's womb, and as everyone comes, so they depart. They take nothing from their toil that they can carry in their hands.

Como saiu do ventre de sua mãe, assim nu voltará, indo-se como veio; e nada tomará do seu trabalho, que possa levar na sua mão.

In the beginning God created the heavens and the earth. Now the earth was formless and empty, darkness was over the surface of the deep, and the Spirit of God was hovering over the waters.

No princípio, criou Deus os céus e a terra. E a terra era sem forma e vazia; e havia trevas sobre a face do abismo; e o Espírito de Deus se movia sobre a face das águas.
This is the confidence we have in approaching God: that if we ask anything according to his will, he hears us.
Personal Bible reading plan
Create an account to configure your Bible reading plan and you will see your progress and the next chapter to read here!
Read more...