«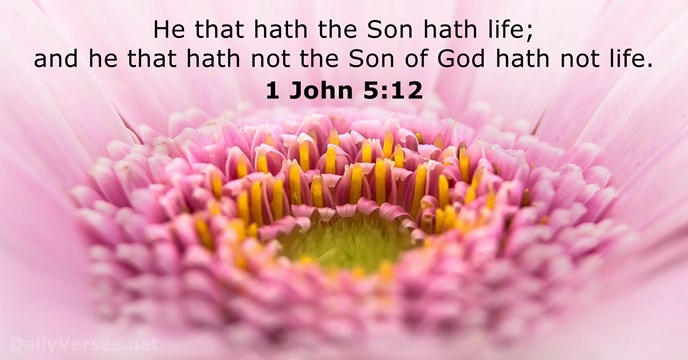 »
He that hath the Son hath life; and he that hath not the Son of God hath not life.

Forasmuch as ye know that ye were not redeemed with corruptible things, as silver and gold, from your vain conversation received by tradition from your fathers; But with the precious blood of Christ, as of a lamb without blemish and without spot.

And he sat down, and called the twelve, and saith unto them, If any man desire to be first, the same shall be last of all, and servant of all.

In my Father's house are many mansions: if it were not so, I would have told you. I go to prepare a place for you.

That I may know him, and the power of his resurrection, and the fellowship of his sufferings, being made conformable unto his death.

Jesus saith unto him, Thomas, because thou hast seen me, thou hast believed: blessed are they that have not seen, and yet have believed.

If the world hate you, ye know that it hated me before it hated you.

Stand fast therefore in the liberty wherewith Christ hath made us free, and be not entangled again with the yoke of bondage.

For in him dwelleth all the fulness of the Godhead bodily. And ye are complete in him, which is the head of all principality and power.

For if we believe that Jesus died and rose again, even so them also which sleep in Jesus will God bring with him.

But when they saw him walking upon the sea, they supposed it had been a spirit, and cried out: For they all saw him, and were troubled. And immediately he talked with them, and saith unto them, Be of good cheer: it is I; be not afraid.

These things have I written unto you that believe on the name of the Son of God; that ye may know that ye have eternal life, and that ye may believe on the name of the Son of God.

I press toward the mark for the prize of the high calling of God in Christ Jesus.

This is the stone which was set at nought of you builders, which is become the head of the corner.

And this is the record, that God hath given to us eternal life, and this life is in his Son.

If the Son therefore shall make you free, ye shall be free indeed.

For our conversation is in heaven; from whence also we look for the Saviour, the Lord Jesus Christ.

I am the door: by me if any man enter in, he shall be saved, and shall go in and out, and find pasture.

For I delivered unto you first of all that which I also received, how that Christ died for our sins according to the scriptures; And that he was buried, and that he rose again the third day according to the scriptures.

But to us there is but one God, the Father, of whom are all things, and we in him; and one Lord Jesus Christ, by whom are all things, and we by him.

To him that overcometh will I grant to sit with me in my throne, even as I also overcame, and am set down with my Father in his throne.

Being confident of this very thing, that he which hath begun a good work in you will perform it until the day of Jesus Christ.

And she shall bring forth a son, and thou shalt call his name Jesus: for he shall save his people from their sins.

God is faithful, by whom ye were called unto the fellowship of his Son Jesus Christ our Lord.

And, behold, I come quickly; and my reward is with me, to give every man according as his work shall be.
Wherefore, my beloved brethren, let every man be swift to hear, slow to speak, slow to wrath.
Personal Bible reading plan
Create an account to configure your Bible reading plan and you will see your progress and the next chapter to read here!
Read more...