«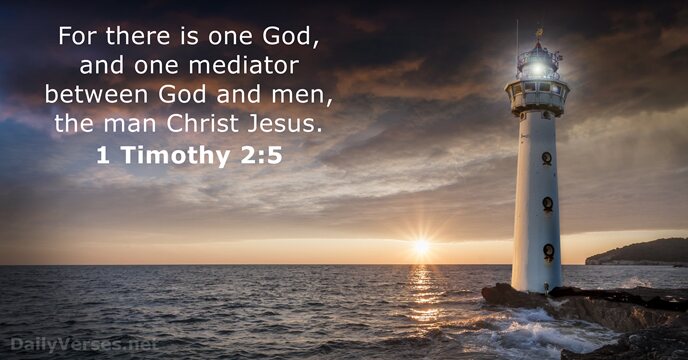 »
For there is one God, and one mediator between God and men, the man Christ Jesus.

Jesus Christ the same yesterday, and to day, and for ever.

Then spake Jesus again unto them, saying, I am the light of the world: he that followeth me shall not walk in darkness, but shall have the light of life.

Who, being in the form of God, thought it not robbery to be equal with God: But made himself of no reputation, and took upon him the form of a servant, and was made in the likeness of men: And being found in fashion as a man, he humbled himself, and became obedient unto death, even the death of the cross.

But speaking the truth in love, may grow up into him in all things, which is the head, even Christ.

For the Son of man is come to seek and to save that which was lost.

He must increase, but I must decrease.

For unto us a child is born,
unto us a son is given:
and the government shall be upon his shoulder:
and his name shall be called
Wonderful, Counsellor, The mighty God,
The everlasting Father, The Prince of Peace.

For God sent not his Son into the world to condemn the world; but that the world through him might be saved.

Be it known unto you therefore, men and brethren, that through this man is preached unto you the forgiveness of sins: And by him all that believe are justified from all things, from which ye could not be justified by the law of Moses.

And he said unto them, Go ye into all the world, and preach the gospel to every creature.

Therefore if any man be in Christ, he is a new creature: old things are passed away; behold, all things are become new.

But God, who is rich in mercy, for his great love wherewith he loved us, Even when we were dead in sins, hath quickened us together with Christ, (by grace ye are saved).

He saith unto them, But whom say ye that I am? And Simon Peter answered and said, Thou art the Christ, the Son of the living God.

For to me to live is Christ, and to die is gain.

And this is life eternal, that they might know thee the only true God, and Jesus Christ, whom thou hast sent.

Jesus answered and said unto them, This is the work of God, that ye believe on him whom he hath sent.

And the Word was made flesh, and dwelt among us, (and we beheld his glory, the glory as of the only begotten of the Father,) full of grace and truth.

Who is he that overcometh the world, but he that believeth that Jesus is the Son of God?

If ye love me, keep my commandments.

He is despised and rejected of men;
a man of sorrows, and acquainted with grief:
and we hid as it were our faces from him;
he was despised, and we esteemed him not.

I will not leave you comfortless: I will come to you.

And whatsoever ye shall ask in my name, that will I do, that the Father may be glorified in the Son.

I am the vine, ye are the branches: He that abideth in me, and I in him, the same bringeth forth much fruit: for without me ye can do nothing.

He that hath the Son hath life; and he that hath not the Son of God hath not life.
He that findeth his life shall lose it: and he that loseth his life for my sake shall find it.
Personal Bible reading plan
Create an account to configure your Bible reading plan and you will see your progress and the next chapter to read here!
Read more...