Bible Verses about the Law
«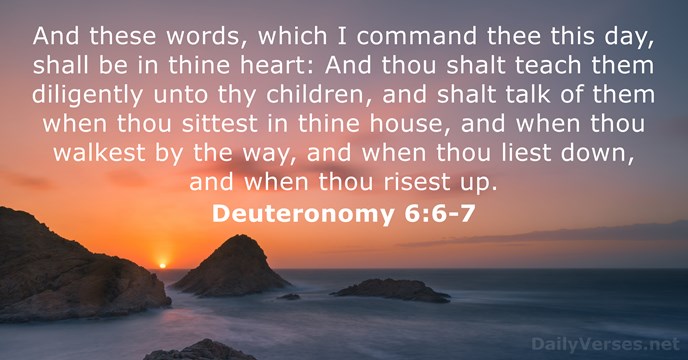 »
And these words, which I command thee this day, shall be in thine heart: And thou shalt teach them diligently unto thy children, and shalt talk of them when thou sittest in thine house, and when thou walkest by the way, and when thou liest down, and when thou risest up.

Vandaag zal ik jullie de regels van de Heer geven. Onthoud ze goed, vergeet ze niet! Zorg ervoor dat jullie kinderen ze goed leren. Blijf ze herhalen, thuis en onderweg, als je naar bed gaat en als je weer opstaat.

What then? shall we sin, because we are not under the law, but under grace? God forbid.

Betekent dit dat we kunnen doorgaan met het doen van verkeerde dingen? Nee, natuurlijk niet!

All things are lawful for me, but all things are not expedient: all things are lawful for me, but all things edify not.

Jullie zeggen: 'Wij mogen doen wat we willen.' Maar ik zeg: Ja, maar niet alles is goed. Jullie zeggen: 'Wij mogen doen wat we willen.' Maar ik zeg: Ja, maar alleen als je daarmee ook de anderen helpt.

In that I command thee this day to love the L

ord

thy God, to walk in his ways, and to keep his commandments and his statutes and his judgments, that thou mayest live and multiply: and the L

ord

thy God shall bless thee in the land whither thou goest to possess it.

Vandaag heb ik jullie de wetten en regels gegeven van de Heer, jullie God. Ik heb gezegd dat jullie je daaraan moeten houden. Jullie moeten doen wat de Heer vraagt. En jullie moeten hem liefhebben. Als jullie dat doen, dan kiezen jullie voor het leven. Dan zullen jullie een goed leven hebben, en veel kinderen krijgen. De Heer, je God, zal jullie rijk en gelukkig maken in het land dat jullie in bezit gaan nemen.

And the second is like, namely this, Thou shalt love thy neighbour as thyself. There is none other commandment greater than these.

Daarna komt deze regel: «Van de mensen om je heen moet je evenveel houden als van jezelf.» Dat zijn de twee belangrijkste regels.

But the fruit of the Spirit is love, joy, peace, longsuffering, gentleness, goodness, faith, Meekness, temperance: against such there is no law.

Mensen die zich laten leiden door de heilige Geest, leven heel anders. Zij houden van elkaar. Ze zijn blij en leven in vrede. Ze hebben geduld en zijn goed voor elkaar. Ze geloven in Christus. Ze zijn vriendelijk en gedragen zich goed. Als je zo leeft, doe je precies wat de wet eigenlijk wil.

This book of the law shall not depart out of thy mouth; but thou shalt meditate therein day and night, that thou mayest observe to do according to all that is written therein: for then thou shalt make thy way prosperous, and then thou shalt have good success.

Dag en nacht moet je aandachtig lezen in het boek met de wetten van Mozes. Je mag het boek nooit wegleggen. Alleen dan kun je je precies houden aan de dingen die erin staan. En dan zul je succes hebben bij alles wat je doet.

Therefore by the deeds of the law there shall no flesh be justified in his sight: for by the law is the knowledge of sin.

En niemand wordt gered doordat hij zich aan de Joodse wet houdt. Want het lukt niemand om alles te doen wat er in de wet staat. De wet leert ons juist dat ieder mens verkeerde dingen doet.

And it shall come to pass, if thou shalt hearken diligently unto the voice of the L

ord

thy God, to observe and to do all his commandments which I command thee this day, that the L

ord

thy God will set thee on high above all nations of the earth.

Mozes zei verder tegen de Israëlieten: 'Jullie moeten gehoorzaam zijn aan de Heer, jullie God. Houd je precies aan alle regels die ik jullie vandaag gegeven heb. Als jullie dat doen, zal de Heer van jullie het belangrijkste volk op aarde maken.'

Owe no man any thing, but to love one another: for he that loveth another hath fulfilled the law.

Zorg ervoor dat je niemand iets schuldig bent. Voor jullie geldt alleen deze regel: houd van elkaar. Want als je houdt van de ander, heb je precies gedaan waar het in de wet om gaat.

For all the law is fulfilled in one word, even in this; Thou shalt love thy neighbour as thyself.

Dan doe je ook precies waar het in de wet om gaat. Want eigenlijk gaat de hele wet over deze regel: «Houd evenveel van de mensen om je heen als van jezelf.»

Therefore all things whatsoever ye would that men should do to you, do ye even so to them: for this is the law and the prophets.

Behandel andere mensen net zoals je zelf behandeld wilt worden. Daar gaat het om in de wet en in de andere heilige boeken.

But the mercy of the L

ord

is from everlasting to everlasting upon them that fear him, and his righteousness unto children's children; To such as keep his covenant, and to those that remember his commandments to do them.

Maar de liefde van de Heer verdwijnt nooit. Hij houdt van mensen die hem trouw zijn. De Heer is goed voor hen, en voor hun kinderen en kleinkinderen. Als ze maar doen wat hij wil, als ze maar luisteren naar zijn woorden.

Be ye not unequally yoked together with unbelievers: for what fellowship hath righteousness with unrighteousness? and what communion hath light with darkness?

Jullie mogen je leven niet delen met ongelovigen, want jullie passen niet bij hen. Het doen van Gods wil heeft niets te maken met het doen van slechte dingen. Net zoals licht niets te maken heeft met donker.

And now, Israel, what doth the L

ord

thy God require of thee, but to fear the L

ord

thy God, to walk in all his ways, and to love him, and to serve the L

ord

thy God with all thy heart and with all thy soul, To keep the commandments of the L

ord

, and his statutes, which I command thee this day for thy good?

Mozes zei verder tegen de Israëlieten: 'Heb eerbied voor de Heer, jullie God. Dat is wat hij van jullie vraagt. Leef zoals hij het jullie leert. Dien hem, en heb hem lief met je hele hart en je hele ziel. Vandaag geef ik jullie zijn wetten en regels. Als jullie je daaraan houden, zal het goed met jullie gaan.'

Bear ye one another's burdens, and so fulfil the law of Christ.

Help elkaar altijd. Dan leef je volgens de wet van Christus.

And, ye fathers, provoke not your children to wrath: but bring them up in the nurture and admonition of the Lord.

Vaders, wees niet hard voor je kinderen. Maar waarschuw ze voor verkeerde dingen, en leer ze de christelijke regels.

This is my commandment, That ye love one another, as I have loved you.

Ik geef jullie deze regel: Houd van elkaar, net zoals ik van jullie houd.

He hath shewed thee, O man, what is good; and what doth the L

ord

require of thee, but to do justly, and to love mercy, and to walk humbly with thy God?

Maar de Heer heeft jullie al verteld wat hij van jullie verlangt. Hij heeft al bekendgemaakt wat goed is. Hij vraagt alleen dit: Wees eerlijk, rechtvaardig en trouw. En denk niet alleen aan jezelf, maar leef dicht bij God.

But take diligent heed to do the commandment and the law, which Moses the servant of the L

ord

charged you, to love the L

ord

your God, and to walk in all his ways, and to keep his commandments, and to cleave unto him, and to serve him with all your heart and with all your soul.

Daarna zei Jozua: 'Houd je altijd heel precies aan de wetten en regels van de Heer, die Mozes aan jullie gegeven heeft. Jullie moeten de Heer, je God, liefhebben. Leef zoals hij het wil en houd je aan zijn wetten. Wees hem altijd trouw en dien hem met heel je hart en heel je ziel.'

With my whole heart have I sought thee: O let me not wander from thy commandments.

Met heel mijn hart zoek ik u. Help mij om te doen wat u wilt.

For as many as have sinned without law shall also perish without law: and as many as have sinned in the law shall be judged by the law.

De niet-Joden kennen Gods wet niet. Maar ook zonder wet geldt: als je verkeerd leeft, loopt het slecht met je af. De Joden kennen Gods wet wel. Voor hen geldt: wie verkeerd leeft, wordt volgens de regels van de wet gestraft.

But let judgment run down as waters, and righteousness as a mighty stream.

Zorg liever dat er weer eerlijke rechters komen. Dat moet net zo gewoon zijn als dat er water door een rivier stroomt.

Beloved, if our heart condemn us not, then have we confidence toward God. And whatsoever we ask, we receive of him, because we keep his commandments, and do those things that are pleasing in his sight.

Vrienden, als we ons niet langer schuldig voelen, kunnen we vol vertrouwen bij God komen. Dan krijgen we van hem alles wat we vragen, omdat we ons houden aan zijn regels en doen wat hij graag wil.

I have chosen the way of truth: thy judgments have I laid before me.

Ik wil u altijd trouw zijn, altijd uw regels volgen.
Be ye therefore perfect, even as your Father which is in heaven is perfect.
Personal Bible reading plan
Create an account to configure your Bible reading plan and you will see your progress and the next chapter to read here!
Read more...