33 Bible Verses about Materialism (2/2)
«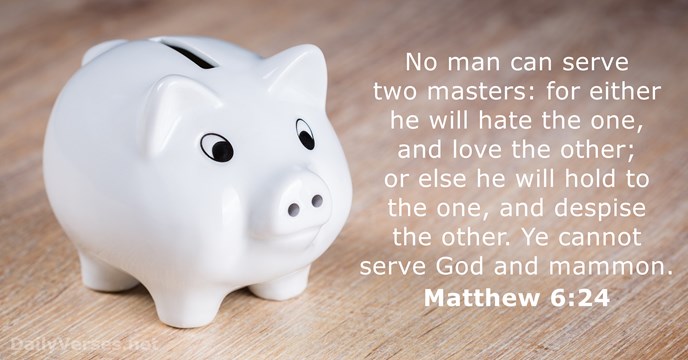 »
No man can serve two masters: for either he will hate the one, and love the other; or else he will hold to the one, and despise the other. Ye cannot serve God and mammon.
The L

ord

is my portion, saith my soul;
therefore will I hope in him.
But whoso hath this world's good, and seeth his brother have need, and shutteth up his bowels of compassion from him, how dwelleth the love of God in him?
As sorrowful, yet alway rejoicing; as poor, yet making many rich; as having nothing, and yet possessing all things.
When goods increase, they are increased that eat them: and what good is there to the owners thereof, saving the beholding of them with their eyes?
Again, I considered all travail, and every right work, that for this a man is envied of his neighbour. This is also vanity and vexation of spirit.
The ransom of a man's life are his riches:
but the poor heareth not rebuke.
Thou shalt not covet thy neighbour's house, thou shalt not covet thy neighbour's wife, nor his manservant, nor his maidservant, nor his ox, nor his ass, nor any thing that is thy neighbour's.
Previous
1
2
Next
Receive the Daily Bible Verse: