Bible Verses about Purification
«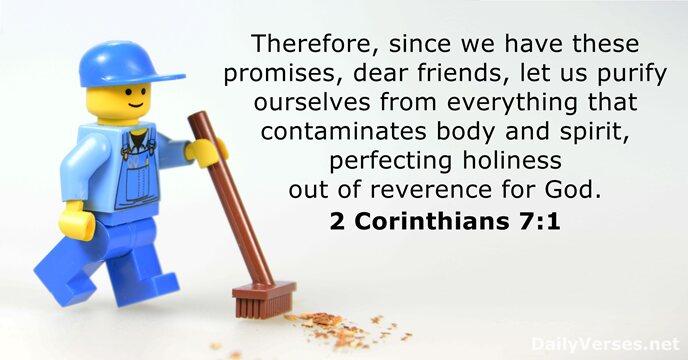 »
Therefore, since we have these promises, dear friends, let us purify ourselves from everything that contaminates body and spirit, perfecting holiness out of reverence for God.

Omdat God ons dit heeft beloofd, lieve broeders en zusters, moeten we niets doen wat slecht is voor ons lichaam of onze geest. Want dat past bij mensen die bij God horen en ontzag voor Hem hebben.

He went on: "What comes out of a person is what defiles them. For it is from within, out of a person's heart, that evil thoughts come—sexual immorality, theft, murder, adultery, greed, malice, deceit, lewdness, envy, slander, arrogance and folly. All these evils come from inside and defile a person."

Wat uít je mond komt, maakt je onrein. Want dat komt van binnenuit, uit je hart. Daar vandaan komen de slechte gedachten, verkeerde dingen op het gebied van seks, moord, diefstal, ontrouw aan je man of vrouw, hebzucht, slechtheid, bedrog, gebrek aan zelfbeheersing, roddel, kwaadsprekerij, trots, onverstandigheid. Al die slechte dingen komen van binnenuit naar buiten en maken je onrein.

Create in me a pure heart, O God, and renew a steadfast spirit within me.

Geef me een zuiver hart, God! Maak mijn geest nieuw en sterk.

Have mercy on me, O God, according to your unfailing love; according to your great compassion blot out my transgressions. Wash away all my iniquity and cleanse me from my sin.

God, heb alstublieft medelijden met mij, omdat U liefdevol bent. Doe weg wat ik verkeerd heb gedaan, omdat U goed bent. Was mijn ongehoorzaamheid van mij af. Vergeef me mijn slechte daden.

If we confess our sins, he is faithful and just and will forgive us our sins and purify us from all unrighteousness.

Maar als we het aan God vertellen als we verkeerd hebben gedaan en Hem om vergeving vragen, dan vergeeft Hij ons. Dan wast Hij ons weer schoon van elke ongehoorzaamheid, zoals Hij heeft beloofd. Want Hij doet altijd wat Hij heeft gezegd.

Come near to God and he will come near to you. Wash your hands, you sinners, and purify your hearts, you double-minded.

Ga naar God toe, dan zal Hij naar jou toe komen. Stop met het doen van slechte dingen, ongehoorzame mensen! Leef voortaan zoals God het wil, twijfelaars!

You are already clean because of the word I have spoken to you.

Jullie zijn al schoon door wat Ik jullie heb gezegd.

Wash and make yourselves clean. Take your evil deeds out of my sight; stop doing wrong.

Ga je wassen, zorg dat je schoon wordt! Zorg dat Ik geen slechte dingen meer zie! Stop met de slechte dingen die jullie doen!

But if we walk in the light, as he is in the light, we have fellowship with one another, and the blood of Jesus, his Son, purifies us from all sin.

Maar als we in het licht leven en Hem gehoorzaam willen zijn, net zoals Hij in het licht is, dan zijn we één met elkaar. Dan wast het bloed van zijn Zoon Jezus Christus ons schoon van al onze ongehoorzaamheid aan God.

Dear friends, now we are children of God, and what we will be has not yet been made known. But we know that when Christ appears, we shall be like him, for we shall see him as he is. All who have this hope in him purify themselves, just as he is pure.

Lieve broeders en zusters, nu zijn we kinderen van God. En we kunnen ons nog niet voorstellen hoe het later allemaal zal zijn. Maar we weten dit: als Hij komt, zullen we zijn zoals Hij. Dan zullen we Hem zien zoals Hij werkelijk is. Als je Hem verwacht, ga je op een zuivere manier leven, net zoals Hij Zelf zuiver is.

Husbands, love your wives, just as Christ loved the church and gave himself up for her to make her holy, cleansing her by the washing with water through the word.

Mannen, houd op dezelfde manier van je vrouw als dat Christus van zijn gemeente houdt. Hij heeft Zichzelf voor de gemeente opgeofferd! Hij heeft de gemeente schoongewassen door haar te baden in het woord. Zo kon de gemeente zijn eigendom worden.

Who gave himself for us to redeem us from all wickedness and to purify for himself a people that are his very own, eager to do what is good.

Hij heeft zijn leven voor ons gegeven om ons te bevrijden van het kwaad. Zo heeft Hij van ons een zuiver volk gemaakt. En dat volk is zijn eigendom. Het is de bedoeling dat dat volk zijn best doet om het goede te doen.

And now what are you waiting for? Get up, be baptized and wash your sins away, calling on his name.

Waarom aarzel je nog? Sta op en laat je dopen. Laat zo je ongehoorzaamheid aan God van je afwassen, terwijl je Hem aanbidt.

How much more, then, will the blood of Christ, who through the eternal Spirit offered himself unblemished to God, cleanse our consciences from acts that lead to death, so that we may serve the living God!

Nu heeft Christus door de eeuwige Geest zijn eigen bloed aan God geofferd. Omdat Hij God nooit ongehoorzaam was geweest, was zijn offer volmaakt. Het is dus duidelijk, dat zijn volmaakte offer ons nog veel méér zal vrijspreken van schuld. Want zijn bloed reinigt ons geweten van alle dingen waar God niets aan heeft. Daardoor kunnen we nu de levende God werkelijk dienen.

And this water symbolizes baptism that now saves you also—not the removal of dirt from the body but the pledge of a clear conscience toward God. It saves you by the resurrection of Jesus Christ.

Ook jullie worden door het water heen gered. Namelijk door het water van de doop. De doop is niet iets wat het vuil van je lichaam afwast. Maar de doop is een gebed tot God, een gebed van een geweten dat zuiver is geworden. Jullie worden gered door de doop, doordat Jezus uit de dood is opgestaan.

The Son is the radiance of God's glory and the exact representation of his being, sustaining all things by his powerful word. After he had provided purification for sins, he sat down at the right hand of the Majesty in heaven.

De Zoon is de 'afbeelding' van God Zelf. In Hem zien we wie God is. In Hem zien we de macht en majesteit van God en het karakter van God. De Zoon zorgt ervoor dat alle dingen bestaan. Want alle dingen bestaan door zijn woord dat één en al kracht is. Eerst heeft de Zoon ervoor gezorgd dat de mensen vergeving konden krijgen voor al hun ongehoorzaamheid aan God. Daarna is Hij naar de hemel gegaan. Daar zit Hij nu naast God op de troon.

Many will be purified, made spotless and refined, but the wicked will continue to be wicked. None of the wicked will understand, but those who are wise will understand.

Veel mensen zullen zich laten schoonwassen en bij God willen horen. Maar de mensen die zich niets van God aantrekken, zullen gewoon slechte dingen blijven doen. Zij zullen hier niets van begrijpen. Maar de wijze en verstandige mensen zullen deze dingen begrijpen.

"Come now, let us settle the matter," says the L

ord

. "Though your sins are like scarlet, they shall be as white as snow; though they are red as crimson, they shall be like wool."

Kom, laat Mij over jullie rechtspreken, zegt de Heer. Jullie daden zijn zo rood als bloed. Toch zullen ze zo wit worden als witte wol, als sneeuw.
For the entire law is fulfilled in keeping this one command: "Love your neighbor as yourself."
Personal Bible reading plan
Create an account to configure your Bible reading plan and you will see your progress and the next chapter to read here!
Read more...