Bible Verses about Purification
«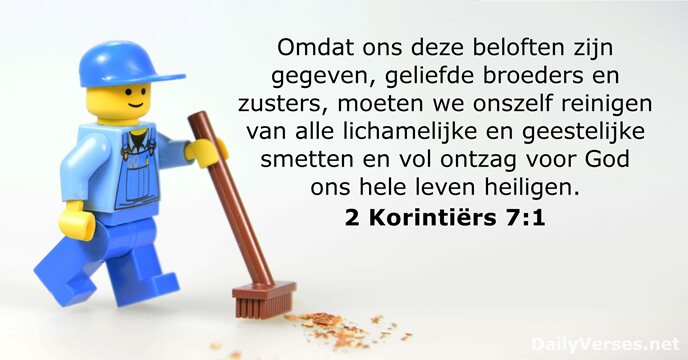 »
Therefore, having these promises, beloved, let us cleanse ourselves from all filthiness of the flesh and spirit, perfecting holiness in the fear of God.

Omdat ons deze beloften zijn gegeven, geliefde broeders en zusters, moeten we onszelf reinigen van alle lichamelijke en geestelijke smetten en vol ontzag voor God ons hele leven heiligen.

And He said, "What comes out of a man, that defiles a man. For from within, out of the heart of men, proceed evil thoughts, adulteries, fornications, murders, thefts, covetousness, wickedness, deceit, lewdness, an evil eye, blasphemy, pride, foolishness. All these evil things come from within and defile a man."

Hij zei: 'Wat uit de mens komt, dat maakt hem onrein. Want van binnenuit, uit het hart van de mensen, komen slechte gedachten, ontucht, diefstal, moord, overspel, hebzucht, kwaadaardigheid, bedrog, losbandigheid, afgunst, laster, hoogmoed, dwaasheid; al deze slechte dingen komen van binnenuit, en die maken de mens onrein.'

Create in me a clean heart, O God, And renew a steadfast spirit within me.

Schep, o God, een zuiver hart in mij, vernieuw mijn geest, maak mij standvastig.

Have mercy upon me, O God, According to Your lovingkindness; According to the multitude of Your tender mercies, Blot out my transgressions. Wash me thoroughly from my iniquity, And cleanse me from my sin.

Wees mij genadig, God, in uw trouw, U bent vol erbarmen, wis mijn wandaden uit, was mij schoon van alle schuld, reinig mij van mijn zonden.

If we confess our sins, He is faithful and just to forgive us our sins and to cleanse us from all unrighteousness.

Belijden we onze zonden, dan zal Hij, die trouw en rechtvaardig is, ons onze zonden vergeven en ons reinigen van al het onrecht dat wij bedrijven.

Draw near to God and He will draw near to you. Cleanse your hands, you sinners; and purify your hearts, you double-minded.

Kom nader tot God, dan komt Hij nader tot u. Reinig uw handen, zondaars; zuiver uw hart, weifelaars.

You are already clean because of the word which I have spoken to you.

Jullie zijn al rein door alles wat Ik tegen jullie gezegd heb.

Wash yourselves, make yourselves clean; Put away the evil of your doings from before My eyes. Cease to do evil.

Was je, reinig je, maak een eind aan je misdaden, Ik kan ze niet meer zien. Breek met het kwaad.

But if we walk in the light as He is in the light, we have fellowship with one another, and the blood of Jesus Christ His Son cleanses us from all sin.

Maar gaan we onze weg in het licht, zoals Hijzelf in het licht is, dan zijn we met elkaar verbonden en reinigt het bloed van Jezus, zijn Zoon, ons van alle zonde.

Beloved, now we are children of God; and it has not yet been revealed what we shall be, but we know that when He is revealed, we shall be like Him, for we shall see Him as He is. And everyone who has this hope in Him purifies himself, just as He is pure.

Geliefde broeders en zusters, wij zijn nu al kinderen van God. Wat we zullen zijn is nog niet geopenbaard, maar we weten dat we aan Hem gelijk zullen zijn wanneer Hij zal verschijnen, want dan zien we Hem zoals Hij is. Ieder die dit vol vertrouwen van Hem verwacht maakt zich rein, zoals ook Jezus rein is.

Husbands, love your wives, just as Christ also loved the church and gave Himself for her, that He might sanctify and cleanse her with the washing of water by the word.

Mannen, heb uw vrouw lief, zoals Christus de kerk heeft liefgehad en zich voor haar heeft prijsgegeven om haar te heiligen, haar te reinigen met het water en met woorden.

Who gave Himself for us, that He might redeem us from every lawless deed and purify for Himself His own special people, zealous for good works.

Hij heeft zichzelf voor ons gegeven om ons van alle zonde vrij te kopen, ons te reinigen en ons tot zijn volk te maken, dat zich volledig inzet om het goede te doen.

And now why are you waiting? Arise and be baptized, and wash away your sins, calling on the name of the Lord.

Wat aarzel je dan nog? Sta op, laat je dopen en je zonden wegwassen, terwijl je zijn naam aanroept.

How much more shall the blood of Christ, who through the eternal Spirit offered Himself without spot to God, cleanse your conscience from dead works to serve the living God?

Hoeveel te meer zal dan niet het bloed van Christus, die dankzij de eeuwige Geest zichzelf heeft kunnen opdragen als offer zonder smet, ons geweten reinigen van daden die tot de dood leiden, en het heiligen voor de dienst aan de levende God?

There is also an antitype which now saves us—baptism (not the removal of the filth of the flesh, but the answer of a good conscience toward God), through the resurrection of Jesus Christ.

En dat water is een voorafbeelding van het water van de doop, die niet het vuil van uw lichaam wast maar een vraag is aan God om een zuiver geweten. De doop brengt redding dankzij de opstanding van Jezus Christus.

Many shall be purified, made white, and refined, but the wicked shall do wickedly; and none of the wicked shall understand, but the wise shall understand.

Velen zullen zich laten reinigen, zuiveren en louteren, maar de wettelozen zullen wetteloos handelen; en geen van de wettelozen zal het begrijpen, maar de verlichten zullen het wel begrijpen.

Who being the brightness of His glory and the express image of His person, and upholding all things by the word of His power, when He had by Himself purged our sins, sat down at the right hand of the Majesty on high.

Hij straalt Gods luister uit, Hij is zijn evenbeeld, met zijn machtig woord draagt Hij alles wat bestaat. Hij heeft, na de reiniging van de zonden te hebben voltrokken, plaatsgenomen aan de rechterzijde van Gods hemelse majesteit.

"Come now, and let us reason together," Says the L

ord

, "Though your sins are like scarlet, They shall be as white as snow; Though they are red like crimson, They shall be as wool."
De

HEER

zegt: Laten we zien wie er in zijn recht staat. Al zijn je zonden rood als scharlaken, ze worden wit als sneeuw, al zijn ze rood als purper, ze worden wit als wol.
Watch therefore, for you do not know what hour your Lord is coming.
Personal Bible reading plan
Create an account to configure your Bible reading plan and you will see your progress and the next chapter to read here!
Read more...