87 Bible Verses about Salvation
«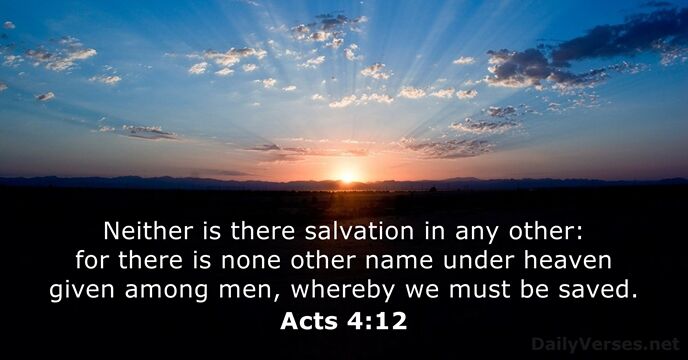 »
Neither is there salvation in any other: for there is none other name under heaven given among men, whereby we must be saved.

Hij is de redder die God gestuurd heeft. Er is niemand anders op de wereld die ons kan redden.

And they said, Believe on the Lord Jesus Christ, and thou shalt be saved, and thy house.

Paulus en Silas zeiden: 'Als je gelooft in de Heer Jezus, zul je gered worden. Samen met iedereen die in je huis woont.'

Who hath saved us, and called us with an holy calling, not according to our works, but according to his own purpose and grace, which was given us in Christ Jesus before the world began.

God heeft ons gered, en ons uitgekozen om bij Christus te horen. Niet omdat wij dat verdienen, maar omdat dat altijd al zijn plan was. Zo goed wilde God voor ons zijn! Voordat God de wereld maakte, had hij al besloten dat wij gered zouden worden door Jezus Christus.

Truly my soul waiteth upon God: from him cometh my salvation.

Alleen bij God krijg ik rust, alleen hij kan mij redden.

And it shall come to pass, that whosoever shall call on the name of the Lord shall be saved.

Op die dag zal iedereen gered worden die mij om hulp vraagt.

Know ye not that the unrighteous shall not inherit the kingdom of God? Be not deceived: neither fornicators, nor idolaters, nor adulterers, nor effeminate, nor abusers of themselves with mankind, Nor thieves, nor covetous, nor drunkards, nor revilers, nor extortioners, shall inherit the kingdom of God.

Jullie weten dat slechte mensen niet in Gods nieuwe wereld zullen komen. Vergis je niet: Dat geldt voor alle mensen die verboden seks hebben, afgoden vereren, vreemdgaan, stelen, graaien, veel te veel drinken, of anderen uitschelden. En voor jonge mannen die zich voor seks laten betalen, en voor de mannen die met hen naar bed gaan.

For with the heart man believeth unto righteousness; and with the mouth confession is made unto salvation.

Want als we geloven met heel ons hart, ziet God ons als goede mensen. En als we Jezus eren als onze Heer, worden we gered.

For the grace of God that bringeth salvation hath appeared to all men, Teaching us that, denying ungodliness and worldly lusts, we should live soberly, righteously, and godly, in this present world.

God heeft laten zien dat hij goed is, en dat hij alle mensen wil redden. Zijn goedheid helpt ons om betere mensen te worden. Zodat we nee kunnen zeggen tegen een leven zonder God en tegen onze slechte verlangens. Dan kunnen we in deze wereld een wijs en eerlijk leven leiden, zoals God het wil.

For the Son of man is come to seek and to save that which was lost.

Want ik, de Mensenzoon, ben gekomen om mensen te redden die verkeerde dingen doen.

The Lord is not slack concerning his promise, as some men count slackness; but is longsuffering to us-ward, not willing that any should perish, but that all should come to repentance.

De Heer houdt zich echt aan zijn belofte, ook al beweren sommige mensen van niet. Hij wacht omdat hij geduld heeft met jullie! Hij geeft iedereen de kans om een nieuw leven te beginnen. Want hij wil dat iedereen gered wordt.

And he said, The things which are impossible with men are possible with God.

Jezus zei: 'Als het van mensen afhangt, kan niemand gered worden. Maar het hangt van God af. En dan kan het wel.'

He that believeth and is baptized shall be saved; but he that believeth not shall be damned.

Iedereen die gelooft en gedoopt wordt, zal gered worden. Maar iedereen die niet gelooft, zal door God gestraft worden.

Enter ye in at the strait gate: for wide is the gate, and broad is the way, that leadeth to destruction, and many there be which go in thereat: Because strait is the gate, and narrow is the way, which leadeth unto life, and few there be that find it.

Ga naar binnen door de smalle poort. Want door die smalle poort kom je bij het eeuwige leven. Het is een moeilijke weg, en het lukt maar weinig mensen om die weg te vinden. De meeste mensen kiezen de makkelijke weg, de weg met de brede poort. Dat is de weg naar de dood.

Whom having not seen, ye love; in whom, though now ye see him not, yet believing, ye rejoice with joy unspeakable and full of glory: Receiving the end of your faith, even the salvation of your souls.

Jullie hebben Jezus Christus nooit gezien, en toch houden jullie van hem. Jullie zien hem ook nu niet, en toch vertrouwen jullie op hem. Ja, jullie juichen van hemelse vreugde! Want jullie weten, dat jullie gered zullen worden omdat jullie geloven.

So Christ was once offered to bear the sins of many; and unto them that look for him shall he appear the second time without sin unto salvation.

Zo heeft ook Christus zichzelf één keer geofferd. Hij is gestorven voor de zonden van veel mensen. Hij zal opnieuw komen, maar dan niet om de zonden weg te nemen. Nee, hij zal komen om de mensen die op hem wachten, te redden.

For so hath the Lord commanded us, saying, I have set thee to be a light of the Gentiles, that thou shouldest be for salvation unto the ends of the earth.

Want in de heilige boeken zegt God tegen ons: «Ik heb jullie uitgekozen om een redder te zijn voor alle volken. Jullie moeten overal op aarde redding brengen.»

For I am not ashamed of the gospel of Christ: for it is the power of God unto salvation to every one that believeth; to the Jew first, and also to the Greek.

Ik schaam me niet om te vertellen dat Jezus aan het kruis gestorven is. En dat de machtige God hem heeft laten opstaan uit de dood. Iedereen die dat goede nieuws gelooft, wordt gered. In de eerste plaats alle Joden, maar ook alle niet-Joden.

For as in Adam all die, even so in Christ shall all be made alive.

De dood is in de wereld gekomen door een mens, door Adam. Alle mensen moeten sterven, net als Adam. Maar door een ander mens, door Jezus Christus, zullen de mensen opstaan uit de dood. Alle gestorven christenen zullen weer levend worden, net als Christus.

And Jesus looking upon them saith, With men it is impossible, but not with God: for with God all things are possible.

Jezus keek hen aan en zei: 'Als het van mensen afhangt, kan niemand gered worden. Maar het hangt van God af. En voor God is alles mogelijk.'

Although the fig tree shall not blossom, neither shall fruit be in the vines; the labour of the olive shall fail, and the fields shall yield no meat; the flock shall be cut off from the fold, and there shall be no herd in the stalls: Yet I will rejoice in the L

ord

, I will joy in the God of my salvation.

Misschien zijn er straks geen vijgen meer, misschien geen olijven of druiven. Misschien mislukt de graanoogst, of gaan de schapen dood, of de koeien. Toch zal ik dan juichen van blijdschap. Want ik weet dat de Heer mij redt!

For scarcely for a righteous man will one die: yet peradventure for a good man some would even dare to die. But God commendeth his love toward us, in that, while we were yet sinners, Christ died for us.

Welk mens is bereid om voor een ander te sterven? Misschien als die ander een goed en eerlijk mens is? Ja, misschien zijn er mensen die willen sterven voor een goed mens. Maar Christus is voor ons gestorven toen we nog leefden als slechte mensen. Dat is het bewijs dat God van ons houdt!

And Jesus said unto him, Go thy way; thy faith hath made thee whole. And immediately he received his sight, and followed Jesus in the way.

Jezus zei: 'Dat is goed. Je bent beter geworden dankzij je geloof.' Op datzelfde moment kon de man weer zien. Hij ging met Jezus mee, op weg naar Jeruzalem.

Thou hast also given me the shield of thy salvation: and thy right hand hath holden me up, and thy gentleness hath made me great. Thou hast enlarged my steps under me, that my feet did not slip.

Heer, u hebt mij beschermd en gered. U steunde mij met uw sterke handen. U was bij me, en dat gaf me kracht. U maakte voor mij de weg vrij, zo kon ik verdergaan.

For if, when we were enemies, we were reconciled to God by the death of his Son, much more, being reconciled, we shall be saved by his life.

Vroeger waren we dus vijanden van God. Maar nu is het goed tussen God en ons, dankzij de dood van zijn Zoon. Want dankzij de dood van Christus ziet God ons als goede mensen. En dus zullen we ook voor eeuwig gered worden. Daar hoeven we niet aan te twijfelen. Want Christus leeft, en hij zal ons redden op de dag dat God rechtspreekt over de wereld.

Since thou wast precious in my sight, thou hast been honourable, and I have loved thee: therefore will I give men for thee, and people for thy life.

Israël, jij bent heel belangrijk voor mij, je bent heel veel waard. Ik houd zo veel van je! Voor jou gaf ik Egypte, Nubië en Seba weg. Voor jou geef ik alles weg, alle mensen en alle volken van de wereld.
And base things of the world, and things which are despised, hath God chosen, yea, and things which are not, to bring to nought things that are: That no flesh should glory in his presence.
He that handleth a matter wisely shall find good:
and whoso trusteth in the L

ord

, happy is he.
Read more
And base things of the world, and things which are despised, hath God chosen, yea, and things which are not, to bring to nought things that are: That no flesh should glory in his presence.
Personal Bible reading plan
Create an account to configure your Bible reading plan and you will see your progress and the next chapter to read here!
Read more...