Bible Verses about 'Answer'
«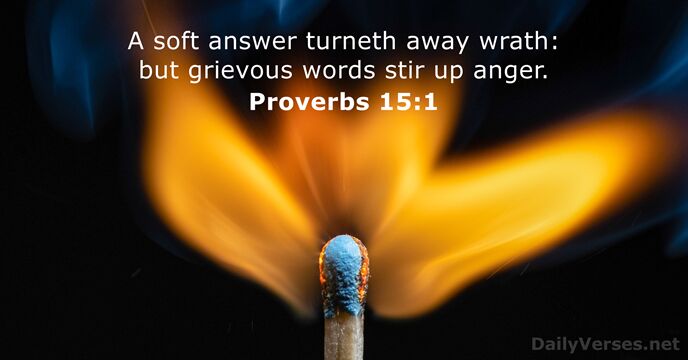 »
A soft answer turneth away wrath: but grievous words stir up anger.

A resposta branda desvia o furor, mas a palavra dura suscita a ira.

Call unto me, and I will answer thee, and show thee great and mighty things, which thou knowest not.

Clama a mim, e responder-te-ei e anunciar-te-ei coisas grandes e firmes, que não sabes.

A man hath joy by the answer of his mouth: and a word spoken in due season, how good is it!

O homem se alegra na resposta da sua boca, e a palavra, a seu tempo, quão boa é!
Hear my prayer, O L

ord

, give ear to my supplications: in thy faithfulness answer me, and in thy righteousness.
Ó S

enhor

, ouve a minha oração! Inclina os ouvidos às minhas súplicas; escuta-me segundo a tua verdade e segundo a tua justiça.

Walk in wisdom toward them that are without, redeeming the time. Let your speech be always with grace, seasoned with salt, that ye may know how ye ought to answer every man.

Andai com sabedoria para com os que estão de fora, remindo o tempo. A vossa palavra seja sempre agradável, temperada com sal, para que saibais como vos convém responder a cada um.

But sanctify the Lord God in your hearts: and be ready always to give an answer to every man that asketh you a reason of the hope that is in you with meekness and fear.

Antes, santificai a Cristo, como Senhor, em vosso coração; e estai sempre preparados para responder com mansidão e temor a qualquer que vos pedir a razão da esperança que há em vós.

The like figure whereunto even baptism doth also now save us (not the putting away of the filth of the flesh, but the answer of a good conscience toward God,) by the resurrection of Jesus Christ.

Que também, como uma verdadeira figura, agora vos salva, batismo, não do despojamento da imundícia da carne, mas da indagação de uma boa consciência para com Deus, pela ressurreição de Jesus Cristo.

As in water face answereth to face, so the heart of man to man.

Como na água o rosto corresponde ao rosto, assim o coração do homem ao homem.

Jesus answered them, and said, My doctrine is not mine, but his that sent me.

Jesus respondeu e disse-lhes: A minha doutrina não é minha, mas daquele que me enviou.

I called upon the L

ord

in distress: the L

ord

answered me, and set me in a large place.
Invoquei o S

enhor

na angústia; o S

enhor

me ouviu e me pôs em um lugar largo.

Jesus answered them, Verily, verily, I say unto you, Whosoever committeth sin is the servant of sin.

Respondeu-lhes Jesus: Em verdade, em verdade vos digo que todo aquele que comete pecado é servo do pecado.

But when Jesus heard it, he answered him, saying, Fear not: believe only, and she shall be made whole.

Jesus, porém, ouvindo-o, respondeu-lhe, dizendo: Não temas; crê somente, e será salva.

Jesus answered and said unto them, This is the work of God, that ye believe on him whom he hath sent.

Jesus respondeu e disse-lhes: A obra de Deus é esta: que creiais naquele que ele enviou.

He answereth and saith unto them, He that hath two coats, let him impart to him that hath none; and he that hath meat, let him do likewise.

E, respondendo ele, disse-lhes: Quem tiver duas túnicas, que reparta com o que não tem, e quem tiver alimentos, que faça da mesma maneira.

And I will strengthen the house of Judah, and I will save the house of Joseph, and I will bring them again to place them; for I have mercy upon them: and they shall be as though I had not cast them off: for I am the L

ord

their God, and will hear them.
E fortalecerei a casa de Judá, e salvarei a casa de José, e tornarei a plantá-los, porque me apiedei deles; e serão como se os não tivera rejeitado; porque eu sou o S

enhor

, seu Deus, e os ouvirei.

Jesus answered and said unto him, Verily, verily, I say unto thee, Except a man be born again, he cannot see the kingdom of God.

Jesus respondeu e disse-lhe: Na verdade, na verdade te digo que aquele que não nascer de novo não pode ver o Reino de Deus.

Jesus answered, Verily, verily, I say unto thee, Except a man be born of water and of the Spirit, he cannot enter into the kingdom of God.

Jesus respondeu: Na verdade, na verdade te digo que aquele que não nascer da água e do Espírito não pode entrar no Reino de Deus.

He saith unto them, But whom say ye that I am? And Simon Peter answered and said, Thou art the Christ, the Son of the living God.

Disse-lhes ele: E vós, quem dizeis que eu sou? E Simão Pedro, respondendo, disse: Tu és o Cristo, o Filho do Deus vivo.

But he answered and said, It is written, Man shall not live by bread alone, but by every word that proceedeth out of the mouth of God.

Ele, porém, respondendo, disse: Está escrito: Nem só de pão viverá o homem, mas de toda a palavra que sai da boca de Deus.

And he answering said, Thou shalt love the Lord thy God with all thy heart, and with all thy soul, and with all thy strength, and with all thy mind; and thy neighbour as thyself.

E, respondendo ele, disse: Amarás ao Senhor, teu Deus, de todo o teu coração, e de toda a tua alma, e de todas as tuas forças, e de todo o teu entendimento e ao teu próximo como a ti mesmo.

Jesus answered and said unto him, If a man love me, he will keep my words: and my Father will love him, and we will come unto him, and make our abode with him.

Jesus respondeu e disse-lhe: Se alguém me ama, guardará a minha palavra, e meu Pai o amará, e viremos para ele e faremos nele morada.

And the angel answered and said unto the women, Fear not ye: for I know that ye seek Jesus, which was crucified. He is not here: for he is risen, as he said. Come, see the place where the Lord lay.

Mas o anjo, respondendo, disse às mulheres: Não tenhais medo; pois eu sei que buscai a Jesus, que foi crucificado. Ele não está aqui, porque já ressuscitou, como tinha dito. Vinde e vede o lugar onde o Senhor jazia.

Exhort servants to be obedient unto their own masters, and to please them well in all things; not answering again; Not purloining, but shewing all good fidelity; that they may adorn the doctrine of God our Saviour in all things.

Exorta os servos a que se sujeitem a seu senhor e em tudo agradem, não contradizendo, não defraudando; antes, mostrando toda a boa lealdade, para que, em tudo, sejam ornamento da doutrina de Deus, nosso Salvador.

And the angel answered and said unto her, The Holy Ghost shall come upon thee, and the power of the Highest shall overshadow thee: therefore also that holy thing which shall be born of thee shall be called the Son of God.

E, respondendo o anjo, disse-lhe: Descerá sobre ti o Espírito Santo, e a virtude do Altíssimo te cobrirá com a sua sombra; pelo que também o Santo, que de ti há de nascer, será chamado Filho de Deus.

Jesus answered and said unto them, Verily I say unto you, If ye have faith, and doubt not, ye shall not only do this which is done to the fig tree, but also if ye shall say unto this mountain, Be thou removed, and be thou cast into the sea; it shall be done.

Jesus, porém, respondendo, disse-lhes: Em verdade vos digo que, se tiverdes fé e não duvidardes, não só fareis o que foi feito à figueira, mas até, se a este monte disserdes: Ergue-te e precipita-te no mar, assim será feito.
And though I have the gift of prophecy, and understand all mysteries, and all knowledge; and though I have all faith, so that I could remove mountains, and have not charity, I am nothing.
Personal Bible reading plan
Create an account to configure your Bible reading plan and you will see your progress and the next chapter to read here!
Read more...