Bible Verses about 'Death'
«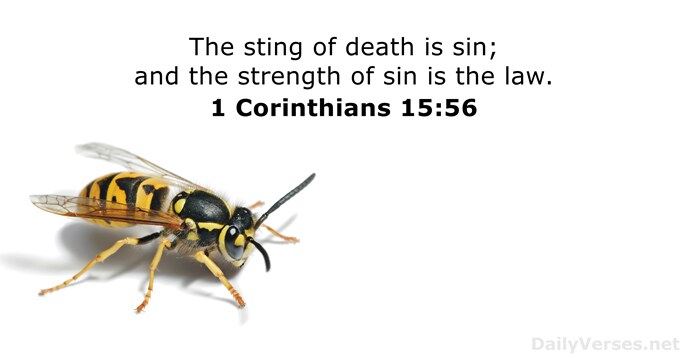 »
The sting of death is sin; and the strength of sin is the law.

Ora, o aguilhão da morte é o pecado, e a força do pecado é a lei.

Riches profit not in the day of wrath: but righteousness delivereth from death.

Não aproveitam as riquezas no dia da ira, mas a justiça livra da morte.

Treasures of wickedness profit nothing: but righteousness delivereth from death.

Os tesouros da impiedade de nada aproveitam; mas a justiça livra da morte.

There is a way which seemeth right unto a man, but the end thereof are the ways of death.

Há caminho que ao homem parece direito, mas o fim dele são os caminhos da morte.

For to be carnally minded is death; but to be spiritually minded is life and peace.

Porque a inclinação da carne é morte; mas a inclinação do Espírito é vida e paz.

For since by man came death, by man came also the resurrection of the dead.

Porque, assim como a morte veio por um homem, também a ressurreição dos mortos veio por um homem.

Death and life are in the power of the tongue: and they that love it shall eat the fruit thereof.

A morte e a vida estão no poder da língua; e aquele que a ama comerá do seu fruto.

For the wages of sin is death; but the gift of God is eternal life through Jesus Christ our Lord.

Porque o salário do pecado é a morte, mas o dom gratuito de Deus é a vida eterna, por Cristo Jesus, nosso Senhor.

Know ye not, that so many of us as were baptized into Jesus Christ were baptized into his death?

Ou não sabeis que todos quantos fomos batizados em Jesus Cristo fomos batizados na sua morte?

For I have no pleasure in the death of him that dieth, saith the Lord G

od

: wherefore turn yourselves, and live ye.
Porque não tomo prazer na morte do que morre, diz o Senhor J

eová

; convertei-vos, pois, e vivei.

That as sin hath reigned unto death, even so might grace reign through righteousness unto eternal life by Jesus Christ our Lord.

Para que, assim como o pecado reinou na morte, também a graça reinasse pela justiça para a vida eterna, por Jesus Cristo, nosso Senhor.

That I may know him, and the power of his resurrection, and the fellowship of his sufferings, being made conformable unto his death.

Para conhecê-lo, e a virtude da sua ressurreição, e a comunicação de suas aflições, sendo feito conforme a sua morte.

For if, when we were enemies, we were reconciled to God by the death of his Son, much more, being reconciled, we shall be saved by his life.

Porque, se nós, sendo inimigos, fomos reconciliados com Deus pela morte de seu Filho, muito mais, estando já reconciliados, seremos salvos pela sua vida.

Who, being in the form of God, thought it not robbery to be equal with God: But made himself of no reputation, and took upon him the form of a servant, and was made in the likeness of men: And being found in fashion as a man, he humbled himself, and became obedient unto death, even the death of the cross.

Que, sendo em forma de Deus, não teve por usurpação ser igual a Deus. Mas aniquilou-se a si mesmo, tomando a forma de servo, fazendo-se semelhante aos homens; e, achado na forma de homem, humilhou-se a si mesmo, sendo obediente até à morte e morte de cruz.

Yea, though I walk through the valley of the shadow of death, I will fear no evil: for thou art with me; thy rod and thy staff they comfort me.

Ainda que eu andasse pelo vale da sombra da morte, não temeria mal algum, porque tu estás comigo; a tua vara e o teu cajado me consolam.

Set me as a seal upon thine heart, as a seal upon thine arm: for love is strong as death; jealousy is cruel as the grave: the coals thereof are coals of fire, which hath a most vehement flame.

Põe-me como selo sobre o teu coração, como selo sobre o teu braço, porque o amor é forte como a morte, e duro como a sepultura o ciúme; as suas brasas são brasas de fogo, labaredas do S

enhor

.

Blessed and holy is he that hath part in the first resurrection: on such the second death hath no power, but they shall be priests of God and of Christ, and shall reign with him a thousand years.

Bem-aventurado e santo aquele que tem parte na primeira ressurreição; sobre estes não tem poder a segunda morte, mas serão sacerdotes de Deus e de Cristo e reinarão com ele mil anos.

There is therefore now no condemnation to them which are in Christ Jesus, who walk not after the flesh, but after the Spirit. For the law of the Spirit of life in Christ Jesus hath made me free from the law of sin and death.

Portanto, agora, nenhuma condenação há para os que estão em Cristo Jesus, que não andam segundo a carne, mas segundo o espírito. Porque a lei do Espírito de vida, em Cristo Jesus, me livrou da lei do pecado e da morte.

For I am persuaded, that neither death, nor life, nor angels, nor principalities, nor powers, nor things present, nor things to come, Nor height, nor depth, nor any other creature, shall be able to separate us from the love of God, which is in Christ Jesus our Lord.

Porque estou certo de que nem a morte, nem a vida, nem os anjos, nem os principados, nem as potestades, nem o presente, nem o porvir, nem a altura, nem a profundidade, nem alguma outra criatura nos poderá separar do amor de Deus, que está em Cristo Jesus, nosso Senhor!

For if we have been planted together in the likeness of his death, we shall be also in the likeness of his resurrection: Knowing this, that our old man is crucified with him, that the body of sin might be destroyed, that henceforth we should not serve sin.

Porque, se fomos plantados juntamente com ele na semelhança da sua morte, também o seremos na da sua ressurreição; sabendo isto: que o nosso velho homem foi com ele crucificado, para que o corpo do pecado seja desfeito, a fim de que não sirvamos mais ao pecado.

Behold, we go up to Jerusalem; and the Son of man shall be betrayed unto the chief priests and unto the scribes, and they shall condemn him to death, And shall deliver him to the Gentiles to mock, and to scourge, and to crucify him: and the third day he shall rise again.

Eis que vamos para Jerusalém, e o Filho do Homem será entregue aos príncipes dos sacerdotes e aos escribas, e condená-lo-ão à morte. E o entregarão aos gentios para que dele escarneçam, e o açoitem, e crucifiquem, e ao terceiro dia ressuscitará.

And for this cause he is the mediator of the new testament, that by means of death, for the redemption of the transgressions that were under the first testament, they which are called might receive the promise of eternal inheritance.

E, por isso, é Mediador de um novo testamento, para que, intervindo a morte para remissão das transgressões que havia debaixo do primeiro testamento, os chamados recebam a promessa da herança eterna.

Mortify therefore your members which are upon the earth; fornication, uncleanness, inordinate affection, evil concupiscence, and covetousness, which is idolatry.

Mortificai, pois, os vossos membros que estão sobre a terra: a prostituição, a impureza, o apetite desordenado, a vil concupiscência e a avareza, que é idolatria.

And I heard a great voice out of heaven saying, Behold, the tabernacle of God is with men, and he will dwell with them, and they shall be his people, and God himself shall be with them, and be their God. And God shall wipe away all tears from their eyes; and there shall be no more death, neither sorrow, nor crying, neither shall there be any more pain: for the former things are passed away.

E ouvi uma grande voz do céu, que dizia: Eis aqui o tabernáculo de Deus com os homens, pois com eles habitará, e eles serão o seu povo, e o mesmo Deus estará com eles e será o seu Deus. E Deus limpará de seus olhos toda lágrima, e não haverá mais morte, nem pranto, nem clamor, nem dor, porque já as primeiras coisas são passadas.

And I saw the dead, small and great, stand before God; and the books were opened: and another book was opened, which is the book of life: and the dead were judged out of those things which were written in the books, according to their works. And the sea gave up the dead which were in it; and death and hell delivered up the dead which were in them: and they were judged every man according to their works.

E vi os mortos, grandes e pequenos, que estavam diante do trono, e abriram-se os livros. E abriu-se outro livro, que é o da vida. E os mortos foram julgados pelas coisas que estavam escritas nos livros, segundo as suas obras. E deu o mar os mortos que nele havia; e a morte e o inferno deram os mortos que neles havia; e foram julgados cada um segundo as suas obras.
Beware of false prophets, which come to you in sheep's clothing, but inwardly they are ravening wolves.
Personal Bible reading plan
Create an account to configure your Bible reading plan and you will see your progress and the next chapter to read here!
Read more...