Bible Verses about 'Fast'
«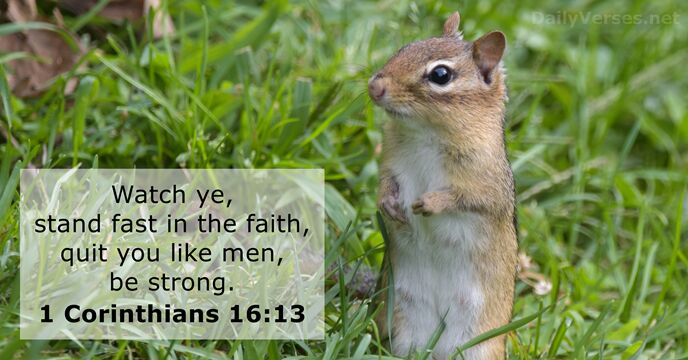 »
Watch ye, stand fast in the faith, quit you like men, be strong.

Behold, I come quickly: hold that fast which thou hast, that no man take thy crown.

Prove all things; hold fast that which is good. Abstain from all appearance of evil.

Moreover when ye fast, be not, as the hypocrites, of a sad countenance: for they disfigure their faces, that they may appear unto men to fast. Verily I say unto you, They have their reward.

Let us hold fast the profession of our faith without wavering; (for he is faithful that promised;)

Go, gather together all the Jews that are present in Shushan, and fast ye for me, and neither eat nor drink three days, night or day: I also and my maidens will fast likewise; and so will I go in unto the king, which is not according to the law: and if I perish, I perish.

But thou, when thou fastest, anoint thine head, and wash thy face; That thou appear not unto men to fast, but unto thy Father which is in secret: and thy Father, which seeth in secret, shall reward thee openly.

Stand fast therefore in the liberty wherewith Christ hath made us free, and be not entangled again with the yoke of bondage.

Is not this the fast that I have chosen?
to loose the bands of wickedness,
to undo the heavy burdens,
and to let the oppressed go free,
and that ye break every yoke?
Ye shall walk after the L

ord

your God, and fear him, and keep his commandments, and obey his voice, and ye shall serve him, and cleave unto him.

So we fasted and besought our God for this: and he was intreated of us.

And when they had fasted and prayed, and laid their hands on them, they sent them away.

Let love be without dissimulation. Abhor that which is evil; cleave to that which is good.

But he knoweth the way that I take:
when he hath tried me, I shall come forth as gold.
My foot hath held his steps,
his way have I kept, and not declined.
Therefore also now, saith the L

ord

,
turn ye even to me with all your heart,
and with fasting, and with weeping, and with mourning.

As they ministered to the Lord, and fasted, the Holy Ghost said, Separate me Barnabas and Saul for the work whereunto I have called them.

Moreover, brethren, I declare unto you the gospel which I preached unto you, which also ye have received, and wherein ye stand; By which also ye are saved, if ye keep in memory what I preached unto you, unless ye have believed in vain.

For this cause shall a man leave his father and mother, and shall be joined unto his wife, and they two shall be one flesh.

Do all things without murmurings and disputings: That ye may be blameless and harmless, the sons of God, without rebuke, in the midst of a crooked and perverse nation, among whom ye shine as lights in the world; Holding forth the word of life.

But take diligent heed to do the commandment and the law, which Moses the servant of the L

ord

charged you, to love the L

ord

your God, and to walk in all his ways, and to keep his commandments, and to cleave unto him, and to serve him with all your heart and with all your soul.

Defraud ye not one the other, except it be with consent for a time, that ye may give yourselves to fasting and prayer; and come together again, that Satan tempt you not for your incontinency.

And he answered and said unto them, Have ye not read, that he which made them at the beginning made them male and female, And said, For this cause shall a man leave father and mother, and shall cleave to his wife: and they twain shall be one flesh? Wherefore they are no more twain, but one flesh. What therefore God hath joined together, let not man put asunder.

For the customs of the people are vain: for one cutteth a tree out of the forest, the work of the hands of the workman, with the axe. They deck it with silver and with gold; they fasten it with nails and with hammers, that it move not. They are upright as the palm tree, but speak not: they must needs be borne, because they cannot go. Be not afraid of them; for they cannot do evil, neither also is it in them to do good.

And the rib, which the L

ord

God had taken from man, made he a woman, and brought her unto the man. And Adam said, This is now bone of my bones, and flesh of my flesh: she shall be called Woman, because she was taken out of Man. Therefore shall a man leave his father and his mother, and shall cleave unto his wife: and they shall be one flesh.
But Jesus beheld them, and said unto them, With men this is impossible; but with God all things are possible.
Personal Bible reading plan
Create an account to configure your Bible reading plan and you will see your progress and the next chapter to read here!
Read more...