20 Bible Verses about 'Fool'
«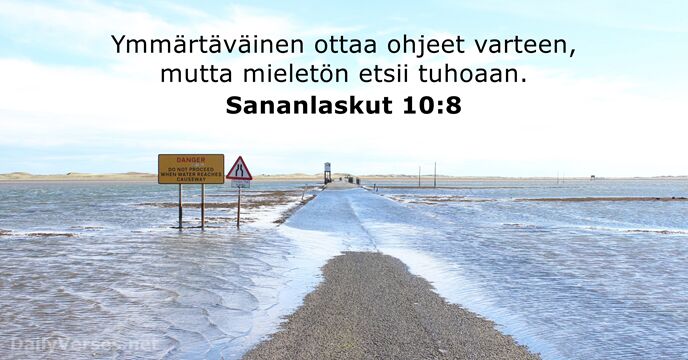 »
The wise in heart will receive commands, But a prating fool will fall.

Ymmärtäväinen ottaa ohjeet varteen, mutta mieletön etsii tuhoaan.

Whoever hides hatred has lying lips, And whoever spreads slander is a fool.

Joka vihansa salaa, se valheita puhuu, hullu se, joka panettelee ja parjaa.

Excellent speech is not becoming to a fool, Much less lying lips to a prince.

Tyhmän suuhun ei sovi suora puhe eikä ruhtinaan huulille valhe.

It is honorable for a man to stop striving, Since any fool can start a quarrel.

Kunnia sille, joka riitansa sopii, hullu purkaa vihansa julki.

A fool vents all his feelings, But a wise man holds them back.

Tyhmä päästää vihansa valloilleen, viisas malttaa ja hillitsee vihansa.

A fool despises his father's instruction, But he who receives correction is prudent.

Tyhmä väheksyy isänsä opetusta, viisas se, joka nuhteita kuulee.

A fool has no delight in understanding, But in expressing his own heart.

Moukka ei yritäkään ymmärtää, silti hän tahtoo mielipiteensä julki.

The words of a wise man's mouth are gracious, But the lips of a fool shall swallow him up.

Viisaan sanat saavuttavat suosiota, mutta tyhmän nielee hänen oma suunsa.

Even a fool is counted wise when he holds his peace; When he shuts his lips, he is considered perceptive.

Hullukin käy viisaasta, jos on vaiti, järkevästä, ellei suutaan avaa.

Let no one deceive himself. If anyone among you seems to be wise in this age, let him become a fool that he may become wise.

Älköön vain kukaan pettäkö itseään. Jos joku teistä on olevinaan viisas tässä maailmassa, hänestä täytyy ensin tulla hullu, jotta hänestä tulisi viisas.

A fool's lips enter into contention, And his mouth calls for blows.

Riita on lähellä, kun tyhmä puhuu, hän kärttää itselleen selkäsaunaa.

A fool's wrath is known at once, But a prudent man covers shame.

Tyhmä tuo heti julki suuttumuksensa, viisas nielee loukkauksen ja vaikenee.

A highway shall be there, and a road, And it shall be called the Highway of Holiness. The unclean shall not pass over it, But it shall be for others. Whoever walks the road, although a fool, Shall not go astray.

Ja sinne syntyy tie, valtatie, sitä kutsutaan Pyhäksi tieksi. Epäpyhä ei saa sille astua: Herran tien kulkijoille se kuuluu, heille yksin. Siellä ei tyhmäkään eksy.

A wise son makes a glad father, But a foolish son is the grief of his mother.

Viisas poika on isänsä ilo, tyhmä poika on äitinsä murhe.

For the message of the cross is foolishness to those who are perishing, but to us who are being saved it is the power of God.

Puhe rististä on hulluutta niiden mielestä, jotka joutuvat kadotukseen, mutta meille, jotka pelastumme, se on Jumalan voima.

He who walks with wise men will be wise, But the companion of fools will be destroyed.

Hae viisaiden seuraa, niin viisastut, pahoin käy, jos lyöttäydyt typerien joukkoon.

The fear of the L

ord

is the beginning of knowledge, But fools despise wisdom and instruction.

Herran pelko on tiedon perusta, vain hullu halveksii viisautta ja opetusta.

But those who desire to be rich fall into temptation and a snare, and into many foolish and harmful lusts which drown men in destruction and perdition.

Ne, jotka tahtovat rikastua, joutuvat kiusaukseen ja lankeavat ansaan, monenlaisten järjettömien ja vahingollisten halujen valtaan, jotka syöksevät ihmiset tuhoon ja perikatoon.

See then that you walk circumspectly, not as fools but as wise, redeeming the time, because the days are evil.

Katsokaa siis tarkoin, miten elätte: älkää eläkö tyhmien tavoin, vaan niin kuin viisaat. Käyttäkää oikein jokainen hetki, sillä tämä aika on paha.

And He said, "What comes out of a man, that defiles a man. For from within, out of the heart of men, proceed evil thoughts, adulteries, fornications, murders, thefts, covetousness, wickedness, deceit, lewdness, an evil eye, blasphemy, pride, foolishness. All these evil things come from within and defile a man."

Ja hän jatkoi: »Se mikä tulee ihmisestä ulos, se saastuttaa ihmisen. Juuri ihmisen sisältä, sydämestä, lähtevät pahat ajatukset, ja niiden mukana siveettömyys, varkaudet, murhat, aviorikokset, ahneus, häijyys, vilppi, irstaus, pahansuopuus, herjaus, ylpeys ja uhmamieli. Kaikki tämä paha tulee ihmisen sisältä ja saastuttaa hänet.»
I spread out my hands to You;
My soul longs for You like a thirsty land.
Selah
You shall walk in all the ways which the L

ord

your God has commanded you, that you may live and that it may be well with you, and that you may prolong your days in the land which you shall possess.
Read more
I spread out my hands to You; My soul longs for You like a thirsty land. Selah
Personal Bible reading plan
Create an account to configure your Bible reading plan and you will see your progress and the next chapter to read here!
Read more...