20 Bible Verses about 'Fool'
«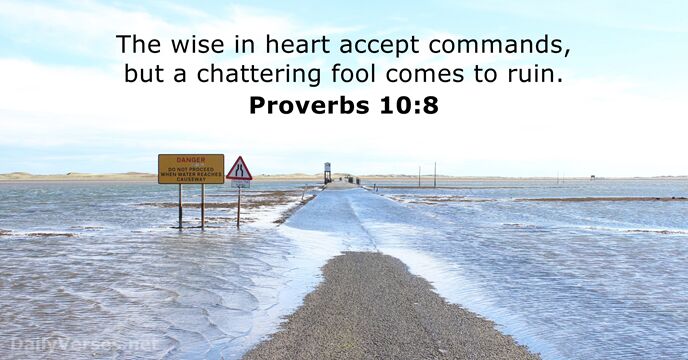 »
The wise in heart accept commands,
but a chattering fool comes to ruin.
Whoever conceals hatred with lying lips
and spreads slander is a fool.
It is to one's honor to avoid strife,
but every fool is quick to quarrel.
Eloquent lips are unsuited to a godless fool—
how much worse lying lips to a ruler!
A fool spurns a parent's discipline,
but whoever heeds correction shows prudence.
Fools give full vent to their rage,
but the wise bring calm in the end.
Fools find no pleasure in understanding
but delight in airing their own opinions.
The lips of fools bring them strife,
and their mouths invite a beating.
Fools show their annoyance at once,
but the prudent overlook an insult.
Words from the mouth of the wise are gracious,
but fools are consumed by their own lips.
Even fools are thought wise if they keep silent,
and discerning if they hold their tongues.
A wise son brings joy to his father,
but a foolish son brings grief to his mother.

Do not deceive yourselves. If any of you think you are wise by the standards of this age, you should become "fools" so that you may become wise.

For the message of the cross is foolishness to those who are perishing, but to us who are being saved it is the power of God.

Walk with the wise and become wise,
for a companion of fools suffers harm.
The fear of the L

ord

is the beginning of knowledge,
but fools despise wisdom and instruction.

Those who want to get rich fall into temptation and a trap and into many foolish and harmful desires that plunge people into ruin and destruction.

And a highway will be there;
it will be called the Way of Holiness;
it will be for those who walk on that Way.
The unclean will not journey on it;
wicked fools will not go about on it.

He went on: "What comes out of a person is what defiles them. For it is from within, out of a person's heart, that evil thoughts come—sexual immorality, theft, murder, adultery, greed, malice, deceit, lewdness, envy, slander, arrogance and folly. All these evils come from inside and defile a person."

Be very careful, then, how you live—not as unwise but as wise, making the most of every opportunity, because the days are evil.
Who is it that overcomes the world? Only the one who believes that Jesus is the Son of God.
And the God of all grace, who called you to his eternal glory in Christ, after you have suffered a little while, will himself restore you and make you strong, firm and steadfast.
Read more
Who is it that overcomes the world? Only the one who believes that Jesus is the Son of God.
Personal Bible reading plan
Create an account to configure your Bible reading plan and you will see your progress and the next chapter to read here!
Read more...