20 Bible Verses about 'Fool'
«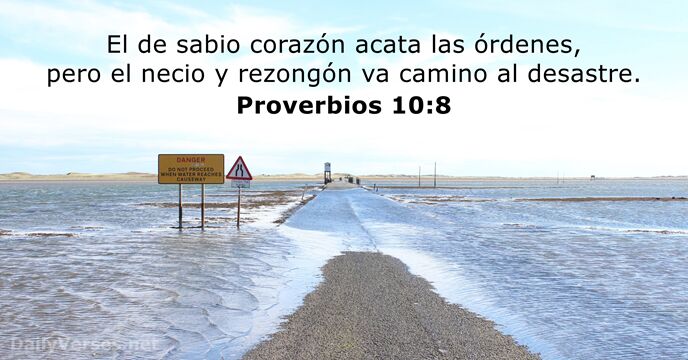 »
The wise in heart will receive commands, But a prating fool will fall.

El de sabio corazón acata las órdenes, pero el necio y rezongón va camino al desastre.

Whoever hides hatred has lying lips, And whoever spreads slander is a fool.

El de labios mentirosos disimula su odio, y el que propaga calumnias es un necio.

Excellent speech is not becoming to a fool, Much less lying lips to a prince.

No va bien con los necios el lenguaje refinado, ni con los gobernantes, la mentira.

It is honorable for a man to stop striving, Since any fool can start a quarrel.

Honroso es al hombre evitar la contienda, pero no hay necio que no inicie un pleito.

A fool vents all his feelings, But a wise man holds them back.

El necio da rienda suelta a su ira, pero el sabio sabe dominarla.

A fool despises his father's instruction, But he who receives correction is prudent.

El necio desdeña la corrección de su padre; el que la acepta demuestra prudencia.

A fool has no delight in understanding, But in expressing his own heart.

Al necio no le complace el discernimiento; tan sólo hace alarde de su propia opinión.

The words of a wise man's mouth are gracious, But the lips of a fool shall swallow him up.

Las palabras del sabio son placenteras, pero los labios del necio son su ruina.

Even a fool is counted wise when he holds his peace; When he shuts his lips, he is considered perceptive.

Hasta un necio pasa por sabio si guarda silencio; se le considera prudente si cierra la boca.

Let no one deceive himself. If anyone among you seems to be wise in this age, let him become a fool that he may become wise.

Que nadie se engañe. Si alguno de ustedes se cree sabio según las normas de esta época, hágase ignorante para así llegar a ser sabio.

A fool's lips enter into contention, And his mouth calls for blows.

Los labios del necio son causa de contienda; su boca incita a la riña.

A fool's wrath is known at once, But a prudent man covers shame.

El necio muestra en seguida su enojo, pero el prudente pasa por alto el insulto.

A highway shall be there, and a road, And it shall be called the Highway of Holiness. The unclean shall not pass over it, But it shall be for others. Whoever walks the road, although a fool, Shall not go astray.

Habrá allí una calzada que será llamada Camino de santidad. No viajarán por ella los impuros, ni transitarán por ella los necios; será solo para los que siguen el camino.

A wise son makes a glad father, But a foolish son is the grief of his mother.

El hijo sabio es la alegría de su padre; el hijo necio es el pesar de su madre.

For the message of the cross is foolishness to those who are perishing, but to us who are being saved it is the power of God.

Me explico: El mensaje de la cruz es una locura para los que se pierden; en cambio, para los que se salvan, es decir, para nosotros, este mensaje es el poder de Dios.

He who walks with wise men will be wise, But the companion of fools will be destroyed.

El que con sabios anda, sabio se vuelve; el que con necios se junta, saldrá mal parado.

The fear of the L

ord

is the beginning of knowledge, But fools despise wisdom and instruction.
El temor del S

eñor

es el principio del conocimiento; los necios desprecian la sabiduría y la disciplina.

But those who desire to be rich fall into temptation and a snare, and into many foolish and harmful lusts which drown men in destruction and perdition.

Los que quieren enriquecerse caen en la tentación y se vuelven esclavos de sus muchos deseos. Estos afanes insensatos y dañinos hunden a la gente en la ruina y en la destrucción.

See then that you walk circumspectly, not as fools but as wise, redeeming the time, because the days are evil.

Así que tengan cuidado de su manera de vivir. No vivan como necios sino como sabios, aprovechando al máximo cada momento oportuno, porque los días son malos.

And He said, "What comes out of a man, that defiles a man. For from within, out of the heart of men, proceed evil thoughts, adulteries, fornications, murders, thefts, covetousness, wickedness, deceit, lewdness, an evil eye, blasphemy, pride, foolishness. All these evil things come from within and defile a man."

Luego añadió: —Lo que sale de la persona es lo que la contamina. Porque de adentro, del corazón humano, salen los malos pensamientos, la inmoralidad sexual, los robos, los homicidios, los adulterios, la avaricia, la maldad, el engaño, el libertinaje, la envidia, la calumnia, la arrogancia y la necedad. Todos estos males vienen de adentro y contaminan a la persona.
I spread out my hands to You;
My soul longs for You like a thirsty land.
Selah
For the grace of God that brings salvation has appeared to all men, teaching us that, denying ungodliness and worldly lusts, we should live soberly, righteously, and godly in the present age.
Read more
I spread out my hands to You; My soul longs for You like a thirsty land. Selah
Personal Bible reading plan
Create an account to configure your Bible reading plan and you will see your progress and the next chapter to read here!
Read more...