Bible Verses about 'Pass'
«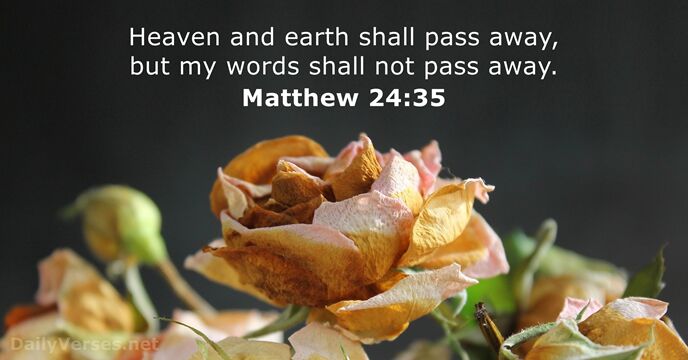 »
Heaven and earth shall pass away, but my words shall not pass away.

For verily I say unto you, Till heaven and earth pass, one jot or one tittle shall in no wise pass from the law, till all be fulfilled.

And it shall come to pass, that whosoever shall call on the name of the Lord shall be saved.

A prudent man foreseeth the evil, and hideth himself;
but the simple pass on, and are punished.

Let the brother of low degree rejoice in that he is exalted: But the rich, in that he is made low: because as the flower of the grass he shall pass away.

And it came to pass, because the midwives feared God, that he made them houses.

Rest in the L

ord

, and wait patiently for him:
fret not thyself because of him who prospereth in his way,
because of the man who bringeth wicked devices to pass.

And an highway shall be there, and a way, and it shall be called The way of holiness; the unclean shall not pass over it; but it shall be for those: the wayfaring men, though fools, shall not err therein.

Commit thy way unto the L

ord

;
trust also in him; and he shall bring it to pass.
And he shall bring forth thy righteousness as the light,
and thy judgment as the noonday.

But as for you, ye thought evil against me; but God meant it unto good, to bring to pass, as it is this day, to save much people alive.

And he led them out as far as to Bethany, and he lifted up his hands, and blessed them. And it came to pass, while he blessed them, he was parted from them, and carried up into heaven.

When thou passest through the waters,
I will be with thee;
and through the rivers,
they shall not overflow thee:
when thou walkest through the fire,
thou shalt not be burned;
neither shall the flame kindle upon thee.
And, behold, this day I am going the way of all the earth: and ye know in all your hearts and in all your souls, that not one thing hath failed of all the good things which the L

ord

your God spake concerning you; all are come to pass unto you, and not one thing hath failed thereof.

For verily I say unto you, That whosoever shall say unto this mountain, Be thou removed, and be thou cast into the sea; and shall not doubt in his heart, but shall believe that those things which he saith shall come to pass; he shall have whatsoever he saith.

And it shall come to pass, if thou shalt hearken diligently unto the voice of the L

ord

thy God, to observe and to do all his commandments which I command thee this day, that the L

ord

thy God will set thee on high above all nations of the earth.

Now when all the people were baptized, it came to pass, that Jesus also being baptized, and praying, the heaven was opened, And the Holy Ghost descended in a bodily shape like a dove upon him, and a voice came from heaven, which said, Thou art my beloved Son; in thee I am well pleased.

And the world passeth away, and the lust thereof: but he that doeth the will of God abideth for ever.

Therefore thou art inexcusable, O man, whosoever thou art that judgest: for wherein thou judgest another, thou condemnest thyself; for thou that judgest doest the same things.

Let not him that eateth despise him that eateth not; and let not him which eateth not judge him that eateth: for God hath received him.

Let us not therefore judge one another any more: but judge this rather, that no man put a stumblingblock or an occasion to fall in his brother's way.

Who art thou that judgest another man's servant? to his own master he standeth or falleth. Yea, he shall be holden up: for God is able to make him stand.

And it came to pass, that he went through the corn fields on the sabbath day; and his disciples began, as they went, to pluck the ears of corn. And the Pharisees said unto him, Behold, why do they on the sabbath day that which is not lawful? And he said unto them, Have ye never read what David did, when he had need, and was an hungred, he, and they that were with him? How he went into the house of God in the days of Abiathar the high priest, and did eat the shewbread, which is not lawful to eat but for the priests, and gave also to them which were with him? And he said unto them, The sabbath was made for man, and not man for the sabbath: Therefore the Son of man is Lord also of the sabbath.

Let no man therefore judge you in meat, or in drink, or in respect of an holyday, or of the new moon, or of the sabbath days: Which are a shadow of things to come; but the body is of Christ.

Having therefore obtained help of God, I continue unto this day, witnessing both to small and great, saying none other things than those which the prophets and Moses did say should come: That Christ should suffer, and that he should be the first that should rise from the dead, and should shew light unto the people, and to the Gentiles.
Love worketh no ill to his neighbour: therefore love is the fulfilling of the law.
Personal Bible reading plan
Create an account to configure your Bible reading plan and you will see your progress and the next chapter to read here!
Read more...