15 Bible Verses about 'Think'
«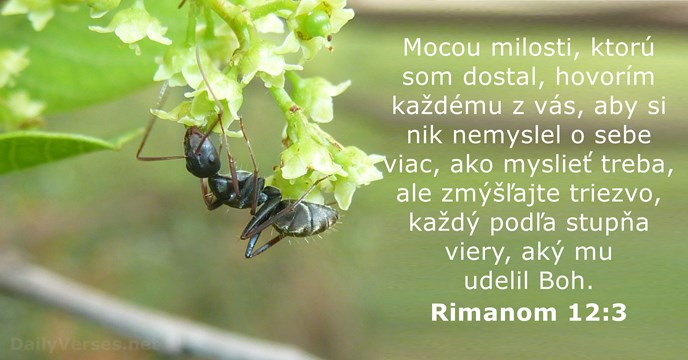 »
For I say, through the grace given to me, to everyone who is among you, not to think of himself more highly than he ought to think, but to think soberly, as God has dealt to each one a measure of faith.

Mocou milosti, ktorú som dostal, hovorím každému z vás, aby si nik nemyslel o sebe viac, ako myslieť treba, ale zmýšľajte triezvo, každý podľa stupňa viery, aký mu udelil Boh.

Do not think that I came to destroy the Law or the Prophets. I did not come to destroy but to fulfill.

Nemyslite si, že som prišiel zrušiť Zákon alebo Prorokov; neprišiel som ich zrušiť, ale naplniť.

And when you pray, do not use vain repetitions as the heathen do. For they think that they will be heard for their many words.

Keď sa modlíte, nehovorte veľa ako pohania. Myslia si, že budú vypočutí pre svoju mnohovravnosť.

Or do you think that I cannot now pray to My Father, and He will provide Me with more than twelve legions of angels?

Alebo si myslíš, že by som nemohol poprosiť svojho Otca a on by mi hneď poslal viac ako dvanásť plukov anjelov?

For I know the thoughts that I think toward you, says the L

ord

, thoughts of peace and not of evil, to give you a future and a hope.

Veď ja poznám zámer, ktorý mám s vami - hovorí Pán. Sú to myšlienky pokoja a nie súženia: dám vám budúcnosť a nádej.

Now to Him who is able to do exceedingly abundantly above all that we ask or think, according to the power that works in us, to Him be glory in the church by Christ Jesus to all generations, forever and ever. Amen.

A tomu, ktorý mocou, čo v nás pôsobí, je schopný okrem tohto všetkého urobiť oveľa viac, ako prosíme alebo chápeme, tomu sláva v Cirkvi a v Kristovi Ježišovi po všetky pokolenia na veky vekov. Amen.

I have made a covenant with my eyes; Why then should I look upon a young woman?

S očami som si takú zmluvu ujednal, že nepozriem sa nikdy na pannu.

Finally, brethren, whatever things are true, whatever things are noble, whatever things are just, whatever things are pure, whatever things are lovely, whatever things are of good report, if there is any virtue and if there is anything praiseworthy—meditate on these things.

Napokon, bratia, myslite na všetko, čo je pravdivé, čo je cudné, čo je spravodlivé, čo je mravne čisté, čo je milé a čo má dobrú povesť, čo je čnostné a chválitebné!

Every way of a man is right in his own eyes, But the L

ord

weighs the hearts.

Človeku sa môže zdať, že každá jeho cesta správna je, lenže srdcia posudzuje Pán.

Therefore you also be ready, for the Son of Man is coming at an hour you do not expect.

Preto aj vy buďte pripravení, lebo Syn človeka príde v hodinu, o ktorej neviete.

Let no one deceive himself. If anyone among you seems to be wise in this age, let him become a fool that he may become wise.

Nech nik neklame sám seba! Ak si niekto z vás myslí, že je v tomto veku múdry, nech sa stane bláznom, aby bol múdry.

Love suffers long and is kind; love does not envy; love does not parade itself, is not puffed up; does not behave rudely, does not seek its own, is not provoked, thinks no evil.

Láska je trpezlivá, láska je dobrotivá; nezávidí, nevypína sa, nevystatuje sa, nie je nehanebná, nie je sebecká, nerozčuľuje sa, nemyslí na zlé.

Now He was teaching in one of the synagogues on the Sabbath. And behold, there was a woman who had a spirit of infirmity eighteen years, and was bent over and could in no way raise herself up. But when Jesus saw her, He called her to Him and said to her, "Woman, you are loosed from your infirmity." And He laid His hands on her, and immediately she was made straight, and glorified God. But the ruler of the synagogue answered with indignation, because Jesus had healed on the Sabbath; and he said to the crowd, "There are six days on which men ought to work; therefore come and be healed on them, and not on the Sabbath day." The Lord then answered him and said, "Hypocrite! Does not each one of you on the Sabbath loose his ox or donkey from the stall, and lead it away to water it? So ought not this woman, being a daughter of Abraham, whom Satan has bound—think of it—for eighteen years, be loosed from this bond on the Sabbath?" And when He said these things, all His adversaries were put to shame; and all the multitude rejoiced for all the glorious things that were done by Him.

V sobotu učil v istej synagóge. Bola tam žena, ktorá osemnásť rokov mala ducha neduživosti. Bola zhrbená a nemohla sa ani trochu narovnať. Keď ju Ježiš zbadal, zavolal si ju a povedal jej: "Žena, si oslobodená od svojej choroby," a vložil na ňu ruky. Ona sa hneď vzpriamila a oslavovala Boha. Ale predstavený synagógy sa nahneval, že Ježiš v sobotu uzdravuje, i povedal zástupu: "Je šesť dní, keď treba pracovať; v tieto dni prichádzajte a dávajte sa uzdravovať, a nie v sobotu!" Pán mu odpovedal: "Pokrytci! Neodväzuje každý z vás v sobotu svojho vola alebo osla od jasieľ a nevodí ho napájať? A túto Abrahámovu dcéru, ktorú satan držal osemnásť rokov spútanú, nebolo treba vyslobodiť z tohto puta hoci aj v sobotu?" Keď to povedal, všetci jeho protivníci sa zahanbili, ale ľudia sa radovali zo všetkých slávnych skutkov, ktoré konal.

But Peter said, "Ananias, why has Satan filled your heart to lie to the Holy Spirit and keep back part of the price of the land for yourself? While it remained, was it not your own? And after it was sold, was it not in your own control? Why have you conceived this thing in your heart? You have not lied to men but to God."

Peter povedal: "Ananiáš, prečo ti satan naplnil srdce, aby si luhal Duchu Svätému a stiahol z peňazí za pozemok? Azda nebol tvoj, kým si ho mal? A keď si ho predal, nebolo v tvojej moci, čo si zaň dostal? Prečo si prepožičal svoje srdce na túto vec? Neluhal si ľuďom, ale Bohu!"

Therefore, since Christ suffered for us in the flesh, arm yourselves also with the same mind, for he who has suffered in the flesh has ceased from sin.

Keď teda Kristus trpel v tele, aj vy sa vyzbrojte tým istým zmýšľaním. Lebo ten, kto trpel v tele, skoncoval s hriechom.
Trust in the L

ord

, and do good;
Dwell in the land, and feed on His faithfulness.
The L

ord

bless you and keep you;
The L

ord

make His face shine upon you,
And be gracious to you;
The L

ord

lift up His countenance upon you,
And give you peace.
Read more
Trust in the L

ord

, and do good; Dwell in the land, and feed on His faithfulness.
Personal Bible reading plan
Create an account to configure your Bible reading plan and you will see your progress and the next chapter to read here!
Read more...