15 Bible Verses about 'Think'
«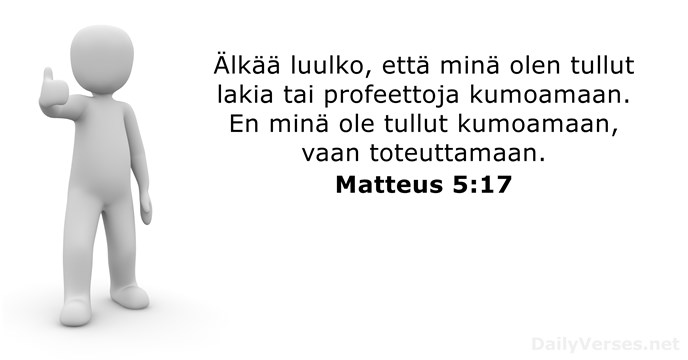 »
For I say, through the grace given to me, to everyone who is among you, not to think of himself more highly than he ought to think, but to think soberly, as God has dealt to each one a measure of faith.

Sen armon perusteella, joka minulle on annettu, sanon teille jokaiselle: älkää ajatelko itsestänne liikoja, enempää kuin on aihetta ajatella, vaan pitäkää ajatuksenne kohtuuden rajoissa, kukin sen uskon määrän mukaan, jonka Jumala on hänelle antanut.

Do not think that I came to destroy the Law or the Prophets. I did not come to destroy but to fulfill.

Älkää luulko, että minä olen tullut lakia tai profeettoja kumoamaan. En minä ole tullut kumoamaan, vaan toteuttamaan.

And when you pray, do not use vain repetitions as the heathen do. For they think that they will be heard for their many words.

Rukoillessanne älkää hokeko tyhjää niin kuin pakanat, jotka kuvittelevat tulevansa kuulluiksi, kun vain latelevat sanoja.

Or do you think that I cannot now pray to My Father, and He will provide Me with more than twelve legions of angels?

Luuletko, etten voisi pyytää apua Isältäni? Hän lähettäisi tänne heti kaksitoista legioonaa enkeleitä ja enemmänkin.

For I know the thoughts that I think toward you, says the L

ord

, thoughts of peace and not of evil, to give you a future and a hope.

Minulla on omat suunnitelmani teitä varten, sanoo Herra. Minun ajatukseni ovat rauhan eivätkä tuhon ajatuksia: minä annan teille tulevaisuuden ja toivon.

Now to Him who is able to do exceedingly abundantly above all that we ask or think, according to the power that works in us, to Him be glory in the church by Christ Jesus to all generations, forever and ever. Amen.

Jumalalle, joka meissä vaikuttavalla voimallaan kykenee tekemään monin verroin enemmän kuin osaamme pyytää tai edes ajatella, olkoon ylistys seurakunnassa ja Kristuksessa Jeesuksessa kautta kaikkien sukupolvien, aina ja ikuisesti. Aamen.

I have made a covenant with my eyes; Why then should I look upon a young woman?

Olen tehnyt silmieni kanssa sopimuksen: koskaan en katsele naisten puoleen.

Finally, brethren, whatever things are true, whatever things are noble, whatever things are just, whatever things are pure, whatever things are lovely, whatever things are of good report, if there is any virtue and if there is anything praiseworthy—meditate on these things.

Lopuksi, veljet, ajatelkaa kaikkea mikä on totta, mikä on kunnioitettavaa, mikä oikeaa, puhdasta, rakastettavaa ja kaunista, mikä vain on hyvää ja ansaitsee kiitoksen.

Every way of a man is right in his own eyes, But the L

ord

weighs the hearts.

Ihminen pitää oikeina kaikkia teitään, mutta Herra punnitsee sydämet.

Therefore you also be ready, for the Son of Man is coming at an hour you do not expect.

Olkaa siis tekin valmiit, sillä Ihmisen Poika tulee hetkellä, jota ette aavista.

Let no one deceive himself. If anyone among you seems to be wise in this age, let him become a fool that he may become wise.

Älköön vain kukaan pettäkö itseään. Jos joku teistä on olevinaan viisas tässä maailmassa, hänestä täytyy ensin tulla hullu, jotta hänestä tulisi viisas.

Love suffers long and is kind; love does not envy; love does not parade itself, is not puffed up; does not behave rudely, does not seek its own, is not provoked, thinks no evil.

Rakkaus on kärsivällinen, rakkaus on lempeä. Rakkaus ei kadehdi, ei kersku, ei pöyhkeile, ei käyttäydy sopimattomasti, ei etsi omaa etuaan, ei katkeroidu, ei muistele kärsimäänsä pahaa.

Now He was teaching in one of the synagogues on the Sabbath. And behold, there was a woman who had a spirit of infirmity eighteen years, and was bent over and could in no way raise herself up. But when Jesus saw her, He called her to Him and said to her, "Woman, you are loosed from your infirmity." And He laid His hands on her, and immediately she was made straight, and glorified God. But the ruler of the synagogue answered with indignation, because Jesus had healed on the Sabbath; and he said to the crowd, "There are six days on which men ought to work; therefore come and be healed on them, and not on the Sabbath day." The Lord then answered him and said, "Hypocrite! Does not each one of you on the Sabbath loose his ox or donkey from the stall, and lead it away to water it? So ought not this woman, being a daughter of Abraham, whom Satan has bound—think of it—for eighteen years, be loosed from this bond on the Sabbath?" And when He said these things, all His adversaries were put to shame; and all the multitude rejoiced for all the glorious things that were done by Him.

Jeesus oli sapattina eräässä synagogassa opettamassa. Siellä oli nainen, jota kahdeksantoista vuotta oli vaivannut sairauden henki. Hänen selkänsä oli pahasti köyryssä, eikä hän kyennyt suoristamaan itseään. Nähdessään hänet Jeesus kutsui hänet luokseen ja sanoi: »Nainen, olet päässyt vaivastasi.» Hän pani kätensä naisen päälle, ja heti tämä oikaisi selkänsä ja ylisti Jumalaa. Kun synagogan esimies näki, että Jeesus paransi sairaan sapattina, hän suutuksissaan sanoi paikalla oleville: »Viikossa on kuusi päivää työtä varten, tulkaa silloin parannettaviksi älkääkä sapattina.» Herra vastasi: »Te tekopyhät! Jokainen teistä kyllä päästää sapattina härkänsä tai aasinsa kytkyestä ja vie sen juomaan. Tätä Abrahamin tytärtä on Saatana pitänyt siteissään jo kahdeksantoista vuotta. Eikö häntä olisi saanut päästää vapaaksi sapatinpäivänä?» Jeesuksen vastauksen kuullessaan kaikki hänen vastustajansa olivat häpeissään, mutta kansa iloitsi kaikista ihmeteltävistä teoista, joita hän teki.

But Peter said, "Ananias, why has Satan filled your heart to lie to the Holy Spirit and keep back part of the price of the land for yourself? While it remained, was it not your own? And after it was sold, was it not in your own control? Why have you conceived this thing in your heart? You have not lied to men but to God."

Silloin Pietari sanoi: »Ananias, miksi olet antanut sydämesi Saatanan valtaan? Miksi yritit pettää Pyhää Henkeä ja jättää maatilan hinnasta osan itsellesi? Tilahan oli sinun, kun et vielä ollut myynyt sitä, ja sinun olivat myös rahat, kun sen myit. Kuinka saatoit ryhtyä tällaiseen tekoon? Et sinä ole valehdellut ihmisille, vaan Jumalalle.»

Therefore, since Christ suffered for us in the flesh, arm yourselves also with the same mind, for he who has suffered in the flesh has ceased from sin.

Kun siis Kristus on ruumiissaan kärsinyt, niin olkaa tekin valmiita kärsimään, jotta eläisitte jäljellä olevan maallisen elämänne Jumalan tahdon mukaisesti ettekä ihmisten himoja seuraten. Sillä se, joka on ruumiissaan kärsinyt, on luopunut synnistä.
The grace of our Lord Jesus Christ be with you all. Amen.
When pride comes, then comes shame;
But with the humble is wisdom.
Read more
The grace of our Lord Jesus Christ be with you all. Amen.
Personal Bible reading plan
Create an account to configure your Bible reading plan and you will see your progress and the next chapter to read here!
Read more...