15 Bible Verses about 'Think'
«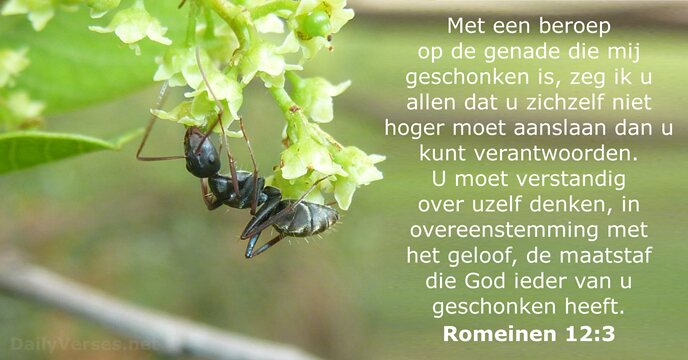 »
For I say, through the grace given to me, to everyone who is among you, not to think of himself more highly than he ought to think, but to think soberly, as God has dealt to each one a measure of faith.

Met een beroep op de genade die mij geschonken is, zeg ik u allen dat u zichzelf niet hoger moet aanslaan dan u kunt verantwoorden, maar verstandig over uzelf moet denken. Denk overeenkomstig het geloof, dat is de maatstaf die God u heeft gegeven.

Do not think that I came to destroy the Law or the Prophets. I did not come to destroy but to fulfill.

Denk niet dat ik gekomen ben om de Wet of de Profeten af te schaffen. Ik ben niet gekomen om ze af te schaffen, maar om ze tot vervulling te brengen.

And when you pray, do not use vain repetitions as the heathen do. For they think that they will be heard for their many words.

Bij het bidden moeten jullie niet eindeloos voortprevelen zoals de heidenen, die denken dat ze door hun overvloed aan woorden verhoord zullen worden.

Or do you think that I cannot now pray to My Father, and He will provide Me with more than twelve legions of angels?

Weet je niet dat ik mijn Vader maar te hulp hoef te roepen en dat hij mij dan onmiddellijk meer dan twaalf legioenen engelen ter beschikking zou stellen?

For I know the thoughts that I think toward you, says the L

ord

, thoughts of peace and not of evil, to give you a future and a hope.
Mijn plan met jullie staat vast - spreekt de

HEER

. Ik heb jullie geluk voor ogen, niet jullie ongeluk: ik zal je een hoopvolle toekomst geven.

Now to Him who is able to do exceedingly abundantly above all that we ask or think, according to the power that works in us, to Him be glory in the church by Christ Jesus to all generations, forever and ever. Amen.

Aan hem die door de kracht die in ons werkt bij machte is oneindig veel meer te doen dan wij vragen of denken, aan hem komt de eer toe, in de kerk en in Christus Jezus, tot in alle generaties, tot in alle eeuwigheid. Amen.

I have made a covenant with my eyes; Why then should I look upon a young woman?

Ik heb een verbond gesloten met mijn ogen: nooit zal ik naar jonge vrouwen kijken.

Finally, brethren, whatever things are true, whatever things are noble, whatever things are just, whatever things are pure, whatever things are lovely, whatever things are of good report, if there is any virtue and if there is anything praiseworthy—meditate on these things.

Ten slotte, broeders en zusters, schenk aandacht aan alles wat waar is, alles wat edel is, alles wat rechtvaardig is, alles wat zuiver is, alles wat lieflijk is, alles wat eervol is, kortom, aan alles wat deugdzaam is en lof verdient.

Every way of a man is right in his own eyes, But the L

ord

weighs the hearts.
Een mens kiest in zijn eigen ogen altijd de rechte weg, de

HEER

toetst wat hem innerlijk beweegt.

Therefore you also be ready, for the Son of Man is coming at an hour you do not expect.

Daarom moeten ook jullie klaarstaan, want de Mensenzoon komt op een tijdstip waarop je het niet verwacht.

Let no one deceive himself. If anyone among you seems to be wise in this age, let him become a fool that he may become wise.

Laat niemand zichzelf bedriegen. Wanneer iemand van u denkt dat hij in deze wereld wijs is, moet hij eerst dwaas worden; pas dan kan hij wijs worden.

Love suffers long and is kind; love does not envy; love does not parade itself, is not puffed up; does not behave rudely, does not seek its own, is not provoked, thinks no evil.

De liefde is geduldig en vol goedheid. De liefde kent geen afgunst, geen ijdel vertoon en geen zelfgenoegzaamheid. Ze is niet grof en niet zelfzuchtig, ze laat zich niet boos maken en rekent het kwaad niet aan.

Now He was teaching in one of the synagogues on the Sabbath. And behold, there was a woman who had a spirit of infirmity eighteen years, and was bent over and could in no way raise herself up. But when Jesus saw her, He called her to Him and said to her, "Woman, you are loosed from your infirmity." And He laid His hands on her, and immediately she was made straight, and glorified God. But the ruler of the synagogue answered with indignation, because Jesus had healed on the Sabbath; and he said to the crowd, "There are six days on which men ought to work; therefore come and be healed on them, and not on the Sabbath day." The Lord then answered him and said, "Hypocrite! Does not each one of you on the Sabbath loose his ox or donkey from the stall, and lead it away to water it? So ought not this woman, being a daughter of Abraham, whom Satan has bound—think of it—for eighteen years, be loosed from this bond on the Sabbath?" And when He said these things, all His adversaries were put to shame; and all the multitude rejoiced for all the glorious things that were done by Him.

Hij gaf op sabbat onderricht in een synagoge. Er was daar ook een vrouw die al achttien jaar bezeten was door een geest die haar ziek maakte. Ze was helemaal krom en kon met geen mogelijkheid rechtop staan. Toen Jezus haar zag, riep hij haar bij zich en zei tegen haar: 'U bent verlost van uw ziekte,' en hij legde haar de handen op. Meteen ging ze rechtop staan en loofde God. Maar de leider van de synagoge werd boos omdat Jezus op sabbat genas en zei tegen de menigte: 'Er zijn zes dagen om te werken. Kom dus op die dagen om u te laten genezen en niet als het sabbat is!' Maar de Heer zei: 'Huichelaars! Maakt niet ieder van jullie op sabbat zijn os of ezel los van de voederbak om hem te laten drinken? Mocht deze vrouw, die een dochter is van Abraham en al achttien jaar door Satan geboeid werd gehouden, mocht zij op sabbat niet uit deze boeien worden losgemaakt?' Toen hij dat zei, stonden al zijn tegenstanders beschaamd, maar de hele menigte was verheugd over de machtige daden die door hem werden verricht.

But Peter said, "Ananias, why has Satan filled your heart to lie to the Holy Spirit and keep back part of the price of the land for yourself? While it remained, was it not your own? And after it was sold, was it not in your own control? Why have you conceived this thing in your heart? You have not lied to men but to God."

Maar Petrus zei: 'Ananias, waarom heb je je door Satan laten misleiden en heb je de heilige Geest bedrogen door een deel van de opbrengst van het stuk grond achter te houden? Je had het immers niet hoeven te verkopen, en nu je het wel verkocht hebt, had je met de opbrengst toch kunnen doen wat je wilde? Wat heeft je bezield om je zo te gedragen? Niet de mensen heb je bedrogen, maar God zelf.'

Therefore, since Christ suffered for us in the flesh, arm yourselves also with the same mind, for he who has suffered in the flesh has ceased from sin.

Nu dan, omdat Christus tijdens zijn leven op aarde heeft geleden, moet u zich net als hij wapenen met de gedachte dat wie in zijn aardse leven geleden heeft, met de zonde heeft afgerekend.
The grace of our Lord Jesus Christ be with you all. Amen.
The generous soul will be made rich,
And he who waters will also be watered himself.
Read more
The grace of our Lord Jesus Christ be with you all. Amen.
Personal Bible reading plan
Create an account to configure your Bible reading plan and you will see your progress and the next chapter to read here!
Read more...