15 Bible Verses about 'Think'
«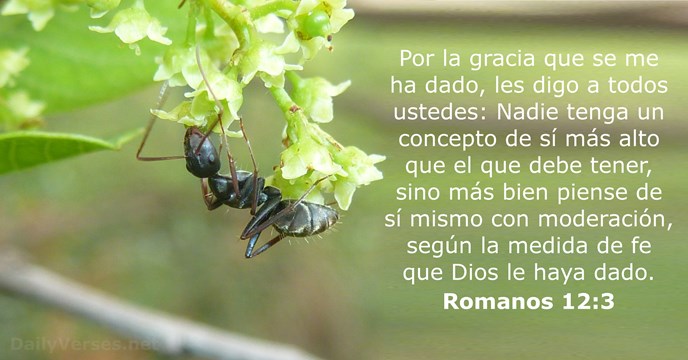 »
For I say, through the grace given to me, to everyone who is among you, not to think of himself more highly than he ought to think, but to think soberly, as God has dealt to each one a measure of faith.

Por la gracia que se me ha dado, les digo a todos ustedes: Nadie tenga un concepto de sí más alto que el que debe tener, sino más bien piense de sí mismo con moderación, según la medida de fe que Dios le haya dado.

Do not think that I came to destroy the Law or the Prophets. I did not come to destroy but to fulfill.

No piensen que he venido a anular la ley o los profetas; no he venido a anularlos, sino a darles cumplimiento.

And when you pray, do not use vain repetitions as the heathen do. For they think that they will be heard for their many words.

Y al orar, no hablen sólo por hablar como hacen los gentiles, porque ellos se imaginan que serán escuchados por sus muchas palabras.

Or do you think that I cannot now pray to My Father, and He will provide Me with more than twelve legions of angels?

¿Crees que no puedo acudir a mi Padre, y al instante pondría a mi disposición más de doce batallones de ángeles?

For I know the thoughts that I think toward you, says the L

ord

, thoughts of peace and not of evil, to give you a future and a hope.
Porque yo sé muy bien los planes que tengo para ustedes —afirma el S

eñor

—, planes de bienestar y no de calamidad, a fin de darles un futuro y una esperanza.

Now to Him who is able to do exceedingly abundantly above all that we ask or think, according to the power that works in us, to Him be glory in the church by Christ Jesus to all generations, forever and ever. Amen.

Al que puede hacer muchísimo más que todo lo que podamos imaginarnos o pedir, por el poder que obra eficazmente en nosotros, ¡a él sea la gloria en la iglesia y en Cristo Jesús por todas las generaciones, por los siglos de los siglos! Amén.

I have made a covenant with my eyes; Why then should I look upon a young woman?

Yo había convenido con mis ojos no mirar con lujuria a ninguna mujer.

Finally, brethren, whatever things are true, whatever things are noble, whatever things are just, whatever things are pure, whatever things are lovely, whatever things are of good report, if there is any virtue and if there is anything praiseworthy—meditate on these things.

Por último, hermanos, consideren bien todo lo verdadero, todo lo respetable, todo lo justo, todo lo puro, todo lo amable, todo lo digno de admiración, en fin, todo lo que sea excelente o merezca elogio.

Every way of a man is right in his own eyes, But the L

ord

weighs the hearts.
A cada uno le parece correcto su proceder, pero el S

eñor

juzga los corazones.

Therefore you also be ready, for the Son of Man is coming at an hour you do not expect.

Por eso también ustedes deben estar preparados, porque el Hijo del hombre vendrá cuando menos lo esperen.

Let no one deceive himself. If anyone among you seems to be wise in this age, let him become a fool that he may become wise.

Que nadie se engañe. Si alguno de ustedes se cree sabio según las normas de esta época, hágase ignorante para así llegar a ser sabio.

Love suffers long and is kind; love does not envy; love does not parade itself, is not puffed up; does not behave rudely, does not seek its own, is not provoked, thinks no evil.

El amor es paciente, es bondadoso. El amor no es envidioso ni jactancioso ni orgulloso. No se comporta con rudeza, no es egoísta, no se enoja fácilmente, no guarda rencor.

Now He was teaching in one of the synagogues on the Sabbath. And behold, there was a woman who had a spirit of infirmity eighteen years, and was bent over and could in no way raise herself up. But when Jesus saw her, He called her to Him and said to her, "Woman, you are loosed from your infirmity." And He laid His hands on her, and immediately she was made straight, and glorified God. But the ruler of the synagogue answered with indignation, because Jesus had healed on the Sabbath; and he said to the crowd, "There are six days on which men ought to work; therefore come and be healed on them, and not on the Sabbath day." The Lord then answered him and said, "Hypocrite! Does not each one of you on the Sabbath loose his ox or donkey from the stall, and lead it away to water it? So ought not this woman, being a daughter of Abraham, whom Satan has bound—think of it—for eighteen years, be loosed from this bond on the Sabbath?" And when He said these things, all His adversaries were put to shame; and all the multitude rejoiced for all the glorious things that were done by Him.

Un sábado Jesús estaba enseñando en una de las sinagogas, y estaba allí una mujer que por causa de un demonio llevaba dieciocho años enferma. Andaba encorvada y de ningún modo podía enderezarse. Cuando Jesús la vio, la llamó y le dijo: —Mujer, quedas libre de tu enfermedad. Al mismo tiempo, puso las manos sobre ella, y al instante la mujer se enderezó y empezó a alabar a Dios. Indignado porque Jesús había sanado en sábado, el jefe de la sinagoga intervino, dirigiéndose a la gente: —Hay seis días en que se puede trabajar, así que vengan esos días para ser sanados, y no el sábado. —¡Hipócritas! —le contestó el Señor—. ¿Acaso no desata cada uno de ustedes su buey o su burro en sábado, y lo saca del establo para llevarlo a tomar agua? Sin embargo, a esta mujer, que es hija de Abraham, y a quien Satanás tenía atada durante dieciocho largos años, ¿no se le debía quitar esta cadena en sábado? Cuando razonó así, quedaron humillados todos sus adversarios, pero la gente estaba encantada de tantas maravillas que él hacía.

But Peter said, "Ananias, why has Satan filled your heart to lie to the Holy Spirit and keep back part of the price of the land for yourself? While it remained, was it not your own? And after it was sold, was it not in your own control? Why have you conceived this thing in your heart? You have not lied to men but to God."

—Ananías —le reclamó Pedro—, ¿cómo es posible que Satanás haya llenado tu corazón para que le mintieras al Espíritu Santo y te quedaras con parte del dinero que recibiste por el terreno? ¿Acaso no era tuyo antes de venderlo? Y una vez vendido, ¿no estaba el dinero en tu poder? ¿Cómo se te ocurrió hacer esto? ¡No has mentido a los hombres, sino a Dios!

Therefore, since Christ suffered for us in the flesh, arm yourselves also with the same mind, for he who has suffered in the flesh has ceased from sin.

Por tanto, ya que Cristo sufrió en el cuerpo, asuman también ustedes la misma actitud; porque el que ha sufrido en el cuerpo ha roto con el pecado.
Beloved, if our heart does not condemn us, we have confidence toward God. And whatever we ask we receive from Him, because we keep His commandments and do those things that are pleasing in His sight.
Who has saved us and called us with a holy calling, not according to our works, but according to His own purpose and grace which was given to us in Christ Jesus before time began.
Read more
Beloved, if our heart does not condemn us, we have confidence toward God. And whatever we ask we receive from Him, because we keep His commandments and do those things that are pleasing in His sight.
Personal Bible reading plan
Create an account to configure your Bible reading plan and you will see your progress and the next chapter to read here!
Read more...