Bible Verses about 'Which'
«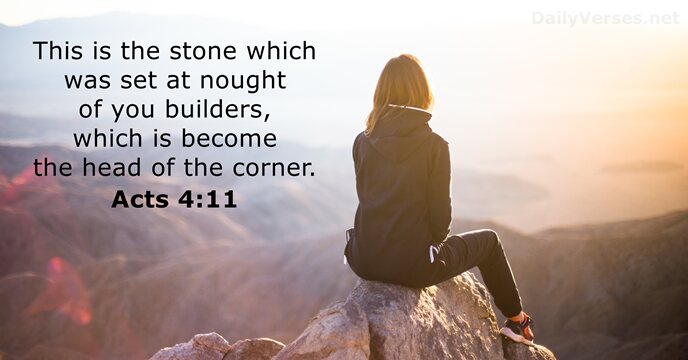 »
This is the stone which was set at nought of you builders, which is become the head of the corner.

Ele é a pedra que foi rejeitada por vós, os edificadores, a qual foi posta por cabeça de esquina.

That which is born of the flesh is flesh; and that which is born of the Spirit is spirit.

O que é nascido da carne é carne, e o que é nascido do Espírito é espírito.

Moreover, brethren, I declare unto you the gospel which I preached unto you, which also ye have received, and wherein ye stand; By which also ye are saved, if ye keep in memory what I preached unto you, unless ye have believed in vain.

Também vos notifico, irmãos, o evangelho que já vos tenho anunciado, o qual também recebestes e no qual também permaneceis; pelo qual também sois salvos, se o retiverdes tal como vo-lo tenho anunciado, se não é que crestes em vão.

And above all these things put on charity, which is the bond of perfectness.

E, sobre tudo isto, revesti-vos de amor, que é o vínculo da perfeição.

Labour not for the meat which perisheth, but for that meat which endureth unto everlasting life, which the Son of man shall give unto you: for him hath God the Father sealed.

Trabalhai não pela comida que perece, mas pela comida que permanece para a vida eterna, a qual o Filho do Homem vos dará, porque a este o Pai, Deus, o selou.

Mortify therefore your members which are upon the earth; fornication, uncleanness, inordinate affection, evil concupiscence, and covetousness, which is idolatry.

Mortificai, pois, os vossos membros que estão sobre a terra: a prostituição, a impureza, o apetite desordenado, a vil concupiscência e a avareza, que é idolatria.

For we are his workmanship, created in Christ Jesus unto good works, which God hath before ordained that we should walk in them.

Porque somos feitura sua, criados em Cristo Jesus para as boas obras, as quais Deus preparou para que andássemos nelas.

Let this mind be in you, which was also in Christ Jesus.

De sorte que haja em vós o mesmo sentimento que houve também em Cristo Jesus.

So shall my word be that goeth forth out of my mouth: it shall not return unto me void, but it shall accomplish that which I please, and it shall prosper in the thing whereto I sent it.

Assim será a palavra que sair da minha boca; ela não voltará para mim vazia; antes, fará o que me apraz e prosperará naquilo para que a enviei.

Wherefore lay apart all filthiness and superfluity of naughtiness, and receive with meekness the engrafted word, which is able to save your souls.

Pelo que, rejeitando toda imundícia e acúmulo de malícia, recebei com mansidão a palavra em vós enxertada, a qual pode salvar a vossa alma.

And he declared unto you his covenant, which he commanded you to perform, even ten commandments; and he wrote them upon two tables of stone.

Então, vos anunciou ele o seu concerto, que vos prescreveu, os dez mandamentos, e os escreveu em duas tábuas de pedra.

To whom God would make known what is the riches of the glory of this mystery among the Gentiles; which is Christ in you, the hope of glory.

Aos quais Deus quis fazer conhecer quais são as riquezas da glória deste mistério entre os gentios, que é Cristo em vós, esperança da glória.

While we look not at the things which are seen, but at the things which are not seen: for the things which are seen are temporal; but the things which are not seen are eternal.

Não atentando nós nas coisas que se veem, mas nas que se não veem; porque as que se veem são temporais, e as que se não veem são eternas.

Neither is there salvation in any other: for there is none other name under heaven given among men, whereby we must be saved.

E em nenhum outro há salvação, porque também debaixo do céu nenhum outro nome há, dado entre os homens, pelo qual devamos ser salvos.

And I will sanctify my great name, which was profaned among the heathen, which ye have profaned in the midst of them; and the heathen shall know that I am the L

ord

, saith the Lord G

od

, when I shall be sanctified in you before their eyes.
E eu santificarei o meu grande nome, que foi profanado entre as nações, o qual profanastes no meio delas; e as nações saberão que eu sou o S

enhor

, diz o Senhor J

eová

, quando eu for santificado aos seus olhos.

Likewise also the cup after supper, saying, This cup is the new testament in my blood, which is shed for you.

Semelhantemente, tomou o cálice, depois da ceia, dizendo: Este cálice é o Novo Testamento no meu sangue, que é derramado por vós.

Now all this was done, that it might be fulfilled which was spoken of the Lord by the prophet, saying, Behold, a virgin shall be with child, and shall bring forth a son, and they shall call his name Emmanuel, which being interpreted is, God with us.

Tudo isso aconteceu para que se cumprisse o que foi dito da parte do Senhor pelo profeta, que diz: Eis que a virgem conceberá e dará à luz um filho, e ele será chamado pelo nome de Emanuel. (Emanuel traduzido é: Deus conosco).

Fight the good fight of faith, lay hold on eternal life, whereunto thou art also called, and hast professed a good profession before many witnesses.

Milita a boa milícia da fé, toma posse da vida eterna, para a qual também foste chamado, tendo já feito boa confissão diante de muitas testemunhas.

I am the living bread which came down from heaven: if any man eat of this bread, he shall live for ever: and the bread that I will give is my flesh, which I will give for the life of the world.

Eu sou o pão vivo que desceu do céu; se alguém comer desse pão, viverá para sempre; e o pão que eu der é a minha carne, que eu darei pela vida do mundo.

Follow peace with all men, and holiness, without which no man shall see the Lord.

Segui a paz com todos e a santificação, sem a qual ninguém verá o Senhor.

My lips shall greatly rejoice when I sing unto thee; and my soul, which thou hast redeemed.

Os meus lábios exultarão quando eu te cantar, assim como a minha alma que tu remiste.

Thou shalt keep therefore his statutes, and his commandments, which I command thee this day, that it may go well with thee, and with thy children after thee, and that thou mayest prolong thy days upon the earth, which the L

ord

thy God giveth thee, for ever.
E guardarás os seus estatutos e os seus mandamentos, que te ordeno hoje, para que bem te vá a ti e a teus filhos depois de ti e para que prolongues os dias na terra que o S

enhor

, teu Deus, te dá para todo o sempre.

As they ministered to the Lord, and fasted, the Holy Ghost said, Separate me Barnabas and Saul for the work whereunto I have called them.

E, servindo eles ao Senhor e jejuando, disse o Espírito Santo: Apartai-me a Barnabé e a Saulo para a obra a que os tenho chamado.

Oh how great is thy goodness, which thou hast laid up for them that fear thee; which thou hast wrought for them that trust in thee before the sons of men!

Oh! Quão grande é a tua bondade, que guardaste para os que te temem, e que tu mostraste àqueles que em ti confiam na presença dos filhos dos homens!

But speak thou the things which become sound doctrine.

Tu, porém, fala o que convém à sã doutrina.
Beware of false prophets, which come to you in sheep's clothing, but inwardly they are ravening wolves.
Personal Bible reading plan
Create an account to configure your Bible reading plan and you will see your progress and the next chapter to read here!
Read more...