Bible Verses about 'Words'
«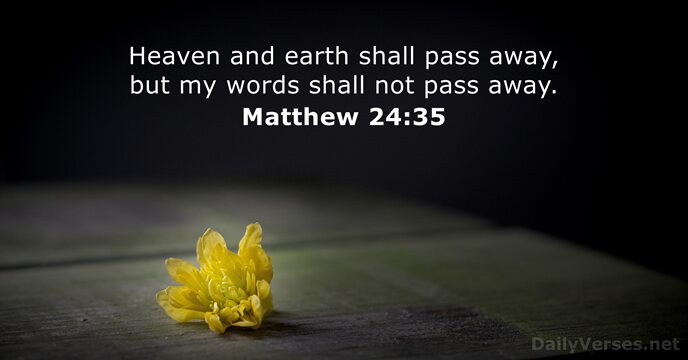 »
Heaven and earth shall pass away, but my words shall not pass away.

The words of a wise man's mouth are gracious;
but the lips of a fool will swallow up himself.
Pleasant words are as an honeycomb,
sweet to the soul, and health to the bones.
Get wisdom, get understanding: forget it not;
neither decline from the words of my mouth.
The entrance of thy words giveth light;
it giveth understanding unto the simple.

If ye abide in me, and my words abide in you, ye shall ask what ye will, and it shall be done unto you.

In the multitude of words there wanteth not sin:
but he that refraineth his lips is wise.
Neither have I gone back from the commandment of his lips;
I have esteemed the words of his mouth more than my necessary food.
Let the words of my mouth,
and the meditation of my heart,
be acceptable in thy sight,
O L

ord

, my strength, and my redeemer.
Turn you at my reproof:
behold, I will pour out my spirit unto you,
I will make known my words unto you.
My son, attend to my words;
incline thine ear unto my sayings.
Let them not depart from thine eyes;
keep them in the midst of thine heart.
A soft answer turneth away wrath:
but grievous words stir up anger.
Therefore say unto them, Thus saith the Lord G

od

; There shall none of my words be prolonged any more, but the word which I have spoken shall be done, saith the Lord G

od

.
And he was there with the L

ord

forty days and forty nights; he did neither eat bread, nor drink water. And he wrote upon the tables the words of the covenant, the ten commandments.

But when ye pray, use not vain repetitions, as the heathen do: for they think that they shall be heard for their much speaking.

And these words, which I command thee this day, shall be in thine heart: And thou shalt teach them diligently unto thy children, and shalt talk of them when thou sittest in thine house, and when thou walkest by the way, and when thou liest down, and when thou risest up.

Thy word is true from the beginning:
and every one of thy righteous judgments endureth for ever.
Hear, O my son, and receive my sayings;
and the years of thy life shall be many.

Therefore whosoever heareth these sayings of mine, and doeth them, I will liken him unto a wise man, which built his house upon a rock.

Jesus answered and said unto him, If a man love me, he will keep my words: and my Father will love him, and we will come unto him, and make our abode with him.

The lips of the righteous know what is acceptable:
but the mouth of the wicked speaketh frowardness.

Likewise the Spirit also helpeth our infirmities: for we know not what we should pray for as we ought: but the Spirit itself maketh intercession for us with groanings which cannot be uttered.

Let no corrupt communication proceed out of your mouth, but that which is good to the use of edifying, that it may minister grace unto the hearers.

A wholesome tongue is a tree of life:
but perverseness therein is a breach in the spirit.
A fool's lips enter into contention,
and his mouth calleth for strokes.
O come, let us worship and bow down: let us kneel before the Lord our maker.
Personal Bible reading plan
Create an account to configure your Bible reading plan and you will see your progress and the next chapter to read here!
Read more...