16 Bible Verses about Sickness
«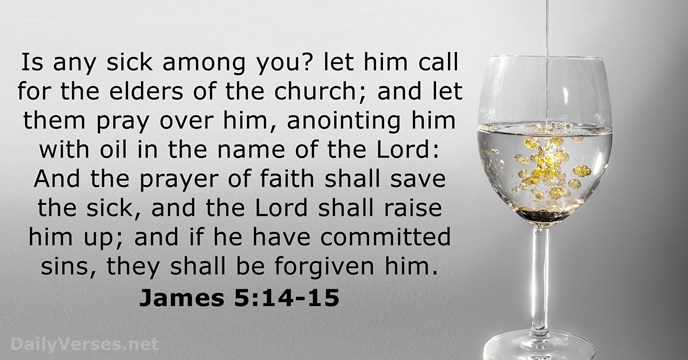 »
Is any sick among you? let him call for the elders of the church; and let them pray over him, anointing him with oil in the name of the Lord: And the prayer of faith shall save the sick, and the Lord shall raise him up; and if he have committed sins, they shall be forgiven him.

Ben je ziek? Vraag dan de leiders van de gemeente om te komen. Ze zullen voor je bidden en je namens de Heer met olie zalven. En dat gebed dat vol geloof gebeden wordt, zal je gezond maken. De Heer zal je genezen. En als je ongehoorzaam bent geweest aan God, zul je vergeving krijgen.

And ye shall serve the L

ord

your God, and he shall bless thy bread, and thy water; and I will take sickness away from the midst of thee.

Dien en aanbid Mij, jullie Heer en God. Dan zal Ik jullie brood en jullie water zegenen en zal Ik ervoor zorgen dat niemand van jullie ziek wordt.

Beloved, I wish above all things that thou mayest prosper and be in health, even as thy soul prospereth.

Mijn vriend, allereerst hoop ik dat het in alles goed met je gaat. Ik hoop dat het met je gezondheid net zo goed gaat als met je geloof.

He healeth the broken in heart, and bindeth up their wounds.

Hij troost de bedroefde mensen. Hij verbindt hun wonden.

A merry heart doeth good like a medicine: but a broken spirit drieth the bones.

Een vrolijk mens geneest sneller. Maar een treurig mens verdroogt van binnen.

Surely he hath borne our griefs, and carried our sorrows: yet we did esteem him stricken, smitten of God, and afflicted.

Wij dachten dat Hem dat allemaal overkwam omdat Hij door God werd gestraft! Maar Hij heeft ónze ziekten op zich genomen en ónze pijn weggedragen.

If thou wilt diligently hearken to the voice of the L

ord

thy God, and wilt do that which is right in his sight, and wilt give ear to his commandments, and keep all his statutes, I will put none of these diseases upon thee, which I have brought upon the Egyptians: for I am the L

ord

that healeth thee.

Ik wil zien of jullie je best zullen doen om te leven zoals Ik het wil. Als jullie doen wat Ik zeg en gehoorzamen aan mijn wetten en leefregels, zal Ik ervoor zorgen dat jullie niet getroffen zullen worden door één van de ziekten die over de Egyptenaren kwamen. Want Ik, de Heer, ben jullie Genezer.

Heal the sick, cleanse the lepers, raise the dead, cast out devils: freely ye have received, freely give.

Genees de zieken, maak doden weer levend, verjaag duivelse geesten. Jullie hebben niets voor deze macht hoeven betalen. Vraag er dus ook nooit een beloning voor.

Confess your faults one to another, and pray one for another, that ye may be healed. The effectual fervent prayer of a righteous man availeth much.

Vertel het daarom aan iemand als je ongehoorzaam aan God bent geweest, en bid voor elkaar. Want dan kunnen jullie genezen worden. Als iemand leeft zoals God het wil, heeft zijn gebed veel kracht en dus groot resultaat.

And heal the sick that are therein, and say unto them, The kingdom of God is come nigh unto you.

Genees er de zieken en zeg: 'Het Koninkrijk van God is bij jullie gekomen.'

Hope deferred maketh the heart sick: but when the desire cometh, it is a tree of life.

Als je heel erg lang op iets blijft hopen, word je treurig. Maar als je krijgt waar je naar hebt verlangd, geeft dat nieuw leven.

When I kept silence, my bones waxed old through my roaring all the day long.

Eerst zweeg ik tegen God over de dingen die ik verkeerd had gedaan. Maar ik kon er niet meer tegen. De hele dag schreeuwde ik het uit.

He is despised and rejected of men; a man of sorrows, and acquainted with grief: and we hid as it were our faces from him; he was despised, and we esteemed him not.

Niemand wilde iets met Hem te maken hebben. Hij werd door iedereen in de steek gelaten. Hij kende pijn en verdriet en ziekte. De mensen draaiden hun hoofd weg als ze Hem zagen. We hebben geen enkel respect voor Hem gehad.

The L

ord

openeth the eyes of the blind: the L

ord

raiseth them that are bowed down: the L

ord

loveth the righteous.

Hij maakt dat blinde mensen weer kunnen zien. Hij troost de bedroefde mensen. De Heer houdt van de mensen die leven zoals Hij het wil.

Heal me, O L

ord

, and I shall be healed; save me, and I shall be saved: for thou art my praise.

Genees mij, Heer, dan zal ik weer gezond zijn. Help mij, dan zal ik gered zijn. U prijs ik.

And I heard a great voice out of heaven saying, Behold, the tabernacle of God is with men, and he will dwell with them, and they shall be his people, and God himself shall be with them, and be their God. And God shall wipe away all tears from their eyes; and there shall be no more death, neither sorrow, nor crying, neither shall there be any more pain: for the former things are passed away.

Vanuit de hemel hoorde ik een stem luid zeggen: "Dit is de plaats waar God voortaan bij de mensen zal wonen. Zij zullen zijn volk zijn en God Zelf zal bij hen zijn. Hij zal hun God zijn. Hij zal alle tranen van hun ogen afvegen. En de dood zal er niet meer zijn. Niemand zal nog verdrietig zijn, treuren of pijn hebben. Want de eerste dingen zijn voorbij."
Forasmuch then as Christ hath suffered for us in the flesh, arm yourselves likewise with the same mind: for he that hath suffered in the flesh hath ceased from sin.
The liberal soul shall be made fat:
and he that watereth shall be watered also himself.
Read more
Forasmuch then as Christ hath suffered for us in the flesh, arm yourselves likewise with the same mind: for he that hath suffered in the flesh hath ceased from sin.
Personal Bible reading plan
Create an account to configure your Bible reading plan and you will see your progress and the next chapter to read here!
Read more...