«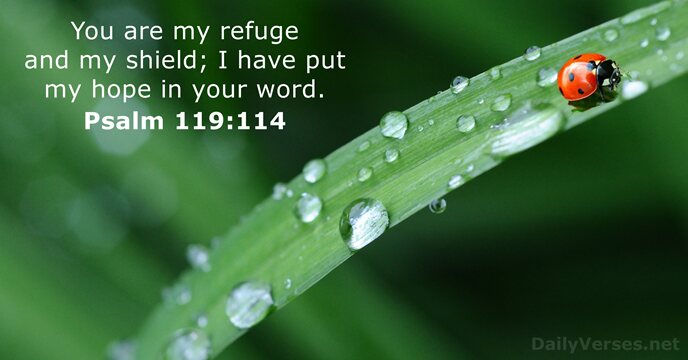 »
You are my refuge and my shield; I have put my hope in your word.

Bij U ben ik veilig, U beschermt mij als een schild. Ik verwacht alles van uw woord.

So is my word that goes out from my mouth: It will not return to me empty, but will accomplish what I desire and achieve the purpose for which I sent it.

Net zo zullen de woorden die Ik spreek, niet naar Mij terugkomen zonder dat ze hun werk hebben gedaan. Wat Ik zeg, zal gebeuren.

If you remain in me and my words remain in you, ask whatever you wish, and it will be done for you.

Maar als jullie in Mij blijven en mijn woorden in jullie blijven, zullen jullie alles krijgen wat jullie vragen.

Every word of God is flawless; he is a shield to those who take refuge in him.

Alles wat God heeft gezegd, is waar. Hij is een beschermend schild voor de mensen die op Hem vertrouwen.

My son, pay attention to what I say; turn your ear to my words. Do not let them out of your sight, keep them within your heart.

Mijn zoon, luister naar mijn woorden. Houd je oren open voor wat ik zeg. Vergeet mijn woorden nooit meer, maar bewaar ze diep in je hart.

Let the message of Christ dwell among you richly as you teach and admonish one another with all wisdom through psalms, hymns, and songs from the Spirit, singing to God with gratitude in your hearts.

Zorg dat jullie vol zijn van het woord van Christus. Dan kunnen jullie elkaar met wijsheid leren en helpen. Dan zullen jullie met je hele hart de Heer danken met psalmen, lofliederen en liederen in talen van de Geest.

All your words are true; all your righteous laws are eternal.

Uw wetten zijn juist en goed. Ze zijn rechtvaardig en zullen voor eeuwig gelden.

I have hidden your word in my heart that I might not sin against you.

Ik bewaar uw woord in mijn hart, zodat ik niet verkeerd tegen U zal doen.

I wait for the L

ord

, my whole being waits, and in his word I put my hope.

Ik verwacht dat de Heer me zal helpen. Ik vertrouw op Hem en op zijn woord.

As for God, his way is perfect: The L

ord

's word is flawless; he shields all who take refuge in him.

Wat God doet is volmaakt. Wat Hij zegt is altijd te vertrouwen. Hij beschermt iedereen die naar Hem toe komt voor hulp.

As Scripture says, "Anyone who believes in him will never be put to shame."

Want in de Boeken staat: "Iedereen die op Hem vertrouwt, zal niet in Hem teleurgesteld worden."

For you have been born again, not of perishable seed, but of imperishable, through the living and enduring word of God.

Want jullie zijn opnieuw geboren. Nu niet uit sterfelijke, menselijke ouders, maar uit God Zelf, door het levende en eeuwige woord van God.

The law of the L

ord

is perfect, refreshing the soul. The statutes of the L

ord

are trustworthy, making wise the simple.

De wet van de Heer is volmaakt en richt de mensen op God. De woorden van de Heer zijn te vertrouwen en geven de mensen wijsheid.

The one who calls you is faithful, and he will do it.

God die jullie roept, is trouw: Hij zal dat zeker doen.

Therefore say to them, 'This is what the Sovereign L

ord

says: None of my words will be delayed any longer; whatever I say will be fulfilled, declares the Sovereign L

ord

.'

Zeg daarom tegen hen: Dit zegt de Heer: Niets van wat Ik gezegd heb, zal Ik nog langer uitstellen. Wat Ik heb gezegd, gaat nú gebeuren, zegt de Heer.

Get wisdom, get understanding; do not forget my words or turn away from them.

Zorg dat je wijs en verstandig wordt. Vergeet mijn woorden niet, maar doe wat ik je heb geleerd.

The seed falling among the thorns refers to someone who hears the word, but the worries of this life and the deceitfulness of wealth choke the word, making it unfruitful.

Er zijn ook mensen die het woord horen, maar hun geloof wordt verstikt door de zorgen van de wereld en het verlangen naar geld. Er groeit geen vrucht aan hen. Zij zijn het zaad dat in de distels is gezaaid.

Listen, my son, accept what I say, and the years of your life will be many.

Luister, mijn zoon, en geloof wat ik zeg. Dan zul je lang leven.

You are already clean because of the word I have spoken to you.

Jullie zijn al schoon door wat Ik jullie heb gezegd.

He sent out his word and healed them; he rescued them from the grave.

Hij stuurde zijn woord en Hij genas hen. Hij redde hen van de dood.

Moses was there with the L

ord

forty days and forty nights without eating bread or drinking water. And he wrote on the tablets the words of the covenant—the Ten Commandments.

En Mozes was daar 40 dagen en 40 nachten bij de Heer. Brood at hij niet en water dronk hij niet. En hij schreef op de platte stenen de regels van het verbond, de Tien Leefregels.

I have not departed from the commands of his lips; I have treasured the words of his mouth more than my daily bread.

Ik heb altijd gedaan wat Hij van me vroeg. Ik heb altijd zijn woorden in mijn hart bewaard.

Here is a trustworthy saying: If we died with him, we will also live with him.

Dit is de waarheid: als we met de Heer zijn gestorven, zullen we ook met Hem leven.

For truly I tell you, until heaven and earth disappear, not the smallest letter, not the least stroke of a pen, will by any means disappear from the Law until everything is accomplished.

Luister goed! Ik zeg jullie dat niet één letter of komma van de wet zal worden afgeschaft voordat de hemel en aarde ophouden te bestaan. Eerst zal alles gebeuren wat er in staat.

Through him all things were made; without him nothing was made that has been made.

Alle dingen zijn door het Woord gemaakt. Werkelijk alles wat er is, bestaat doordat het Woord het heeft gemaakt.
This is the confidence we have in approaching God: that if we ask anything according to his will, he hears us.
Personal Bible reading plan
Create an account to configure your Bible reading plan and you will see your progress and the next chapter to read here!
Read more...