Versículos de la Biblia sobre la Humildad
«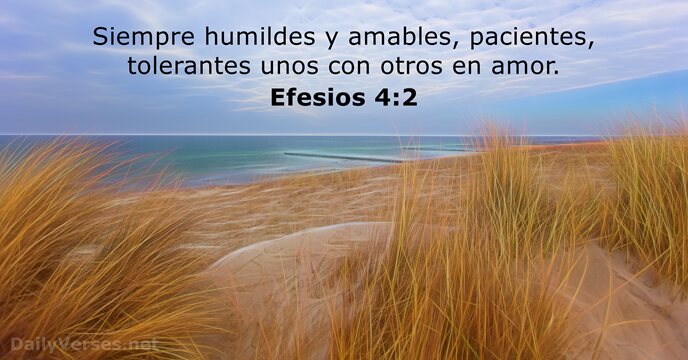 »
Siempre humildes y amables, pacientes, tolerantes unos con otros en amor.

With all lowliness and gentleness, with longsuffering, bearing with one another in love.

No hagan nada por egoísmo o vanidad; más bien, con humildad consideren a los demás como superiores a ustedes mismos.

Let nothing be done through selfish ambition or conceit, but in lowliness of mind let each esteem others better than himself.

Con el orgullo viene el oprobio; con la humildad, la sabiduría.

When pride comes, then comes shame; But with the humble is wisdom.

Vivan en armonía los unos con los otros. No sean arrogantes, sino háganse solidarios con los humildes. No se crean los únicos que saben.

Be of the same mind toward one another. Do not set your mind on high things, but associate with the humble. Do not be wise in your own opinion.

Humíllense delante del Señor, y él los exaltará.

Humble yourselves in the sight of the Lord, and He will lift you up.

Que la belleza de ustedes no sea la externa, que consiste en adornos tales como peinados ostentosos, joyas de oro y vestidos lujosos. Que su belleza sea más bien la incorruptible, la que procede de lo íntimo del corazón y consiste en un espíritu suave y apacible. Esta sí que tiene mucho valor delante de Dios.

Do not let your adornment be merely outward—arranging the hair, wearing gold, or putting on fine apparel— rather let it be the hidden person of the heart, with the incorruptible beauty of a gentle and quiet spirit, which is very precious in the sight of God.

Por lo tanto, como escogidos de Dios, santos y amados, revístanse de afecto entrañable y de bondad, humildad, amabilidad y paciencia.

Therefore, as the elect of God, holy and beloved, put on tender mercies, kindness, humility, meekness, longsuffering.

El altivo será humillado, pero el humilde será enaltecido.

A man's pride will bring him low, But the humble in spirit will retain honor.

Recompensa de la humildad y del temor del S

eñor

son las riquezas, la honra y la vida.
By humility and the fear of the L

ord

Are riches and honor and life.

Humíllense, pues, bajo la poderosa mano de Dios, para que él los exalte a su debido tiempo.

Therefore humble yourselves under the mighty hand of God, that He may exalt you in due time.

Si mi pueblo, que lleva mi nombre, se humilla y ora, y me busca y abandona su mala conducta, yo lo escucharé desde el cielo, perdonaré su pecado y restauraré su tierra.

If My people who are called by My name will humble themselves, and pray and seek My face, and turn from their wicked ways, then I will hear from heaven, and will forgive their sin and heal their land.

Carguen con mi yugo y aprendan de mí, pues yo soy apacible y humilde de corazón, y encontrarán descanso para su alma. Porque mi yugo es suave y mi carga es liviana.

Take My yoke upon you and learn from Me, for I am gentle and lowly in heart, and you will find rest for your souls. For My yoke is easy and My burden is light.

¿Quién es sabio y entendido entre ustedes? Que lo demuestre con su buena conducta, mediante obras hechas con la humildad que le da su sabiduría.

Who is wise and understanding among you? Let him show by good conduct that his works are done in the meekness of wisdom.

Al fracaso lo precede la soberbia humana; a los honores los precede la humildad.

Before destruction the heart of a man is haughty, And before honor is humility.

En fin, vivan en armonía los unos con los otros; compartan penas y alegrías, practiquen el amor fraternal, sean compasivos y humildes.

Finally, all of you be of one mind, having compassion for one another; love as brothers, be tenderhearted, be courteous.

Entonces Jesús se sentó, llamó a los doce y les dijo: —Si alguno quiere ser el primero, que sea el último de todos y el servidor de todos.

And He sat down, called the twelve, and said to them, "If anyone desires to be first, he shall be last of all and servant of all."

También escogió Dios lo más bajo y despreciado, y lo que no es nada, para anular lo que es, a fin de que en su presencia nadie pueda jactarse.

And the base things of the world and the things which are despised God has chosen, and the things which are not, to bring to nothing the things that are, that no flesh should glory in His presence.

¡Ya se te ha declarado lo que es bueno! Ya se te ha dicho lo que de ti espera el S

eñor

: Practicar la justicia, amar la misericordia, y humillarte ante tu Dios.
He has shown you, O man, what is good; And what does the L

ord

require of you But to do justly, To love mercy, And to walk humbly with your God?

Por eso, cuando des a los necesitados, no lo anuncies al son de trompeta, como lo hacen los hipócritas en las sinagogas y en las calles para que la gente les rinda homenaje. Les aseguro que ellos ya han recibido toda su recompensa.

Therefore, when you do a charitable deed, do not sound a trumpet before you as the hypocrites do in the synagogues and in the streets, that they may have glory from men. Assuredly, I say to you, they have their reward.

El temor del S

eñor

imparte sabiduría; la humildad precede a la honra.
The fear of the L

ord

is the instruction of wisdom, And before honor is humility.
Bueno y justo es el S

eñor

; por eso les muestra a los pecadores el camino. Él dirige en la justicia a los humildes, y les enseña su camino.
Good and upright is the L

ord

; Therefore He teaches sinners in the way. The humble He guides in justice, And the humble He teaches His way.

Esposas, sométanse a sus esposos, como conviene en el Señor. Esposos, amen a sus esposas y no sean duros con ellas.

Wives, submit to your own husbands, as is fitting in the Lord. Husbands, love your wives and do not be bitter toward them.

El que recibe en mi nombre a este niño —les dijo—, me recibe a mí; y el que me recibe a mí, recibe al que me envió. El que es más insignificante entre todos ustedes, ese es el más importante.

And said to them, "Whoever receives this little child in My name receives Me; and whoever receives Me receives Him who sent Me. For he who is least among you all will be great."

Les hablo así, hermanos, porque ustedes han sido llamados a ser libres; pero no se valgan de esa libertad para dar rienda suelta a sus pasiones. Más bien sírvanse unos a otros con amor.

For you, brethren, have been called to liberty; only do not use liberty as an opportunity for the flesh, but through love serve one another.

A nuestro Dios y Padre sea la gloria por los siglos de los siglos. Amén.

Now to our God and Father be glory forever and ever. Amen.
El hierro se afila con el hierro, y el hombre en el trato con el hombre.
Plan de lectura de la Biblia
Registrar y configurar su plan de lectura de la Biblia que desea ver su progreso y el siguiente capítulo para leer aquí!