Versículos de la Biblia sobre la Paciencia
«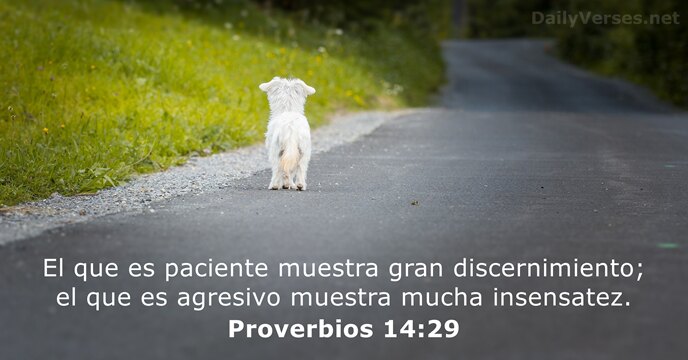 »
El que es paciente muestra gran discernimiento; el que es agresivo muestra mucha insensatez.

He who is slow to wrath has great understanding, But he who is impulsive exalts folly.

El amor es paciente, es bondadoso. El amor no es envidioso ni jactancioso ni orgulloso. No se comporta con rudeza, no es egoísta, no se enoja fácilmente, no guarda rencor.

Love suffers long and is kind; love does not envy; love does not parade itself, is not puffed up; does not behave rudely, does not seek its own, is not provoked, thinks no evil.

Alégrense en la esperanza, muestren paciencia en el sufrimiento, perseveren en la oración.

Rejoicing in hope, patient in tribulation, continuing steadfastly in prayer.

Siempre humildes y amables, pacientes, tolerantes unos con otros en amor.

With all lowliness and gentleness, with longsuffering, bearing with one another in love.

Pero, si esperamos lo que todavía no tenemos, en la espera mostramos nuestra constancia.

But if we hope for what we do not see, we eagerly wait for it with perseverance.

No nos cansemos de hacer el bien, porque a su debido tiempo cosecharemos si no nos damos por vencidos.

And let us not grow weary while doing good, for in due season we shall reap if we do not lose heart.

Más vale ser paciente que valiente; más vale el dominio propio que conquistar ciudades.

He who is slow to anger is better than the mighty, And he who rules his spirit than he who takes a city.
Guarda silencio ante el S

eñor

, y espera en él con paciencia; no te irrites ante el éxito de otros, de los que maquinan planes malvados.
Rest in the L

ord

, and wait patiently for Him; Do not fret because of him who prospers in his way, Because of the man who brings wicked schemes to pass.
Pon tu esperanza en el S

eñor

; ten valor, cobra ánimo; ¡pon tu esperanza en el S

eñor

!
Wait on the L

ord

; Be of good courage, And He shall strengthen your heart; Wait, I say, on the L

ord

!
Ustedes quédense quietos, que el S

eñor

presentará batalla por ustedes.
The L

ord

will fight for you, and you shall hold your peace.

El Señor no tarda en cumplir su promesa, según entienden algunos la tardanza. Más bien, él tiene paciencia con ustedes, porque no quiere que nadie perezca, sino que todos se arrepientan.

The Lord is not slack concerning His promise, as some count slackness, but is longsuffering toward us, not willing that any should perish but that all should come to repentance.

Por lo tanto, como escogidos de Dios, santos y amados, revístanse de afecto entrañable y de bondad, humildad, amabilidad y paciencia.

Therefore, as the elect of God, holy and beloved, put on tender mercies, kindness, humility, meekness, longsuffering.

Que el Dios que infunde aliento y perseverancia les conceda vivir juntos en armonía, conforme al ejemplo de Cristo Jesús.

Now may the God of patience and comfort grant you to be like-minded toward one another, according to Christ Jesus.

Porque solo un instante dura su enojo, pero toda una vida su bondad. Si por la noche hay llanto, por la mañana habrá gritos de alegría.

For His anger is but for a moment, His favor is for life; Weeping may endure for a night, But joy comes in the morning.
Por la mañana, S

eñor

, escuchas mi clamor; por la mañana te presento mis ruegos, y quedo a la espera de tu respuesta.
My voice You shall hear in the morning, O L

ord

; In the morning I will direct it to You, And I will look up.
Por eso el S

eñor

los espera, para tenerles piedad; por eso se levanta para mostrarles compasión. Porque el S

eñor

es un Dios de justicia. ¡Dichosos todos los que en él esperan!
Therefore the L

ord

will wait, that He may be gracious to you; And therefore He will be exalted, that He may have mercy on you. For the L

ord

is a God of justice; Blessed are all those who wait for Him.
El S

eñor

es clemente y compasivo, lento para la ira y grande en amor.
The L

ord

is merciful and gracious, Slow to anger, and abounding in mercy.

Pero precisamente por eso Dios fue misericordioso conmigo, a fin de que en mí, el peor de los pecadores, pudiera Cristo Jesús mostrar su infinita bondad. Así llego a servir de ejemplo para los que, creyendo en él, recibirán la vida eterna.

However, for this reason I obtained mercy, that in me first Jesus Christ might show all longsuffering, as a pattern to those who are going to believe on Him for everlasting life.

Pero no olviden, queridos hermanos, que para el Señor un día es como mil años, y mil años como un día.

But, beloved, do not forget this one thing, that with the Lord one day is as a thousand years, and a thousand years as one day.

Por lo tanto, manténganse despiertos, porque no saben qué día vendrá su Señor.

Watch therefore, for you do not know what hour your Lord is coming.

Pero el que se mantenga firme hasta el fin será salvo.

But he who endures to the end shall be saved.

Predica la Palabra; persiste en hacerlo, sea o no sea oportuno; corrige, reprende y anima con mucha paciencia, sin dejar de enseñar.

Preach the word! Be ready in season and out of season. Convince, rebuke, exhort, with all longsuffering and teaching.

Vengo pronto. Aférrate a lo que tienes, para que nadie te quite la corona.

Behold, I am coming quickly! Hold fast what you have, that no one may take your crown.

Rásguense el corazón y no las vestiduras. Vuélvanse al S

eñor

su Dios, porque él es bondadoso y compasivo, lento para la ira y lleno de amor, cambia de parecer y no castiga.
So rend your heart, and not your garments; Return to the L

ord

your God, For He is gracious and merciful, Slow to anger, and of great kindness; And He relents from doing harm.

El futuro de los justos es halagüeño; la esperanza de los malvados se desvanece.

The hope of the righteous will be gladness, But the expectation of the wicked will perish.
Porque, si uno lo hace de buena voluntad, lo que da es bien recibido según lo que tiene, y no según lo que no tiene.
Plan de lectura de la Biblia
Registrar y configurar su plan de lectura de la Biblia que desea ver su progreso y el siguiente capítulo para leer aquí!