Versículos de la Biblia sobre la Paciencia
«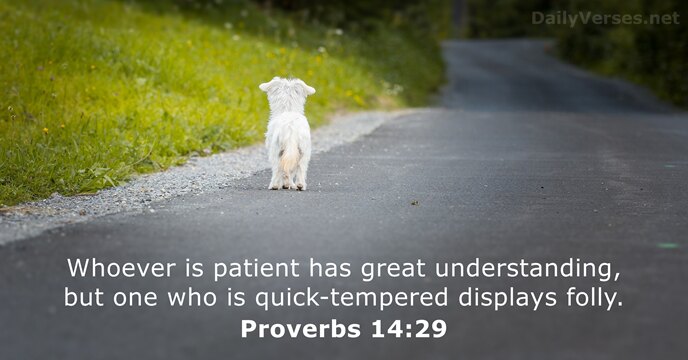 »
El que tarda en airarse es grande de entendimiento; el impaciente de espíritu pone de manifiesto su necedad.

Whoever is patient has great understanding, but one who is quick-tempered displays folly.

El amor es sufrido, es benigno; el amor no tiene envidia; el amor no es jactancioso, no se envanece, no hace nada indebido, no busca lo suyo, no se irrita, no guarda rencor.

Love is patient, love is kind. It does not envy, it does not boast, it is not proud. It does not dishonor others, it is not self-seeking, it is not easily angered, it keeps no record of wrongs.

Gozosos en la esperanza, sufridos en la tribulación, constantes en la oración.

Be joyful in hope, patient in affliction, faithful in prayer.

Con toda humildad y mansedumbre, soportándoos con paciencia los unos a los otros en amor.

Be completely humble and gentle; be patient, bearing with one another in love.

Pero si esperamos lo que no vemos, con paciencia lo aguardamos.

But if we hope for what we do not yet have, we wait for it patiently.

No nos cansemos, pues, de hacer bien, porque a su tiempo segaremos, si no desmayamos.

Let us not become weary in doing good, for at the proper time we will reap a harvest if we do not give up.

Mejor es el que tarda en airarse que el fuerte, el que domina su espíritu que el conquistador de una ciudad.

Better a patient person than a warrior, one with self-control than one who takes a city.

Guarda silencio ante Jehová y espera en él. No te alteres con motivo del que prospera en su camino, por el hombre que hace lo malo.

Be still before the L

ord

and wait patiently for him; do not fret when people succeed in their ways, when they carry out their wicked schemes.

¡Espera en Jehová! ¡Esfuérzate y aliéntese tu corazón! ¡Sí, espera en Jehová!

Wait for the L

ord

; be strong and take heart and wait for the L

ord

.

Jehová peleará por vosotros, y vosotros estaréis tranquilos.

The L

ord

will fight for you; you need only to be still.

El Señor no retarda su promesa, según algunos la tienen por tardanza, sino que es paciente para con nosotros, no queriendo que ninguno perezca, sino que todos procedan al arrepentimiento.

The Lord is not slow in keeping his promise, as some understand slowness. Instead he is patient with you, not wanting anyone to perish, but everyone to come to repentance.

Vestíos, pues, como escogidos de Dios, santos y amados, de entrañable misericordia, de bondad, de humildad, de mansedumbre, de paciencia.

Therefore, as God's chosen people, holy and dearly loved, clothe yourselves with compassion, kindness, humility, gentleness and patience.

Y el Dios de la paciencia y de la consolación os dé entre vosotros un mismo sentir según Cristo Jesús.

May the God who gives endurance and encouragement give you the same attitude of mind toward each other that Christ Jesus had.

Porque por un momento será su ira, pero su favor dura toda la vida. Por la noche durará el lloro y a la mañana vendrá la alegría.

For his anger lasts only a moment, but his favor lasts a lifetime; weeping may stay for the night, but rejoicing comes in the morning.

Jehová, de mañana oirás mi voz; de mañana me presentaré delante de ti y esperaré.

In the morning, L

ord

, you hear my voice; in the morning I lay my requests before you and wait expectantly.

Sin embargo, Jehová esperará para tener piedad de vosotros. A pesar de todo, será exaltado y tendrá de vosotros misericordia, porque Jehová es Dios justo. ¡Bienaventurados todos los que confían en él!

Yet the L

ord

longs to be gracious to you; therefore he will rise up to show you compassion. For the L

ord

is a God of justice. Blessed are all who wait for him!

Misericordioso y clemente es Jehová; lento para la ira y grande en misericordia.

The L

ord

is compassionate and gracious, slow to anger, abounding in love.

Pero por esto fui recibido a misericordia, para que Jesucristo mostrara en mí el primero toda su clemencia, para ejemplo de los que habrían de creer en él para vida eterna.

But for that very reason I was shown mercy so that in me, the worst of sinners, Christ Jesus might display his immense patience as an example for those who would believe in him and receive eternal life.

Pero, amados, no ignoréis que, para el Señor, un día es como mil años y mil años como un día.

But do not forget this one thing, dear friends: With the Lord a day is like a thousand years, and a thousand years are like a day.

Velad, pues, porque no sabéis a qué hora ha de venir vuestro Señor.

Therefore keep watch, because you do not know on what day your Lord will come.

Pero el que persevere hasta el fin, éste será salvo.

But the one who stands firm to the end will be saved.

Que prediques la palabra y que instes a tiempo y fuera de tiempo. Redarguye, reprende, exhorta con toda paciencia y doctrina.

Preach the word; be prepared in season and out of season; correct, rebuke and encourage—with great patience and careful instruction.

Vengo pronto; retén lo que tienes, para que ninguno tome tu corona.

I am coming soon. Hold on to what you have, so that no one will take your crown.

Rasgad vuestro corazón y no vuestros vestidos, y convertíos a Jehová, vuestro Dios; porque es misericordioso y clemente, tardo para la ira y grande en misericordia, y se duele del castigo.

Rend your heart and not your garments. Return to the L

ord

your God, for he is gracious and compassionate, slow to anger and abounding in love, and he relents from sending calamity.

La esperanza de los justos es alegría, mas la esperanza de los malvados perecerá.

The prospect of the righteous is joy, but the hopes of the wicked come to nothing.
¡Todo lo que respira alabe a Jah! ¡Aleluya!
Plan de lectura de la Biblia
Registrar y configurar su plan de lectura de la Biblia que desea ver su progreso y el siguiente capítulo para leer aquí!