Bible Verses about Forgiveness
«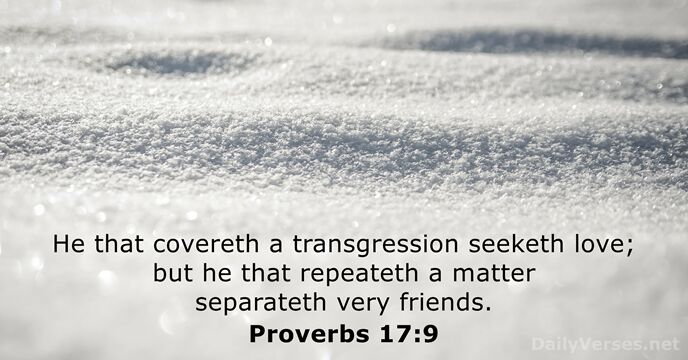 »
He that covereth a transgression seeketh love; but he that repeateth a matter separateth very friends.

Joka vaalii ystävyyttä, unohtaa loukkauksen, joka menneitä kaivelee, menettää ystävänsä.

And be ye kind one to another, tenderhearted, forgiving one another, even as God for Christ's sake hath forgiven you.

Olkaa toisianne kohtaan ystävällisiä ja lempeitä ja antakaa toisillenne anteeksi, niin kuin Jumalakin on antanut teille anteeksi Kristuksen tähden.

For if ye forgive men their trespasses, your heavenly Father will also forgive you.

Jos te annatte toisille ihmisille anteeksi heidän rikkomuksensa, antaa myös taivaallinen Isänne teille anteeksi.

Forbearing one another, and forgiving one another, if any man have a quarrel against any: even as Christ forgave you, so also do ye.

Pitäkää huolta, että tulette toimeen keskenänne, antakaa anteeksi toisillenne, vaikka teillä olisikin moittimisen aihetta. Niin kuin Herra on antanut teille anteeksi, niin antakaa tekin.

If my people, which are called by my name, shall humble themselves, and pray, and seek my face, and turn from their wicked ways; then will I hear from heaven, and will forgive their sin, and will heal their land.

Ja jos silloin kansani, jonka olen ottanut omakseni, nöyrtyy ja rukoilee, kääntyy minun puoleeni ja hylkää pahat tiensä, niin minä kuulen sitä taivaaseen, annan sen synnit anteeksi ja teen sen maan jälleen terveeksi.

Judge not, and ye shall not be judged: condemn not, and ye shall not be condemned: forgive, and ye shall be forgiven.

Älkää tuomitko, niin ei teitäkään tuomita. Älkää julistako ketään syylliseksi, niin ei teitäkään julisteta syyllisiksi. Päästäkää vapaaksi, niin teidätkin vapautetaan.

Then came Peter to him, and said, Lord, how oft shall my brother sin against me, and I forgive him? till seven times? Jesus saith unto him, I say not unto thee, Until seven times: but, Until seventy times seven.

Silloin Pietari tuli Jeesuksen luo ja sanoi: »Herra, jos veljeni yhä uudestaan tekee väärin minua kohtaan, niin kuinka monta kertaa minun on annettava hänelle anteeksi? Peräti seitsemän kertaako?» »Ei seitsemän, vaan seitsemänkymmentäseitsemän kertaa», vastasi Jeesus.

He that covereth his sins shall not prosper: but whoso confesseth and forsaketh them shall have mercy.

Joka rikkomuksensa salaa, ei menesty, joka ne tunnustaa ja hylkää, saa armon.

For thou, Lord, art good, and ready to forgive; and plenteous in mercy unto all them that call upon thee.

Sinä, Herra, olet hyvä, sinä annat anteeksi, runsain mitoin sinä jaat armoasi kaikille, jotka sinua avuksi huutavat.

Who is a God like unto thee, that pardoneth iniquity, and passeth by the transgression of the remnant of his heritage? he retaineth not his anger for ever, because he delighteth in mercy.

Jumala, onko sinun vertaistasi! Sinä annat synnit anteeksi ja jätät rankaisematta jäljelle jääneen kansasi rikkomukset. Sinä et pidä vihaa iäti, sinä olet laupias.

And when ye stand praying, forgive, if ye have ought against any: that your Father also which is in heaven may forgive you your trespasses.

Ja kun seisotte rukoilemassa, antakaa anteeksi kaikki mitä teillä on jotakuta vastaan. Silloin myös teidän Isänne, joka on taivaissa, antaa teille rikkomuksenne anteeksi.

Be it known unto you therefore, men and brethren, that through this man is preached unto you the forgiveness of sins: And by him all that believe are justified from all things, from which ye could not be justified by the law of Moses.

Tietäkää siis, veljet: hänen ansiostaan teille julistetaan synnit anteeksi, ja hänen ansiostaan jokainen, joka uskoo, tulee vanhurskaaksi, saavuttaa kaiken sen, mitä te Mooseksen lain avulla ette voineet saavuttaa.

And he is the propitiation for our sins: and not for ours only, but also for the sins of the whole world.

Hän on meidän syntiemme sovittaja, eikä vain meidän vaan koko maailman.

For the L

ord

your God is gracious and merciful, and will not turn away his face from you, if ye return unto him.

Herra, teidän Jumalanne, on anteeksiantava ja laupias eikä käännä pois kasvojaan, jos palaatte hänen luokseen.

I acknowledge my sin unto thee, and mine iniquity have I not hid. I said, I will confess my transgressions unto the L

ord

; and thou forgavest the iniquity of my sin. Selah.
Minä tunnustin sinulle syntini, en salannut pahoja tekojani. Minä sanoin: »Tunnustan syntini Herralle.» Sinä annoit anteeksi pahat tekoni, otit pois syntieni taakan. (sela)

In whom we have redemption through his blood, the forgiveness of sins, according to the riches of his grace.

Kristuksen veressä meillä on lunastus, rikkomustemme anteeksianto. Näin Jumala on antanut armonsa rikkauden.

And rend your heart, and not your garments, and turn unto the L

ord

your God: for he is gracious and merciful, slow to anger, and of great kindness, and repenteth him of the evil.

Repikää rikki sydämenne, älkää vaatteitanne. Palatkaa Herran, Jumalanne, luo, sillä hän on anteeksiantava ja laupias, hän on kärsivällinen ja hänen hyvyytensä on suuri. Hän voi muuttaa mielensä, peruuttaa määräämänsä rangaistuksen.

And forgive us our debts, as we forgive our debtors.

Ja anna meille velkamme anteeksi, niin kuin mekin annamme anteeksi niille, jotka ovat meille velassa.

Repent ye therefore, and be converted, that your sins may be blotted out, when the times of refreshing shall come from the presence of the Lord.

Katukaa siis syntejänne, jotta ne pyyhittäisiin pois.

Then Peter said unto them, Repent, and be baptized every one of you in the name of Jesus Christ for the remission of sins, and ye shall receive the gift of the Holy Ghost.

Pietari vastasi: »Kääntykää ja ottakaa itse kukin kaste Jeesuksen Kristuksen nimeen, jotta syntinne annettaisiin anteeksi. Silloin te saatte lahjaksi Pyhän Hengen.»

Is any sick among you? let him call for the elders of the church; and let them pray over him, anointing him with oil in the name of the Lord: And the prayer of faith shall save the sick, and the Lord shall raise him up; and if he have committed sins, they shall be forgiven him.

Jos joku teistä on sairaana, kutsukoon hän luokseen seurakunnan vanhimmat. Nämä voidelkoot hänet öljyllä Herran nimessä ja rukoilkoot hänen puolestaan, ja rukous, joka uskossa lausutaan, parantaa sairaan. Herra nostaa hänet jalkeille, ja jos hän on tehnyt syntiä, hän saa sen anteeksi.

Let the wicked forsake his way, and the unrighteous man his thoughts: and let him return unto the L

ord

, and he will have mercy upon him; and to our God, for he will abundantly pardon.

Hylätköön jumalaton tiensä ja väärintekijä juonensa, kääntyköön takaisin Herran luo, sillä hän armahtaa, turvautukoon Jumalaan, sillä hänen anteeksiantonsa on runsas.

And the times of this ignorance God winked at; but now commandeth all men every where to repent.

Tällaista tietämättömyyttä Jumala on pitkään sietänyt, mutta nyt sen aika on ohi: hän vaatii kaikkia ihmisiä kaikkialla tekemään parannuksen.

Return, thou backsliding Israel, saith the L

ord

; and I will not cause mine anger to fall upon you: for I am merciful, saith the L

ord

, and I will not keep anger for ever.

Käänny, Luopio-Israel, sanoo Herra! Minä en enää ole vihoissani sinulle, minä olen armollinen, sanoo Herra, ei minun vihani jatku loputtomiin.

Nevertheless for thy great mercies' sake thou didst not utterly consume them, nor forsake them; for thou art a gracious and merciful God.

Mutta suuressa armossasi et antanut heidän tuhoutua etkä hylännyt heitä, sillä sinä olet anteeksiantava ja laupias Jumala.
He that loveth not knoweth not God; for God is love.
Personal Bible reading plan
Create an account to configure your Bible reading plan and you will see your progress and the next chapter to read here!
Read more...