Bible Verses about Heaven
«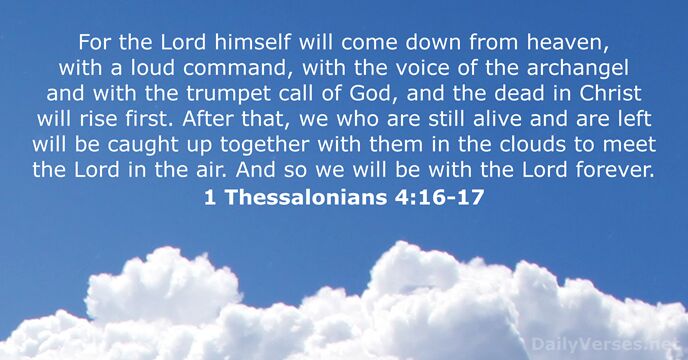 »
For the Lord himself will come down from heaven, with a loud command, with the voice of the archangel and with the trumpet call of God, and the dead in Christ will rise first. After that, we who are still alive and are left will be caught up together with them in the clouds to meet the Lord in the air. And so we will be with the Lord forever.

El Señor mismo, con voz de mando, con voz de arcángel y con trompeta de Dios, descenderá del cielo. Entonces, los muertos en Cristo resucitarán primero. Luego nosotros, los que vivimos, los que hayamos quedado, seremos arrebatados juntamente con ellos en las nubes para recibir al Señor en el aire, y así estaremos siempre con el Señor.

Set your minds on things above, not on earthly things.

Poned la mira en las cosas de arriba, no en las de la tierra.

My Father's house has many rooms; if that were not so, would I have told you that I am going there to prepare a place for you?

En la casa de mi Padre muchas moradas hay; si así no fuera, yo os lo hubiera dicho; voy, pues, a preparar lugar para vosotros.

But our citizenship is in heaven. And we eagerly await a Savior from there, the Lord Jesus Christ.

Pero nuestra ciudadanía está en los cielos, de donde también esperamos al Salvador, al Señor Jesucristo.

Whom have I in heaven but you? And earth has nothing I desire besides you.

¿A quién tengo yo en los cielos sino a ti? Y fuera de ti nada deseo en la tierra.

The heavens declare the glory of God; the skies proclaim the work of his hands. Day after day they pour forth speech; night after night they reveal knowledge.

Los cielos cuentan la gloria de Dios y el firmamento anuncia la obra de sus manos. Un día emite palabra a otro día y una noche a otra noche declara sabiduría.

There is a time for everything, and a season for every activity under the heavens.

Todo tiene su tiempo, y todo lo que se quiere debajo del cielo tiene su hora.

Do not store up for yourselves treasures on earth, where moths and vermin destroy, and where thieves break in and steal. But store up for yourselves treasures in heaven, where moths and vermin do not destroy, and where thieves do not break in and steal.

No os hagáis tesoros en la tierra, donde la polilla y el moho destruyen, y donde ladrones entran y hurtan; sino haceos tesoros en el cielo, donde ni la polilla ni el moho destruyen, y donde ladrones no entran ni hurtan.

Jesus said, "Let the little children come to me, and do not hinder them, for the kingdom of heaven belongs to such as these."

Entonces Jesús dijo: «Dejad a los niños venir a mí y no se lo impidáis, porque de los tales es el reino de los cielos.»

Heaven and earth will pass away, but my words will never pass away.

El cielo y la tierra pasarán, pero mis palabras no pasarán.

Ah, Sovereign L

ord

, you have made the heavens and the earth by your great power and outstretched arm. Nothing is too hard for you.

¡Ah, Señor Jehová!, tú hiciste el cielo y la tierra con tu gran poder y con tu brazo extendido. Nada hay que sea difícil para ti.

For we brought nothing into the world, and we can take nothing out of it. But if we have food and clothing, we will be content with that.

Porque nada hemos traído a este mundo y, sin duda, nada podremos sacar. Así que, teniendo sustento y abrigo, estemos ya satisfechos.

Dear friends, now we are children of God, and what we will be has not yet been made known. But we know that when Christ appears, we shall be like him, for we shall see him as he is. All who have this hope in him purify themselves, just as he is pure.

Amados, ahora somos hijos de Dios y aún no se ha manifestado lo que hemos de ser; pero sabemos que cuando él se manifieste, seremos semejantes a él, porque lo veremos tal como él es. Y todo aquel que tiene esta esperanza en él, se purifica a sí mismo, así como él es puro.

The Lord will rescue me from every evil attack and will bring me safely to his heavenly kingdom. To him be glory for ever and ever. Amen.

Y el Señor me librará de toda obra mala y me preservará para su reino celestial. A él sea gloria por los siglos de los siglos. Amén.

Be exalted, O God, above the heavens; let your glory be over all the earth.

Exaltado seas, Dios, sobre los cielos, y sobre toda la tierra sea enaltecida tu gloria.

Our help is in the name of the L

ord

, the Maker of heaven and earth.

Nuestro socorro está en el nombre de Jehová, que hizo el cielo y la tierra.

He builds his lofty palace in the heavens and sets its foundation on the earth; he calls for the waters of the sea and pours them out over the face of the land— the L

ord

is his name.

Él edificó en el cielo su habitación y ha establecido su expansión sobre la tierra; él llama a las aguas del mar y sobre la faz de la tierra las derrama: Jehová es su nombre.

In the beginning God created the heavens and the earth. Now the earth was formless and empty, darkness was over the surface of the deep, and the Spirit of God was hovering over the waters.

En el principio creó Dios los cielos y la tierra. La tierra estaba desordenada y vacía, las tinieblas estaban sobre la faz del abismo y el espíritu de Dios se movía sobre la faz de las aguas.

After he said this, he was taken up before their very eyes, and a cloud hid him from their sight.

Y habiendo dicho estas cosas, viéndolo ellos, fue alzado, y lo recibió una nube que lo ocultó de sus ojos.

As the heavens are higher than the earth, so are my ways higher than your ways and my thoughts than your thoughts.

Como son más altos los cielos que la tierra, así son mis caminos más altos que vuestros caminos y mis pensamientos, más que vuestros pensamientos.

For our struggle is not against flesh and blood, but against the rulers, against the authorities, against the powers of this dark world and against the spiritual forces of evil in the heavenly realms.

Porque no tenemos lucha contra sangre y carne, sino contra principados, contra potestades, contra los gobernadores de las tinieblas de este mundo, contra huestes espirituales de maldad en las regiones celestes.

When he had led them out to the vicinity of Bethany, he lifted up his hands and blessed them. While he was blessing them, he left them and was taken up into heaven.

Después los sacó fuera hasta Betania y, alzando sus manos, los bendijo. Aconteció que, mientras los bendecía, se separó de ellos y fue llevado arriba al cielo.

Everyone comes naked from their mother's womb, and as everyone comes, so they depart. They take nothing from their toil that they can carry in their hands.

Desnudo salió del vientre de su madre y así volverá; se irá tal como vino, sin ningún provecho de su trabajo que llevarse en la mano.

Jesus answered, "If you want to be perfect, go, sell your possessions and give to the poor, and you will have treasure in heaven. Then come, follow me."

Jesús le dijo: —Si quieres ser perfecto, anda, vende lo que tienes y dalo a los pobres, y tendrás tesoro en el cielo; y ven, sígueme.

"Who can hide in secret places so that I cannot see them?" declares the L

ord

. "Do not I fill heaven and earth?" declares the L

ord

.

¿Se ocultará alguno, dice Jehová, en escondrijos donde yo no lo vea? ¿No lleno yo, dice Jehová, el cielo y la tierra?
For we brought nothing into the world, and we can take nothing out of it. But if we have food and clothing, we will be content with that.
Do not be anxious about anything, but in every situation, by prayer and petition, with thanksgiving, present your requests to God. And the peace of God, which transcends all understanding, will guard your hearts and your minds in Christ Jesus.
For we brought nothing into the world, and we can take nothing out of it. But if we have food and clothing, we will be content with that.
Personal Bible reading plan
Create an account to configure your Bible reading plan and you will see your progress and the next chapter to read here!
Read more...