Bible Verses about the Holy Spirit
«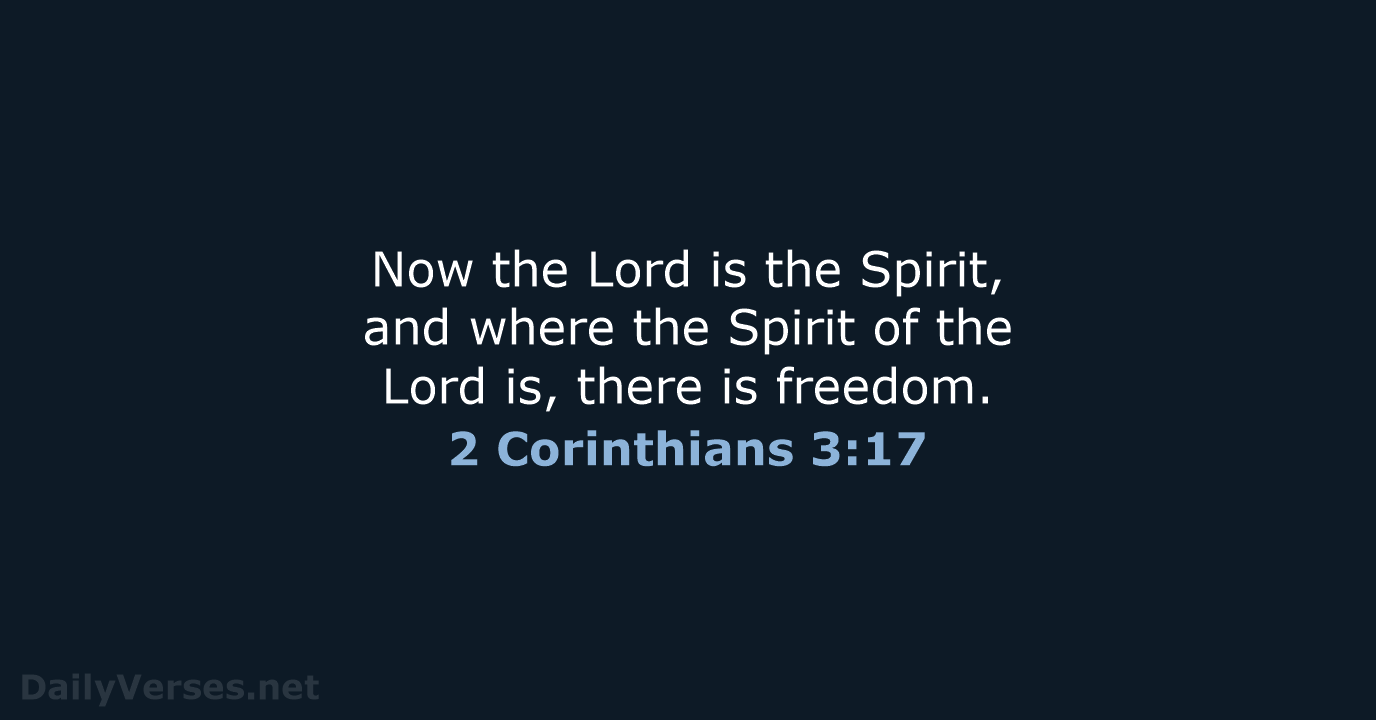 »
| | |
| --- | --- |
| Now the Lord is the Spirit, and where the Spirit of the Lord is, there is freedom. | Der Herr aber ist der Geist; wo aber der Geist des Herrn ist, ist Freiheit. |
| May the God of hope fill you with all joy and peace in believing, so that by the power of the Holy Spirit you may abound in hope. | Der Gott der Hoffnung aber erfülle euch mit aller Freude und allem Frieden im Glauben, damit ihr überreich seid in der Hoffnung durch die Kraft des Heiligen Geistes! |
| Or do you not know that your body is a temple of the Holy Spirit within you, whom you have from God? You are not your own, for you were bought with a price. So glorify God in your body. | Oder wisst ihr nicht, dass euer Leib ein Tempel des Heiligen Geistes in euch ist, den ihr von Gott habt, und dass ihr nicht euch selbst gehört? Denn ihr seid um einen Preis erkauft worden. Verherrlicht nun Gott mit eurem Leib! |
| And I will ask the Father, and he will give you another Helper, to be with you forever. | Und ich werde den Vater bitten, und er wird euch einen anderen Beistand geben, dass er bei euch ist in Ewigkeit. |
| But the Helper, the Holy Spirit, whom the Father will send in my name, he will teach you all things and bring to your remembrance all that I have said to you. | Der Beistand aber, der Heilige Geist, den der Vater senden wird in meinem Namen, der wird euch alles lehren und euch an alles erinnern, was ich euch gesagt habe. |
| Do you not know that you are God's temple and that God's Spirit dwells in you? | Wisst ihr nicht, dass ihr Gottes Tempel seid und der Geist Gottes in euch wohnt? |
| And divided tongues as of fire appeared to them and rested on each one of them. And they were all filled with the Holy Spirit and began to speak in other tongues as the Spirit gave them utterance. | Und es erschienen ihnen zerteilte Zungen wie von Feuer, und sie setzten sich auf jeden Einzelnen von ihnen. Und sie wurden alle mit Heiligem Geist erfüllt und fingen an, in anderen Sprachen zu reden, wie der Geist ihnen gab auszusprechen. |
| And hope does not put us to shame, because God's love has been poured into our hearts through the Holy Spirit who has been given to us. | Die Hoffnung aber lässt nicht zuschanden werden, denn die Liebe Gottes ist ausgegossen in unsere Herzen durch den Heiligen Geist, der uns gegeben worden ist. |
| And do not grieve the Holy Spirit of God, by whom you were sealed for the day of redemption. | Und betrübt nicht den Heiligen Geist Gottes, mit dem ihr versiegelt worden seid auf den Tag der Erlösung hin! |
| If you then, who are evil, know how to give good gifts to your children, how much more will the heavenly Father give the Holy Spirit to those who ask him! | Wenn nun ihr, die ihr böse seid, euren Kindern gute Gaben zu geben wisst, wie viel mehr wird der Vater, der vom Himmel gibt, den Heiligen Geist geben denen, die ihn bitten! |
| But you will receive power when the Holy Spirit has come upon you, and you will be my witnesses in Jerusalem and in all Judea and Samaria, and to the end of the earth. | Aber ihr werdet Kraft empfangen, wenn der Heilige Geist auf euch gekommen ist; und ihr werdet meine Zeugen sein, sowohl in Jerusalem als auch in ganz Judäa und Samaria und bis an das Ende der Erde. |
| And when they had prayed, the place in which they were gathered together was shaken, and they were all filled with the Holy Spirit and continued to speak the word of God with boldness. | Und als sie gebetet hatten, bewegte sich die Stätte, wo sie versammelt waren; und sie wurden alle mit dem Heiligen Geist erfüllt und redeten das Wort Gottes mit Freimütigkeit. |
| Go therefore and make disciples of all nations, baptizing them in the name of the Father and of the Son and of the Holy Spirit, teaching them to observe all that I have commanded you. And behold, I am with you always, to the end of the age. | Geht nun hin und macht alle Nationen zu Jüngern, und tauft sie auf den Namen des Vaters und des Sohnes und des Heiligen Geistes, und lehrt sie alles zu bewahren, was ich euch geboten habe! Und siehe, ich bin bei euch alle Tage bis zur Vollendung des Zeitalters. |
| And I will put my Spirit within you, and cause you to walk in my statutes and be careful to obey my rules. | Und ich werde meinen Geist in euer Inneres geben; und ich werde machen, dass ihr in meinen Ordnungen lebt und meine Rechtsbestimmungen bewahrt und tut. |
| But you, beloved, building yourselves up in your most holy faith and praying in the Holy Spirit, keep yourselves in the love of God, waiting for the mercy of our Lord Jesus Christ that leads to eternal life. | Ihr aber, Geliebte, erbaut euch auf eurem heiligsten Glauben, betet im Heiligen Geist, erhaltet euch in der Liebe Gottes, indem ihr die Barmherzigkeit unseres Herrn Jesus Christus erwartet zum ewigen Leben. |
| For who knows a person's thoughts except the spirit of that person, which is in him? So also no one comprehends the thoughts of God except the Spirit of God. | Denn wer von den Menschen weiß, was im Menschen ist, als nur der Geist des Menschen, der in ihm ist? So hat auch niemand erkannt, was in Gott ist, als nur der Geist Gottes. |
| Teach me to do your will, for you are my God! Let your good Spirit lead me on level ground! | Lehre mich tun nach deinem Wohlgefallen, denn du bist mein Gott! Dein guter Geist leite mich in ebenes Land! |
| And Peter said to them, "Repent and be baptized every one of you in the name of Jesus Christ for the forgiveness of your sins, and you will receive the gift of the Holy Spirit." | Petrus aber sprach zu ihnen: Tut Buße, und jeder von euch lasse sich taufen auf den Namen Jesu Christi zur Vergebung eurer Sünden! Und ihr werdet die Gabe des Heiligen Geistes empfangen. |
| And we are witnesses to these things, and so is the Holy Spirit, whom God has given to those who obey him. | Und wir sind Zeugen von diesen Dingen und der Heilige Geist, den Gott denen gegeben hat, die ihm gehorchen. |
| But when the Helper comes, whom I will send to you from the Father, the Spirit of truth, who proceeds from the Father, he will bear witness about me. | Wenn der Beistand gekommen ist, den ich euch von dem Vater senden werde, der Geist der Wahrheit, der von dem Vater ausgeht, so wird der von mir zeugen. |
| The grace of the Lord Jesus Christ and the love of God and the fellowship of the Holy Spirit be with you all. | Die Gnade des Herrn Jesus Christus und die Liebe Gottes und die Gemeinschaft des Heiligen Geistes sei mit euch allen! |
| And when they bring you to trial and deliver you over, do not be anxious beforehand what you are to say, but say whatever is given you in that hour, for it is not you who speak, but the Holy Spirit. | Und wenn sie euch hinführen, um euch zu überliefern, so sorgt euch vorher nicht, was ihr reden sollt, sondern was euch in jener Stunde gegeben wird, das redet! Denn nicht ihr seid die Redenden, sondern der Heilige Geist. |
| On hearing this, they were baptized in the name of the Lord Jesus. And when Paul had laid his hands on them, the Holy Spirit came on them, and they began speaking in tongues and prophesying. | Als sie es aber gehört hatten, ließen sie sich auf den Namen des Herrn Jesus taufen; und als Paulus ihnen die Hände aufgelegt hatte, kam der Heilige Geist auf sie, und sie redeten in Sprachen und weissagten. |
| While they were worshiping the Lord and fasting, the Holy Spirit said, "Set apart for me Barnabas and Saul for the work to which I have called them." | Während sie aber dem Herrn dienten und fasteten, sprach der Heilige Geist: Sondert mir nun Barnabas und Saulus zu dem Werk aus, zu dem ich sie berufen habe! |
| For no prophecy was ever produced by the will of man, but men spoke from God as they were carried along by the Holy Spirit. | Denn niemals wurde eine Weissagung durch den Willen eines Menschen hervorgebracht, sondern von Gott her redeten Menschen, getrieben von Heiligem Geist. |
His divine power has granted to us all things that pertain to life and godliness, through the knowledge of him who called us to his own glory and excellence.
Personal Bible reading plan
Create an account to configure your Bible reading plan and you will see your progress and the next chapter to read here!
Read more...