Bible Verses about the Holy Spirit
«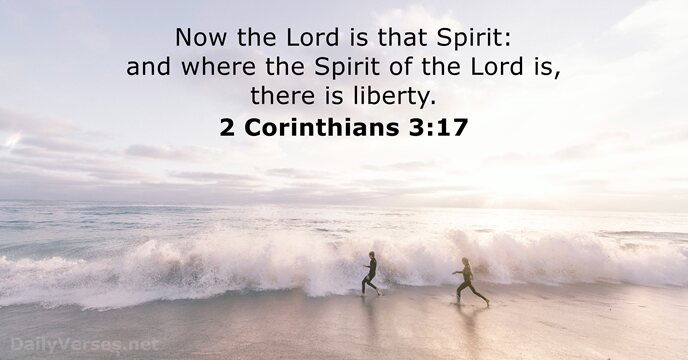 »
| | |
| --- | --- |
| Now the Lord is the Spirit, and where the Spirit of the Lord is, there is freedom. | Now the Lord is that Spirit: and where the Spirit of the Lord is, there is liberty. |
| May the God of hope fill you with all joy and peace in believing, so that by the power of the Holy Spirit you may abound in hope. | Now the God of hope fill you with all joy and peace in believing, that ye may abound in hope, through the power of the Holy Ghost. |
| Or do you not know that your body is a temple of the Holy Spirit within you, whom you have from God? You are not your own, for you were bought with a price. So glorify God in your body. | What? know ye not that your body is the temple of the Holy Ghost which is in you, which ye have of God, and ye are not your own? For ye are bought with a price: therefore glorify God in your body, and in your spirit, which are God's. |
| And I will ask the Father, and he will give you another Helper, to be with you forever. | And I will pray the Father, and he shall give you another Comforter, that he may abide with you for ever. |
| But the Helper, the Holy Spirit, whom the Father will send in my name, he will teach you all things and bring to your remembrance all that I have said to you. | But the Comforter, which is the Holy Ghost, whom the Father will send in my name, he shall teach you all things, and bring all things to your remembrance, whatsoever I have said unto you. |
| Do you not know that you are God's temple and that God's Spirit dwells in you? | Know ye not that ye are the temple of God, and that the Spirit of God dwelleth in you? |
| And divided tongues as of fire appeared to them and rested on each one of them. And they were all filled with the Holy Spirit and began to speak in other tongues as the Spirit gave them utterance. | And there appeared unto them cloven tongues like as of fire, and it sat upon each of them. And they were all filled with the Holy Ghost, and began to speak with other tongues, as the Spirit gave them utterance. |
| And hope does not put us to shame, because God's love has been poured into our hearts through the Holy Spirit who has been given to us. | And hope maketh not ashamed; because the love of God is shed abroad in our hearts by the Holy Ghost which is given unto us. |
| And do not grieve the Holy Spirit of God, by whom you were sealed for the day of redemption. | And grieve not the holy Spirit of God, whereby ye are sealed unto the day of redemption. |
| If you then, who are evil, know how to give good gifts to your children, how much more will the heavenly Father give the Holy Spirit to those who ask him! | If ye then, being evil, know how to give good gifts unto your children: how much more shall your heavenly Father give the Holy Spirit to them that ask him? |
| And when they had prayed, the place in which they were gathered together was shaken, and they were all filled with the Holy Spirit and continued to speak the word of God with boldness. | And when they had prayed, the place was shaken where they were assembled together; and they were all filled with the Holy Ghost, and they spake the word of God with boldness. |
| But you will receive power when the Holy Spirit has come upon you, and you will be my witnesses in Jerusalem and in all Judea and Samaria, and to the end of the earth. | But ye shall receive power, after that the Holy Ghost is come upon you: and ye shall be witnesses unto me both in Jerusalem, and in all Judaea, and in Samaria, and unto the uttermost part of the earth. |
| And I will put my Spirit within you, and cause you to walk in my statutes and be careful to obey my rules. | And I will put my spirit within you, and cause you to walk in my statutes, and ye shall keep my judgments, and do them. |
| Go therefore and make disciples of all nations, baptizing them in the name of the Father and of the Son and of the Holy Spirit, teaching them to observe all that I have commanded you. And behold, I am with you always, to the end of the age. | Go ye therefore, and teach all nations, baptizing them in the name of the Father, and of the Son, and of the Holy Ghost: Teaching them to observe all things whatsoever I have commanded you: and, lo, I am with you always, even unto the end of the world. |
| But you, beloved, building yourselves up in your most holy faith and praying in the Holy Spirit, keep yourselves in the love of God, waiting for the mercy of our Lord Jesus Christ that leads to eternal life. | But ye, beloved, building up yourselves on your most holy faith, praying in the Holy Ghost, Keep yourselves in the love of God, looking for the mercy of our Lord Jesus Christ unto eternal life. |
| For who knows a person's thoughts except the spirit of that person, which is in him? So also no one comprehends the thoughts of God except the Spirit of God. | For what man knoweth the things of a man, save the spirit of man which is in him? even so the things of God knoweth no man, but the Spirit of God. |
| Teach me to do your will, for you are my God! Let your good Spirit lead me on level ground! | Teach me to do thy will; for thou art my God: thy spirit is good; lead me into the land of uprightness. |
| And Peter said to them, "Repent and be baptized every one of you in the name of Jesus Christ for the forgiveness of your sins, and you will receive the gift of the Holy Spirit." | Then Peter said unto them, Repent, and be baptized every one of you in the name of Jesus Christ for the remission of sins, and ye shall receive the gift of the Holy Ghost. |
| And we are witnesses to these things, and so is the Holy Spirit, whom God has given to those who obey him. | And we are his witnesses of these things; and so is also the Holy Ghost, whom God hath given to them that obey him. |
| But when the Helper comes, whom I will send to you from the Father, the Spirit of truth, who proceeds from the Father, he will bear witness about me. | But when the Comforter is come, whom I will send unto you from the Father, even the Spirit of truth, which proceedeth from the Father, he shall testify of me. |
| The grace of the Lord Jesus Christ and the love of God and the fellowship of the Holy Spirit be with you all. | The grace of the Lord Jesus Christ, and the love of God, and the communion of the Holy Ghost, be with you all. Amen. |
| And when they bring you to trial and deliver you over, do not be anxious beforehand what you are to say, but say whatever is given you in that hour, for it is not you who speak, but the Holy Spirit. | But when they shall lead you, and deliver you up, take no thought beforehand what ye shall speak, neither do ye premeditate: but whatsoever shall be given you in that hour, that speak ye: for it is not ye that speak, but the Holy Ghost. |
| On hearing this, they were baptized in the name of the Lord Jesus. And when Paul had laid his hands on them, the Holy Spirit came on them, and they began speaking in tongues and prophesying. | When they heard this, they were baptized in the name of the Lord Jesus. And when Paul had laid his hands upon them, the Holy Ghost came on them; and they spake with tongues, and prophesied. |
| For no prophecy was ever produced by the will of man, but men spoke from God as they were carried along by the Holy Spirit. | For the prophecy came not in old time by the will of man: but holy men of God spake as they were moved by the Holy Ghost. |
| While they were worshiping the Lord and fasting, the Holy Spirit said, "Set apart for me Barnabas and Saul for the work to which I have called them." | As they ministered to the Lord, and fasted, the Holy Ghost said, Separate me Barnabas and Saul for the work whereunto I have called them. |
As for the rich in this present age, charge them not to be haughty, nor to set their hopes on the uncertainty of riches, but on God, who richly provides us with everything to enjoy.
Personal Bible reading plan
Create an account to configure your Bible reading plan and you will see your progress and the next chapter to read here!
Read more...