Versetti della Bibbia sul Cuore
«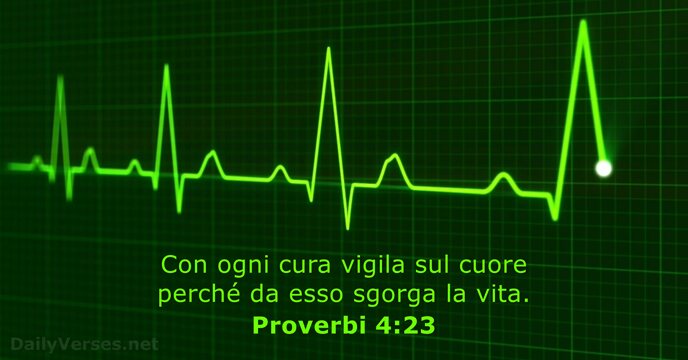 »
Con ogni cura vigila sul cuore perché da esso sgorga la vita.

Keep thy heart with all diligence; for out of it are the issues of life.

Come un volto differisce da un altro, così i cuori degli uomini differiscono fra di loro.

As in water face answereth to face, so the heart of man to man.

Più fallace di ogni altra cosa è il cuore e difficilmente guaribile; chi lo può conoscere? Io, il Signore, scruto la mente e saggio i cuori, per rendere a ciascuno secondo la sua condotta, secondo il frutto delle sue azioni.

The heart is deceitful above all things, and desperately wicked: who can know it? I the L

ord

search the heart, I try the reins, even to give every man according to his ways, and according to the fruit of his doings.

Il vostro ornamento non sia quello esteriore - capelli intrecciati, collane d'oro, sfoggio di vestiti -; cercate piuttosto di adornare l'interno del vostro cuore con un'anima incorruttibile piena di mitezza e di pace: ecco ciò che è prezioso davanti a Dio.

Whose adorning let it not be that outward adorning of plaiting the hair, and of wearing of gold, or of putting on of apparel; But let it be the hidden man of the heart, in that which is not corruptible, even the ornament of a meek and quiet spirit, which is in the sight of God of great price.

Mi cercherete e mi troverete, perché mi cercherete con tutto il cuore.

And ye shall seek me, and find me, when ye shall search for me with all your heart.

Ti conceda secondo il tuo cuore, faccia riuscire ogni tuo progetto.

Grant thee according to thine own heart, and fulfil all thy counsel.

Crea in me, o Dio, un cuore puro, rinnova in me uno spirito saldo.

Create in me a clean heart, O God; and renew a right spirit within me.

Il Signore rispose a Samuele: «Non guardare al suo aspetto né all'imponenza della sua statura. Io l'ho scartato, perché io non guardo ciò che guarda l'uomo. L'uomo guarda l'apparenza, il Signore guarda il cuore».

But the L

ord

said unto Samuel, Look not on his countenance, or on the height of his stature; because I have refused him: for the L

ord

seeth not as man seeth; for man looketh on the outward appearance, but the L

ord

looketh on the heart.

Confida nel Signore con tutto il cuore e non appoggiarti sulla tua intelligenza; in tutti i tuoi passi pensa a lui ed egli appianerà i tuoi sentieri.

Trust in the L

ord

with all thine heart; and lean not unto thine own understanding. In all thy ways acknowledge him, and he shall direct thy paths.

Bontà e fedeltà non ti abbandonino; lègale intorno al tuo collo, scrivile sulla tavola del tuo cuore, e otterrai favore e buon successo agli occhi di Dio e degli uomini.

Let not mercy and truth forsake thee: bind them about thy neck; write them upon the table of thine heart: So shalt thou find favour and good understanding in the sight of God and man.

Gli rispose: «Amerai il Signore Dio tuo con tutto il cuore, con tutta la tua anima e con tutta la tua mente.»

Jesus said unto him, Thou shalt love the Lord thy God with all thy heart, and with all thy soul, and with all thy mind.

Cerca la gioia del Signore, esaudirà i desideri del tuo cuore.

Delight thyself also in the L

ord

: and he shall give thee the desires of thine heart.

Perché là dov'è il tuo tesoro, sarà anche il tuo cuore.

For where your treasure is, there will your heart be also.

Un cuore lieto fa bene al corpo, uno spirito abbattuto inaridisce le ossa.

A merry heart doeth good like a medicine: but a broken spirit drieth the bones.

Figlio mio, non dimenticare il mio insegnamento e il tuo cuore custodisca i miei precetti, perché lunghi giorni e anni di vita e pace ti porteranno.

My son, forget not my law; but let thine heart keep my commandments: For length of days, and long life, and peace, shall they add to thee.

Ciascuno dia secondo quanto ha deciso nel suo cuore, non con tristezza né per forza, perché Dio ama chi dona con gioia.

Every man according as he purposeth in his heart, so let him give; not grudgingly, or of necessity: for God loveth a cheerful giver.

Vi darò un cuore nuovo, metterò dentro di voi uno spirito nuovo, toglierò da voi il cuore di pietra e vi darò un cuore di carne.

A new heart also will I give you, and a new spirit will I put within you: and I will take away the stony heart out of your flesh, and I will give you an heart of flesh.

L'assennato accetta i comandi, il linguacciuto va in rovina.

The wise in heart will receive commandments: but a prating fool shall fall.

Siate forti, riprendete coraggio, o voi tutti che sperate nel Signore.

Be of good courage, and he shall strengthen your heart, all ye that hope in the L

ord

.

Con tutto il cuore ti cerco: non farmi deviare dai tuoi precetti.

With my whole heart have I sought thee: O let me not wander from thy commandments.

Insegnaci a contare i nostri giorni e giungeremo alla sapienza del cuore.

So teach us to number our days, that we may apply our hearts unto wisdom.

Ti siano gradite le parole della mia bocca, davanti a te i pensieri del mio cuore. Signore, mia rupe e mio redentore.

Let the words of my mouth, and the meditation of my heart, be acceptable in thy sight, O L

ord

, my strength, and my redeemer.

Risana i cuori affranti e fascia le loro ferite.

He healeth the broken in heart, and bindeth up their wounds.

Beato chi è fedele ai suoi insegnamenti e lo cerca con tutto il cuore.

Blessed are they that keep his testimonies, and that seek him with the whole heart.

In verità vi dico: chi dicesse a questo monte: Lèvati e gettati nel mare, senza dubitare in cuor suo ma credendo che quanto dice avverrà, ciò gli sarà accordato.

For verily I say unto you, That whosoever shall say unto this mountain, Be thou removed, and be thou cast into the sea; and shall not doubt in his heart, but shall believe that those things which he saith shall come to pass; he shall have whatsoever he saith.
E tutto quello che chiederete con fede nella preghiera, lo otterrete.
Piano di lettura personale della Bibbia
Crea un account per configurare il tuo piano di lettura della Bibbia, potrai vedere i tuoi progressi e il prossimo capitolo da leggere qui!
Consigliati