«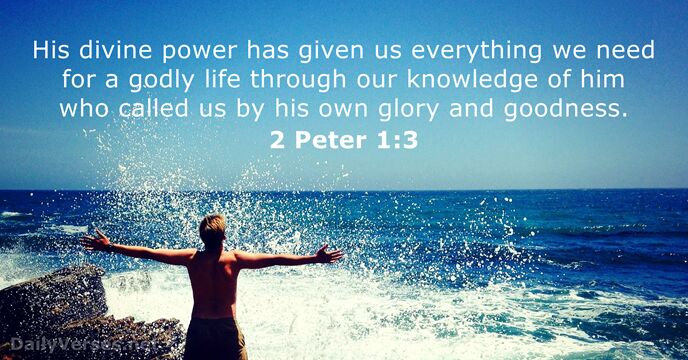 »
His divine power has given us everything we need for a godly life through our knowledge of him who called us by his own glory and goodness.

Through him all things were made; without him nothing was made that has been made.

I am torn between the two: I desire to depart and be with Christ, which is better by far; but it is more necessary for you that I remain in the body.

For whoever wants to save their life will lose it, but whoever loses their life for me and for the gospel will save it.

Therefore, since we are surrounded by such a great cloud of witnesses, let us throw off everything that hinders and the sin that so easily entangles. And let us run with perseverance the race marked out for us.

Let the wicked forsake their ways
and the unrighteous their thoughts.
Let them turn to the L

ord

, and he will have mercy on them,
and to our God, for he will freely pardon.

This is what I have observed to be good: that it is appropriate for a person to eat, to drink and to find satisfaction in their toilsome labor under the sun during the few days of life God has given them—for this is their lot.

He humbled you, causing you to hunger and then feeding you with manna, which neither you nor your ancestors had known, to teach you that man does not live on bread alone but on every word that comes from the mouth of the L

ord

.
You are to be holy to me because I, the L

ord

, am holy, and I have set you apart from the nations to be my own.

What shall we say, then? Shall we go on sinning so that grace may increase? By no means! We are those who have died to sin; how can we live in it any longer?

For whoever wants to save their life will lose it, but whoever loses their life for me will save it.

We have come to share in Christ, if indeed we hold our original conviction firmly to the very end.

Then God said, "Let us make mankind in our image, in our likeness, so that they may rule over the fish in the sea and the birds in the sky, over the livestock and all the wild animals, and over all the creatures that move along the ground."

Keep his decrees and commands, which I am giving you today, so that it may go well with you and your children after you and that you may live long in the land the L

ord

your God gives you for all time.

In fact, everyone who wants to live a godly life in Christ Jesus will be persecuted.

Then God said, "I give you every seed-bearing plant on the face of the whole earth and every tree that has fruit with seed in it. They will be yours for food."

Consider the ravens: They do not sow or reap, they have no storeroom or barn; yet God feeds them. And how much more valuable you are than birds!

Do not lie to each other, since you have taken off your old self with its practices and have put on the new self, which is being renewed in knowledge in the image of its Creator.

Just as the living Father sent me and I live because of the Father, so the one who feeds on me will live because of me.
Keep falsehood and lies far from me; give me neither poverty nor riches, but give me only my daily bread.
Personal Bible reading plan
Create an account to configure your Bible reading plan and you will see your progress and the next chapter to read here!
Read more...