Bible Verses about Money
«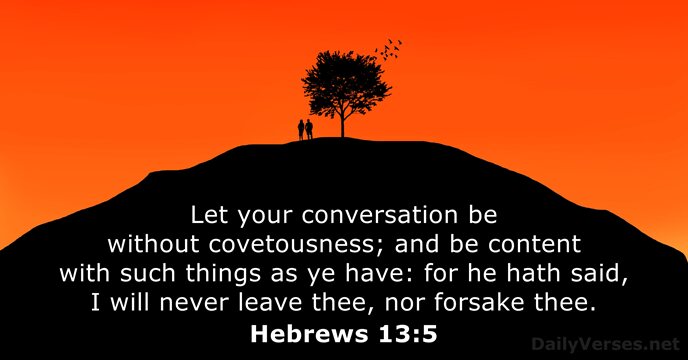 »
Let your conversation be without covetousness; and be content with such things as ye have: for he hath said, I will never leave thee, nor forsake thee.

Manténganse libres del amor al dinero, y conténtense con lo que tienen, porque Dios ha dicho: «Nunca te dejaré; jamás te abandonaré».

Wealth gotten by vanity shall be diminished: but he that gathereth by labour shall increase.

El dinero mal habido pronto se acaba; quien ahorra, poco a poco se enriquece.

But they that will be rich fall into temptation and a snare, and into many foolish and hurtful lusts, which drown men in destruction and perdition.

Los que quieren enriquecerse caen en la tentación y se vuelven esclavos de sus muchos deseos. Estos afanes insensatos y dañinos hunden a la gente en la ruina y en la destrucción.

Labour not to be rich: cease from thine own wisdom.

No te afanes acumulando riquezas; no te obsesiones con ellas.

The blessing of the L

ord

, it maketh rich, and he addeth no sorrow with it.
La bendición del S

eñor

trae riquezas, y nada se gana con preocuparse.

He that loveth silver shall not be satisfied with silver; nor he that loveth abundance with increase: this is also vanity.

Quien ama el dinero, de dinero no se sacia. Quien ama las riquezas nunca tiene suficiente. ¡También esto es absurdo!

Honour the L

ord

with thy substance, and with the firstfruits of all thine increase.
Honra al S

eñor

con tus riquezas y con los primeros frutos de tus cosechas.
Better is little with the fear of the L

ord

than great treasure and trouble therewith.
Más vale tener poco, con temor del S

eñor

, que muchas riquezas con grandes angustias.

And he said unto them, Take heed, and beware of covetousness: for a man's life consisteth not in the abundance of the things which he possesseth.

¡Tengan cuidado! —advirtió a la gente—. Absténganse de toda avaricia; la vida de una persona no depende de la abundancia de sus bienes.

For where your treasure is, there will your heart be also.

Porque donde esté tu tesoro, allí estará también tu corazón.

Render therefore to all their dues: tribute to whom tribute is due; custom to whom custom; fear to whom fear; honour to whom honour.

Paguen a cada uno lo que le corresponda: si deben impuestos, paguen los impuestos; si deben contribuciones, paguen las contribuciones; al que deban respeto, muéstrenle respeto; al que deban honor, ríndanle honor.

How much better is it to get wisdom than gold! and to get understanding rather to be chosen than silver!

Más vale adquirir sabiduría que oro; más vale adquirir inteligencia que plata.

But who am I, and what is my people, that we should be able to offer so willingly after this sort? for all things come of thee, and of thine own have we given thee.

Pero ¿quién soy yo, y quién es mi pueblo, para que podamos darte estas ofrendas voluntarias? En verdad, tú eres el dueño de todo, y lo que te hemos dado, de ti lo hemos recibido.

Charge them that are rich in this world, that they be not highminded, nor trust in uncertain riches, but in the living God, who giveth us richly all things to enjoy.

A los ricos de este mundo, mándales que no sean arrogantes ni pongan su esperanza en las riquezas, que son tan inseguras, sino en Dios, que nos provee de todo en abundancia para que lo disfrutemos.

His lord said unto him, Well done, thou good and faithful servant: thou hast been faithful over a few things, I will make thee ruler over many things: enter thou into the joy of thy lord.

Su señor le respondió: "¡Hiciste bien, siervo bueno y fiel! En lo poco has sido fiel; te pondré a cargo de mucho más. ¡Ven a compartir la felicidad de tu señor!"

Remove far from me vanity and lies: give me neither poverty nor riches; feed me with food convenient for me.

Aleja de mí la falsedad y la mentira; no me des pobreza ni riquezas, sino solo el pan de cada día.

The desire of a man is his kindness: and a poor man is better than a liar.

De todo hombre se espera lealtad. Más vale ser pobre que mentiroso.

A little that a righteous man hath is better than the riches of many wicked. For the arms of the wicked shall be broken: but the L

ord

upholdeth the righteous.
Más vale lo poco de un justo que lo mucho de innumerables malvados; porque el brazo de los impíos será quebrado, pero el S

eñor

sostendrá a los justos.

Wilt thou set thine eyes upon that which is not? for riches certainly make themselves wings; they fly away as an eagle toward heaven.

¿Acaso has podido verlas? ¡No existen! Es como si les salieran alas, pues se van volando como las águilas.

A good name is rather to be chosen than great riches, and loving favour rather than silver and gold.

Vale más la buena fama que las muchas riquezas, y más que oro y plata, la buena reputación.

For for this cause pay ye tribute also: for they are God's ministers, attending continually upon this very thing.

Por eso mismo pagan ustedes impuestos, pues las autoridades están al servicio de Dios, dedicadas precisamente a gobernar.

Treasures of wickedness profit nothing: but righteousness delivereth from death.

Las riquezas mal habidas no sirven de nada, pero la justicia libra de la muerte.

For the love of money is the root of all evil: which while some coveted after, they have erred from the faith, and pierced themselves through with many sorrows.

Porque el amor al dinero es la raíz de toda clase de males. Por codiciarlo, algunos se han desviado de la fe y se han causado muchísimos sinsabores.

Riches profit not in the day of wrath: but righteousness delivereth from death.

En el día de la ira de nada sirve ser rico, pero la justicia libra de la muerte.

The rich man's wealth is his strong city, and as an high wall in his own conceit.

Ciudad amurallada es la riqueza para el rico, y este cree que sus muros son inexpugnables.
For God hath not given us the spirit of fear; but of power, and of love, and of a sound mind.
Personal Bible reading plan
Create an account to configure your Bible reading plan and you will see your progress and the next chapter to read here!
Read more...