Bible Verses about Money
«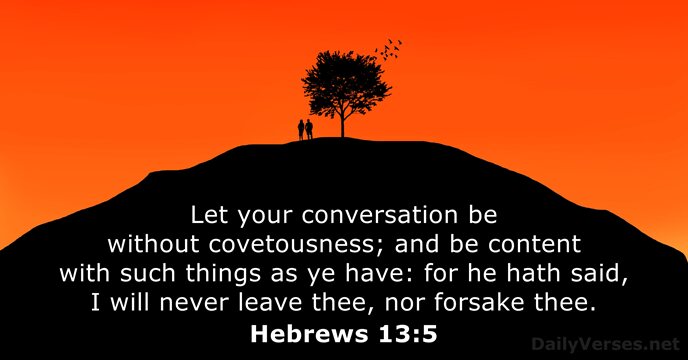 »
Let your conversation be without covetousness; and be content with such things as ye have: for he hath said, I will never leave thee, nor forsake thee.

Que votre conduite ne soit pas guidée par l'amour de l'argent, contentez-vous de ce que vous avez. En effet, Dieu lui-même a dit: Je ne te délaisserai pas et je ne t'abandonnerai pas.

Wealth gotten by vanity shall be diminished: but he that gathereth by labour shall increase.

Une fortune mal acquise diminue, mais celui qui amasse peu à peu augmente son bien.

But they that will be rich fall into temptation and a snare, and into many foolish and hurtful lusts, which drown men in destruction and perdition.

Quant à ceux qui veulent s'enrichir, ils tombent dans la tentation, dans un piège et dans une foule de désirs stupides et nuisibles qui plongent les hommes dans la ruine et provoquent leur perte.

Labour not to be rich: cease from thine own wisdom.

Ne te fatigue pas à acquérir la richesse, n'y applique pas ton intelligence.

The blessing of the L

ord

, it maketh rich, and he addeth no sorrow with it.

C'est la bénédiction de l'Eternel qui enrichit, et il ne la fait suivre d'aucun chagrin.

He that loveth silver shall not be satisfied with silver; nor he that loveth abundance with increase: this is also vanity.

Celui qui aime l'argent n'en sera jamais rassasié et celui qui aime les richesses n'en profitera pas. Cela aussi, c'est de la fumée.

Honour the L

ord

with thy substance, and with the firstfruits of all thine increase.

Honore l'Eternel avec tes biens et avec les premiers de tous tes produits!

Better is little with the fear of the L

ord

than great treasure and trouble therewith.

Mieux vaut peu avec la crainte de l'Eternel qu'un grand trésor avec le trouble.

And he said unto them, Take heed, and beware of covetousness: for a man's life consisteth not in the abundance of the things which he possesseth.

Puis il leur dit: «Gardez-vous avec soin de toute soif de posséder, car la vie d'un homme ne dépend pas de ses biens, même s'il est dans l'abondance.»

For where your treasure is, there will your heart be also.

En effet, là où est ton trésor, là aussi sera ton cœur.

Render therefore to all their dues: tribute to whom tribute is due; custom to whom custom; fear to whom fear; honour to whom honour.

Rendez à chacun ce qui lui est dû: l'impôt à qui vous devez l'impôt, la taxe à qui vous devez la taxe, le respect à qui vous devez le respect, l'honneur à qui vous devez l'honneur.

How much better is it to get wisdom than gold! and to get understanding rather to be chosen than silver!

Acquérir la sagesse vaut bien mieux que l'or, acquérir l'intelligence est préférable à l'argent.

But who am I, and what is my people, that we should be able to offer so willingly after this sort? for all things come of thee, and of thine own have we given thee.

Qui suis-je, en effet, et qui est mon peuple, pour que nous puissions te faire ces offrandes volontaires? Oui, tout vient de toi et nous recevons de ta main ce que nous t'offrons.

Charge them that are rich in this world, that they be not highminded, nor trust in uncertain riches, but in the living God, who giveth us richly all things to enjoy.

Aux riches de ce monde, ordonne de ne pas être orgueilleux et de ne pas mettre leur espérance dans des richesses incertaines, mais dans le Dieu vivant, qui nous donne tout avec abondance pour que nous en jouissions.

His lord said unto him, Well done, thou good and faithful servant: thou hast been faithful over a few things, I will make thee ruler over many things: enter thou into the joy of thy lord.

Son maître lui dit: 'C'est bien, bon et fidèle serviteur; tu as été fidèle en peu de chose, je te confierai beaucoup. Viens partager la joie de ton maître.'

Remove far from me vanity and lies: give me neither poverty nor riches; feed me with food convenient for me.

Éloigne de moi la fausseté et le mensonge, et ne me donne ni pauvreté ni richesse, mais accorde-moi le pain qui m'est nécessaire!

The desire of a man is his kindness: and a poor man is better than a liar.

Ce qui fait le charme d'un homme, c'est sa bonté. Mieux vaut un pauvre qu'un menteur.

A little that a righteous man hath is better than the riches of many wicked. For the arms of the wicked shall be broken: but the L

ord

upholdeth the righteous.

Mieux vaut le peu du juste que l'abondance de nombreux méchants, car la force des méchants sera brisée, tandis que l'Eternel soutient les justes.

Wilt thou set thine eyes upon that which is not? for riches certainly make themselves wings; they fly away as an eagle toward heaven.

Veux-tu la poursuivre du regard? La voilà disparue! En effet, la richesse se fait des ailes et, comme l'aigle, elle prend son envol vers le ciel.

A good name is rather to be chosen than great riches, and loving favour rather than silver and gold.

Une bonne réputation est préférable à de grandes richesses, et la grâce vaut mieux que l'or et l'argent.

For for this cause pay ye tribute also: for they are God's ministers, attending continually upon this very thing.

C'est aussi pour cela que vous payez des impôts, car les magistrats sont des serviteurs de Dieu qui s'appliquent entièrement à cette fonction.

Treasures of wickedness profit nothing: but righteousness delivereth from death.

Les trésors acquis par la méchanceté ne sont d'aucun profit, mais la justice délivre de la mort.

Riches profit not in the day of wrath: but righteousness delivereth from death.

Le jour de la colère, la richesse ne sert à rien: c'est la justice qui délivre de la mort.

For the love of money is the root of all evil: which while some coveted after, they have erred from the faith, and pierced themselves through with many sorrows.

L'amour de l'argent est en effet à la racine de tous les maux. En s'y livrant, certains se sont égarés loin de la foi et se sont infligé eux-mêmes bien des tourments.

The rich man's wealth is his strong city, and as an high wall in his own conceit.

La fortune du riche est sa forteresse: dans son imagination, elle est comme une haute muraille.
Be not wise in thine own eyes: fear the Lord, and depart from evil. It shall be health to thy navel, and marrow to thy bones.
Personal Bible reading plan
Create an account to configure your Bible reading plan and you will see your progress and the next chapter to read here!
Read more...