72 Bible Verses about Obedience (3/3)
«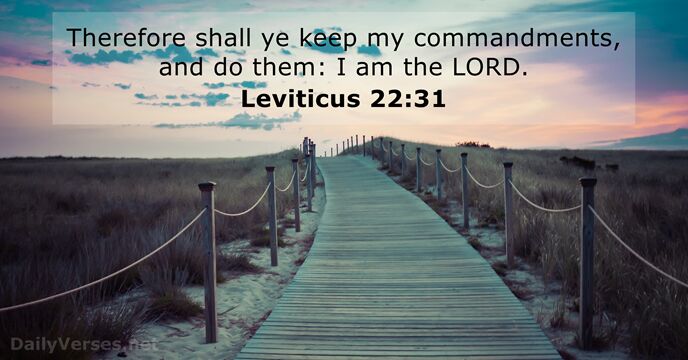 »
Therefore shall ye keep my commandments, and do them: I am the L

ord

.
But if the wicked will turn from all his sins that he hath committed, and keep all my statutes, and do that which is lawful and right, he shall surely live, he shall not die.
But I will sacrifice unto thee with the voice of thanksgiving; I will pay that that I have vowed. Salvation is of the L

ord

.
Let us labour therefore to enter into that rest, lest any man fall after the same example of unbelief.
He keepeth the paths of judgment,
and preserveth the way of his saints.
God setteth the solitary in families:
he bringeth out those which are bound with chains:
but the rebellious dwell in a dry land.
Neither have I gone back from the commandment of his lips;
I have esteemed the words of his mouth more than my necessary food.
And he said, Abba, Father, all things are possible unto thee; take away this cup from me: nevertheless not what I will, but what thou wilt.
Ye shall diligently keep the commandments of the L

ord

your God, and his testimonies, and his statutes, which he hath commanded thee.
Then Peter opened his mouth, and said, Of a truth I perceive that God is no respecter of persons: But in every nation he that feareth him, and worketh righteousness, is accepted with him.
Ye shall not add unto the word which I command you, neither shall ye diminish ought from it, that ye may keep the commandments of the L

ord

your God which I command you.
Wherefore the rather, brethren, give diligence to make your calling and election sure: for if ye do these things, ye shall never fall: For so an entrance shall be ministered unto you abundantly into the everlasting kingdom of our Lord and Saviour Jesus Christ.
If ye walk in my statutes, and keep my commandments, and do them; Then I will give you rain in due season, and the land shall yield her increase, and the trees of the field shall yield their fruit.
Therefore thou shalt keep the commandments of the L

ord

thy God, to walk in his ways, and to fear him.
O that there were such an heart in them, that they would fear me, and keep all my commandments always, that it might be well with them, and with their children for ever!
Whosoever therefore shall break one of these least commandments, and shall teach men so, he shall be called the least in the kingdom of heaven: but whosoever shall do and teach them, the same shall be called great in the kingdom of heaven.
Thou shalt keep therefore his statutes, and his commandments, which I command thee this day, that it may go well with thee, and with thy children after thee, and that thou mayest prolong thy days upon the earth, which the L

ord

thy God giveth thee, for ever.
And they continued stedfastly in the apostles' doctrine and fellowship, and in breaking of bread, and in prayers.
And I will make thy seed to multiply as the stars of heaven, and will give unto thy seed all these countries; and in thy seed shall all the nations of the earth be blessed; Because that Abraham obeyed my voice, and kept my charge, my commandments, my statutes, and my laws.
And it shall be unto you for a fringe, that ye may look upon it, and remember all the commandments of the L

ord

, and do them; and that ye seek not after your own heart and your own eyes, after which ye use to go a whoring.
Therefore say unto them, Thus saith the Lord G

od

; There shall none of my words be prolonged any more, but the word which I have spoken shall be done, saith the Lord G

od

.
And the L

ord

said unto Moses, Come up to me into the mount, and be there: and I will give thee tables of stone, and a law, and commandments which I have written; that thou mayest teach them.
Previous
1
2
3
Next
Read more
Receive the Daily Bible Verse: