«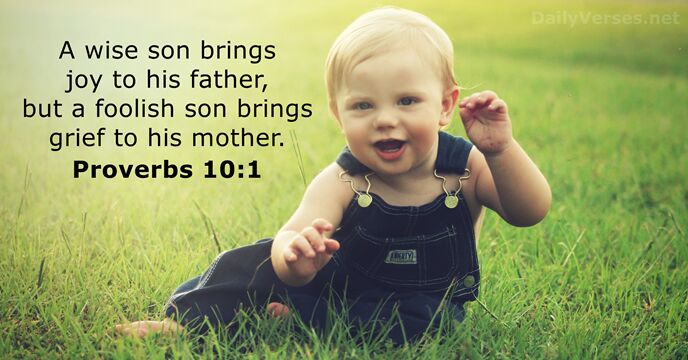 »
A wise son brings joy to his father, but a foolish son brings grief to his mother.

Viisas poika on isänsä ilo, tyhmä poika on äitinsä murhe.

Ill-gotten treasures have no lasting value, but righteousness delivers from death.

Väärintekijää eivät hänen aarteensa auta, mutta oikeamielisyys pelastaa kuolemasta.

Blessings crown the head of the righteous, but violence overwhelms the mouth of the wicked.

Hurskaalla on päänsä päällä siunaus, jumalattoman suussa piilee väkivalta.

The name of the righteous is used in blessings, but the name of the wicked will rot.

Vanhurskaan muistoa siunataan, jumalattoman nimikin maatuu.

The wise in heart accept commands, but a chattering fool comes to ruin.

Ymmärtäväinen ottaa ohjeet varteen, mutta mieletön etsii tuhoaan.

Whoever walks in integrity walks securely, but whoever takes crooked paths will be found out.

Turvassa kulkee, joka vilpittä kulkee, joka poikkeaa polulta, ei salassa pysy.

Hatred stirs up conflict, but love covers over all wrongs.

Viha ajaa ihmiset toisiaan vastaan, rakkaus peittää paljotkin rikkomukset.

Whoever heeds discipline shows the way to life, but whoever ignores correction leads others astray.

Joka taipuu kuriin, vaeltaa elämän tietä, nuhteista piittaamaton kulkee harhaan.

Whoever conceals hatred with lying lips and spreads slander is a fool.

Joka vihansa salaa, se valheita puhuu, hullu se, joka panettelee ja parjaa.

Sin is not ended by multiplying words, but the prudent hold their tongues.

Paljossa puheessa vaanii synti, viisas se, joka kielensä hillitsee.

The tongue of the righteous is choice silver, but the heart of the wicked is of little value.

Hurskaan puhe on puhtainta hopeaa, jumalattoman ajatus ei paljoa paina.

The blessing of the L

ord

brings wealth, without painful toil for it.

Herran siunaus menestyksen antaa, omin voimin sitä ei lisätä.

The prospect of the righteous is joy, but the hopes of the wicked come to nothing.

Hurskaan odotus johtaa iloon, jumalattoman toivo pettää.

The way of the L

ord

is a refuge for the blameless, but it is the ruin of those who do evil.

Herra on viattoman vahva linna, mutta väärintekijän hän murskaa.

The lips of the righteous know what finds favor, but the mouth of the wicked only what is perverse.

Hurskaan sanat ovat rakkauden sanoja, jumalattoman puhe valhetta ja vimmaa.
The Lord loves righteousness and justice; the earth is full of his unfailing love.
Personal Bible reading plan
Create an account to configure your Bible reading plan and you will see your progress and the next chapter to read here!
Read more...