Bible Verses about Purification
«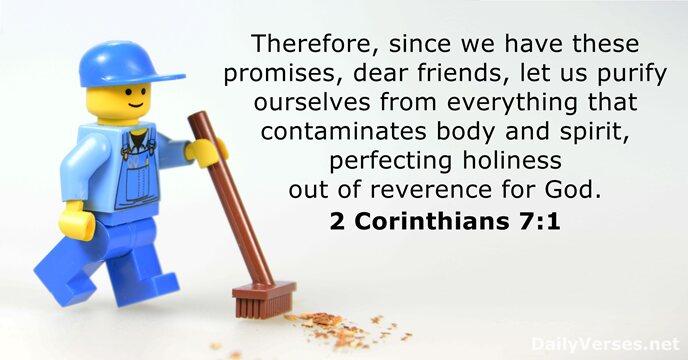 »
Therefore, since we have these promises, dear friends, let us purify ourselves from everything that contaminates body and spirit, perfecting holiness out of reverence for God.

Rakkaat ystävät! Kun kerran olemme saaneet tällaiset lupaukset, meidän tulee puhdistautua kaikesta ruumiin ja hengen saastaisuudesta ja Jumalaa peläten pyhittää elämämme kokonaan hänelle.

He went on: "What comes out of a person is what defiles them. For it is from within, out of a person's heart, that evil thoughts come—sexual immorality, theft, murder, adultery, greed, malice, deceit, lewdness, envy, slander, arrogance and folly. All these evils come from inside and defile a person."

Ja hän jatkoi: »Se mikä tulee ihmisestä ulos, se saastuttaa ihmisen. Juuri ihmisen sisältä, sydämestä, lähtevät pahat ajatukset, ja niiden mukana siveettömyys, varkaudet, murhat, aviorikokset, ahneus, häijyys, vilppi, irstaus, pahansuopuus, herjaus, ylpeys ja uhmamieli. Kaikki tämä paha tulee ihmisen sisältä ja saastuttaa hänet.»

Create in me a pure heart, O God, and renew a steadfast spirit within me.

Jumala, luo minuun puhdas sydän ja uudista minut, anna vahva henki.

Have mercy on me, O God, according to your unfailing love; according to your great compassion blot out my transgressions. Wash away all my iniquity and cleanse me from my sin.

Jumala, ole minulle armollinen hyvyydessäsi, pyyhi pois minun syntini suuren laupeutesi tähden. Pese minut puhtaaksi rikoksestani ja anna lankeemukseni anteeksi.

If we confess our sins, he is faithful and just and will forgive us our sins and purify us from all unrighteousness.

Jos me tunnustamme syntimme, niin Jumala, joka on uskollinen ja vanhurskas, antaa meille synnit anteeksi ja puhdistaa meidät kaikesta vääryydestä.

Come near to God and he will come near to you. Wash your hands, you sinners, and purify your hearts, you double-minded.

Lähestykää Jumalaa, niin hän lähestyy teitä. Puhdistakaa kätenne, synnintekijät, puhdistakaa sydämenne, te kahtaalle horjuvat!

You are already clean because of the word I have spoken to you.

Te olette jo puhtaat, sillä se sana, jonka olen teille puhunut, on puhdistanut teidät.

Wash and make yourselves clean. Take your evil deeds out of my sight; stop doing wrong.

Peseytykää, puhdistautukaa, tehkää loppu pahoista töistänne, ne ovat aina silmissäni. Lakatkaa tekemästä pahaa.

But if we walk in the light, as he is in the light, we have fellowship with one another, and the blood of Jesus, his Son, purifies us from all sin.

Mutta jos me vaellamme valossa, niin kuin hän itse on valossa, meillä on yhteys toisiimme ja Jeesuksen, hänen Poikansa, veri puhdistaa meidät kaikesta synnistä.

Dear friends, now we are children of God, and what we will be has not yet been made known. But we know that when Christ appears, we shall be like him, for we shall see him as he is. All who have this hope in him purify themselves, just as he is pure.

Rakkaat ystävät, jo nyt me olemme Jumalan lapsia, mutta vielä ei ole käynyt ilmi, mitä meistä tulee. Sen me tiedämme, että kun se käy ilmi, meistä tulee hänen kaltaisiaan, sillä me saamme nähdä hänet sellaisena kuin hän on. Jokainen, joka näin panee toivonsa häneen, pitää itsensä puhtaana, niin kuin hän on puhdas ja pyhä.

Husbands, love your wives, just as Christ loved the church and gave himself up for her to make her holy, cleansing her by the washing with water through the word.

Miehet, rakastakaa vaimoanne niin kuin Kristuskin rakasti seurakuntaa ja antoi henkensä sen puolesta pyhittääkseen sen. Hän pesi sen puhtaaksi vedellä ja sanalla.

Who gave himself for us to redeem us from all wickedness and to purify for himself a people that are his very own, eager to do what is good.

Hän antoi itsensä alttiiksi meidän puolestamme lunastaakseen meidät vapaiksi kaikesta vääryydestä ja puhdistaakseen meidät omaksi kansakseen, joka kaikin voimin tekee hyvää.

And now what are you waiting for? Get up, be baptized and wash your sins away, calling on his name.

Älä vitkastele. Huuda avuksi hänen nimeään, nouse ja anna kastaa itsesi, anna pestä syntisi pois.

How much more, then, will the blood of Christ, who through the eternal Spirit offered himself unblemished to God, cleanse our consciences from acts that lead to death, so that we may serve the living God!

Kuinka paljon paremmin puhdistaakaan Kristuksen veri! Ikuisen henkensä voimalla hän on antanut itsensä virheettömänä uhrina Jumalalle, ja hänen verensä puhdistaa meidän omantuntomme kuoleman teoista, niin että voimme palvella elävää Jumalaa.

And this water symbolizes baptism that now saves you also—not the removal of dirt from the body but the pledge of a clear conscience toward God. It saves you by the resurrection of Jesus Christ.

Tuon esikuvan mukaisesti teidät pelastaa nyt kaste, ei siksi että te siinä luovuitte saastaisesta elämästä, vaan koska Jumala teki kanssanne hyvän omantunnon liiton. Sen perustuksena on Jeesuksen Kristuksen ylösnousemus.

The Son is the radiance of God's glory and the exact representation of his being, sustaining all things by his powerful word. After he had provided purification for sins, he sat down at the right hand of the Majesty in heaven.

Poika on Jumalan sädehtivä kirkkaus, hänen olemuksensa kuva, ja hän ylläpitää kaikkea olemassa olevaa sanansa voimalla. Toimitettuaan puhdistuksen synneistä hän on asettunut korkeuksissa istuimelleen Majesteetin oikealle puolelle.

Many will be purified, made spotless and refined, but the wicked will continue to be wicked. None of the wicked will understand, but those who are wise will understand.

Monet seulotaan, sulatetaan ja puhdistetaan, mutta jumalattomat elävät jumalattomina, eikä kukaan jumalattomista ole tätä ymmärtävä. Mutta viisaat ymmärtävät.

"Come now, let us settle the matter," says the L

ord

. "Though your sins are like scarlet, they shall be as white as snow; though they are red as crimson, they shall be like wool."

– Tulkaa, selvittäkäämme miten asia on, sanoo Herra. – Vaikka teidän syntinne ovat verenpunaiset, ne tulevat valkeiksi kuin lumi. Vaikka ne ovat purppuranpunaiset, ne tulevat valkeiksi kuin puhdas villa.
For the entire law is fulfilled in keeping this one command: "Love your neighbor as yourself."
Personal Bible reading plan
Create an account to configure your Bible reading plan and you will see your progress and the next chapter to read here!
Read more...