Random Bible Verse with Picture about the Word of God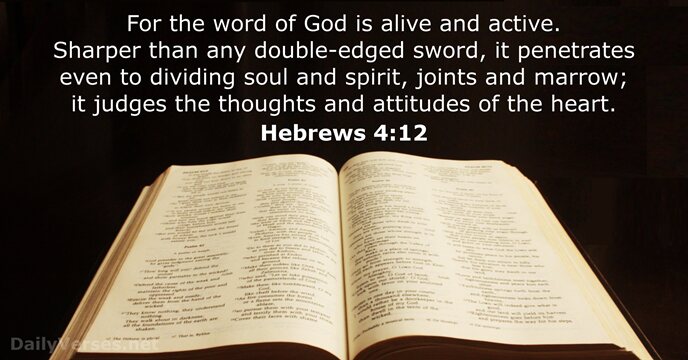 For the word of God is alive and active. Sharper than any double-edged sword, it penetrates even to dividing soul and spirit, joints and marrow; it judges the thoughts and attitudes of the heart.
King James Version (KJV)
For the word of God is quick, and powerful, and sharper than any twoedged sword, piercing even to the dividing asunder of soul and spirit, and of the joints and marrow, and is a discerner of the thoughts and intents of the heart.
English Standard Version (ESV)
For the word of God is living and active, sharper than any two-edged sword, piercing to the division of soul and of spirit, of joints and of marrow, and discerning the thoughts and intentions of the heart.
Random Picture by Topic
Explanation
Every time the page is reloaded, another inspiring Bible verse with picture is shown. Click
here
to reload the page!