Bible Verses about 'Control'
«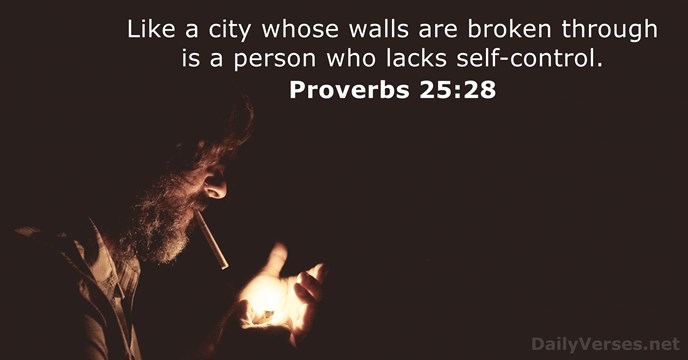 »
Like a city whose walls are broken through
is a person who lacks self-control.

For this very reason, make every effort to add to your faith goodness; and to goodness, knowledge; and to knowledge, self-control; and to self-control, perseverance; and to perseverance, godliness; and to godliness, mutual affection; and to mutual affection, love.

Better a patient person than a warrior,
one with self-control than one who takes a city.

But the fruit of the Spirit is love, joy, peace, forbearance, kindness, goodness, faithfulness, gentleness and self-control. Against such things there is no law.

Do not deprive each other except perhaps by mutual consent and for a time, so that you may devote yourselves to prayer. Then come together again so that Satan will not tempt you because of your lack of self-control.

But Scripture has locked up everything under the control of sin, so that what was promised, being given through faith in Jesus Christ, might be given to those who believe.

Everyone who competes in the games goes into strict training. They do it to get a crown that will not last, but we do it to get a crown that will last forever.

The mind governed by the flesh is death, but the mind governed by the Spirit is life and peace.

We all stumble in many ways. Anyone who is never at fault in what they say is perfect, able to keep their whole body in check.

For the Spirit God gave us does not make us timid, but gives us power, love and self-discipline.

Whoever is patient has great understanding,
but one who is quick-tempered displays folly.

Those who are in the realm of the flesh cannot please God.

Those who guard their lips preserve their lives,
but those who speak rashly will come to ruin.

For the grace of God has appeared that offers salvation to all people. It teaches us to say "No" to ungodliness and worldly passions, and to live self-controlled, upright and godly lives in this present age.

No, I strike a blow to my body and make it my slave so that after I have preached to others, I myself will not be disqualified for the prize.

"In your anger do not sin": Do not let the sun go down while you are still angry, and do not give the devil a foothold.

Therefore, with minds that are alert and fully sober, set your hope on the grace to be brought to you when Jesus Christ is revealed at his coming.

I also want the women to dress modestly, with decency and propriety, adorning themselves, not with elaborate hairstyles or gold or pearls or expensive clothes, but with good deeds, appropriate for women who profess to worship God.

Then Peter said, "Ananias, how is it that Satan has so filled your heart that you have lied to the Holy Spirit and have kept for yourself some of the money you received for the land? Didn't it belong to you before it was sold? And after it was sold, wasn't the money at your disposal? What made you think of doing such a thing? You have not lied just to human beings but to God."

The end of all things is near. Therefore be alert and of sober mind so that you may pray.

For Christ's love compels us, because we are convinced that one died for all, and therefore all died. And he died for all, that those who live should no longer live for themselves but for him who died for them and was raised again.
Commit your way to the Lord; trust in him and he will do this: He will make your righteous reward shine like the dawn, your vindication like the noonday sun.
Personal Bible reading plan
Create an account to configure your Bible reading plan and you will see your progress and the next chapter to read here!
Read more...