Bible Verses about 'King'
«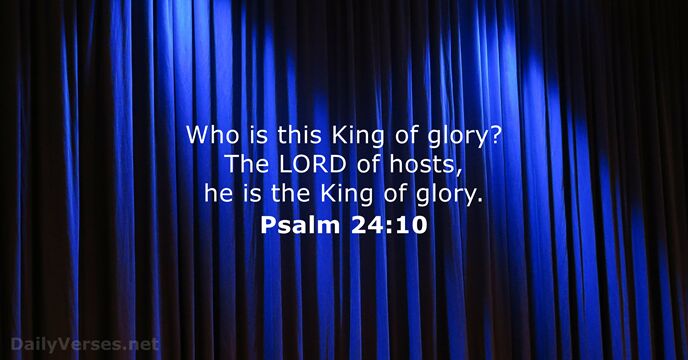 »
Who is this King of glory? The L

ord

of hosts, he is the King of glory. Selah.
Quem é este Rei da Glória? O S

enhor

dos Exércitos; ele é o Rei da Glória. (Selá)

I will extol thee, my God, O king; and I will bless thy name for ever and ever.

Eu te exaltarei, ó Deus, Rei meu, e bendirei o teu nome pelos séculos dos séculos.

And set up over his head his accusation written, This Is Jesus The King Of The Jews.

E, por cima da sua cabeça, puseram escrita a sua acusação: Este é Jesus, O Rei dos Judeus.

For the L

ord

is our judge, the L

ord

is our lawgiver, the L

ord

is our king; he will save us.
Porque o S

enhor

é o nosso Juiz; o S

enhor

é o nosso Legislador; o S

enhor

é o nosso Rei; ele nos salvará.
And the L

ord

shall be king over all the earth: in that day shall there be one L

ord

, and his name one.
E o S

enhor

será rei sobre toda a terra; naquele dia, um será o S

enhor

, e um será o seu nome.

Now unto the King eternal, immortal, invisible, the only wise God, be honour and glory for ever and ever. Amen.

Ora, ao Rei dos séculos, imortal, invisível, ao único Deus seja honra e glória para todo o sempre. Amém!

Now when Jesus was born in Bethlehem of Judaea in the days of Herod the king, behold, there came wise men from the east to Jerusalem, Saying, Where is he that is born King of the Jews? for we have seen his star in the east, and are come to worship him.

E, tendo nascido Jesus em Belém da Judeia, no tempo do rei Herodes, eis que uns magos vieram do Oriente a Jerusalém, e perguntaram: Onde está aquele que é nascido rei dos judeus? Porque vimos a sua estrela no Oriente e viemos a adorá-lo.

Now I Nebuchadnezzar praise and extol and honour the King of heaven, all whose works are truth, and his ways judgment: and those that walk in pride he is able to abase.

Agora, pois, eu, Nabucodonosor, louvo, e exalço, e glorifico ao Rei dos céus; porque todas as suas obras são verdades; e os seus caminhos, juízo, e pode humilhar aos que andam na soberba.

Rejoice greatly, O daughter of Zion; shout, O daughter of Jerusalem: behold, thy King cometh unto thee: he is just, and having salvation; lowly, and riding upon an ass, and upon a colt the foal of an ass.

Alegra-te muito, ó filha de Sião; exulta, ó filha de Jerusalém; eis que o teu rei virá a ti, justo e Salvador, pobre e montado sobre um jumento, sobre um asninho, filho de jumenta.

I thank thee, and praise thee, O thou God of my fathers, who hast given me wisdom and might, and hast made known unto me now what we desired of thee: for thou hast now made known unto us the king's matter.

Ó Deus de meus pais, eu te louvo e celebro porque me deste sabedoria e força; e, agora, me fizeste saber o que te pedimos, porque nos fizeste saber este assunto do rei.

And they stripped him, and put on him a scarlet robe. And when they had platted a crown of thorns, they put it upon his head, and a reed in his right hand: and they bowed the knee before him, and mocked him, saying, Hail, King of the Jews!

E, despindo-o, o cobriram com uma capa escarlate. E, tecendo uma coroa de espinhos, puseram-lha na cabeça e, em sua mão direita, uma cana; e, ajoelhando diante dele, o escarneciam, dizendo: Salve, Rei dos judeus!

Go, gather together all the Jews that are present in Shushan, and fast ye for me, and neither eat nor drink three days, night or day: I also and my maidens will fast likewise; and so will I go in unto the king, which is not according to the law: and if I perish, I perish.

Vai, e ajunta todos os judeus que se acharem em Susã, e jejuai por mim, e não comais nem bebais por três dias, nem de dia nem de noite, e eu e as minhas moças também assim jejuaremos; e assim irei ter com o rei, ainda que não é segundo a lei; e, perecendo, pereço.

Fear not, little flock; for it is your Father's good pleasure to give you the kingdom.

Não temas, ó pequeno rebanho, porque a vosso Pai agradou dar-vos o Reino.

The time is fulfilled, and the kingdom of God is at hand: repent ye, and believe the gospel.

O tempo está cumprido, e o Reino de Deus está próximo. Arrependei-vos e crede no evangelho.

And heal the sick that are therein, and say unto them, The kingdom of God is come nigh unto you.

E curai os enfermos que nela houver e dizei-lhes: É chegado a vós o Reino de Deus.

From that time Jesus began to preach, and to say, Repent: for the kingdom of heaven is at hand.

Desde então, começou Jesus a pregar e a dizer: Arrependei-vos, porque é chegado o Reino dos céus.

Blessed are they which are persecuted for righteousness' sake: for theirs is the kingdom of heaven.

Bem-aventurados os que sofrem perseguição por causa da justiça, porque deles é o Reino dos céus.

But seek ye first the kingdom of God, and his righteousness; and all these things shall be added unto you.

Mas buscai primeiro o Reino de Deus, e a sua justiça, e todas essas coisas vos serão acrescentadas.

Whosoever therefore shall break one of these least commandments, and shall teach men so, he shall be called the least in the kingdom of heaven: but whosoever shall do and teach them, the same shall be called great in the kingdom of heaven.

Qualquer, pois, que violar um destes menores mandamentos e assim ensinar aos homens será chamado o menor no Reino dos céus; aquele, porém, que os cumprir e ensinar será chamado grande no Reino dos céus.

But Jesus said, Suffer little children, and forbid them not, to come unto me: for of such is the kingdom of heaven.

Jesus, porém, disse: Deixai os pequeninos e não os estorveis de vir a mim, porque dos tais é o Reino dos céus.

Jesus answered and said unto him, Verily, verily, I say unto thee, Except a man be born again, he cannot see the kingdom of God.

Jesus respondeu e disse-lhe: Na verdade, na verdade te digo que aquele que não nascer de novo não pode ver o Reino de Deus.

And lead us not into temptation, but deliver us from evil: For thine is the kingdom, and the power, and the glory, for ever. Amen.

E não nos induzas à tentação, mas livra-nos do mal; porque teu é o Reino, e o poder, e a glória, para sempre. Amém!

Jesus answered, Verily, verily, I say unto thee, Except a man be born of water and of the Spirit, he cannot enter into the kingdom of God.

Jesus respondeu: Na verdade, na verdade te digo que aquele que não nascer da água e do Espírito não pode entrar no Reino de Deus.

The L

ord

our God be with us, as he was with our fathers: let him not leave us, nor forsake us.
O S

enhor

, nosso Deus, seja conosco, como foi com nossos pais; não nos desampare e não nos deixe.

And the Lord shall deliver me from every evil work, and will preserve me unto his heavenly kingdom: to whom be glory for ever and ever. Amen.

E o Senhor me livrará de toda má obra e guardar-me-á para o seu Reino celestial; a quem seja glória para todo o sempre. Amém!
Beware of false prophets, which come to you in sheep's clothing, but inwardly they are ravening wolves.
Personal Bible reading plan
Create an account to configure your Bible reading plan and you will see your progress and the next chapter to read here!
Read more...