«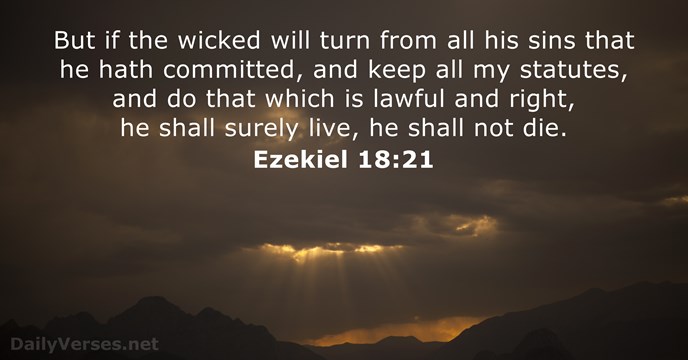 »
But if the wicked will turn from all his sins that he hath committed, and keep all my statutes, and do that which is lawful and right, he shall surely live, he shall not die.

I am the living bread which came down from heaven: if any man eat of this bread, he shall live for ever: and the bread that I will give is my flesh, which I will give for the life of the world.

Jesus said unto her, I am the resurrection, and the life: he that believeth in me, though he were dead, yet shall he live: And whosoever liveth and believeth in me shall never die. Believest thou this?

For the grace of God that bringeth salvation hath appeared to all men, Teaching us that, denying ungodliness and worldly lusts, we should live soberly, righteously, and godly, in this present world.

In that I command thee this day to love the L

ord

thy God, to walk in his ways, and to keep his commandments and his statutes and his judgments, that thou mayest live and multiply: and the L

ord

thy God shall bless thee in the land whither thou goest to possess it.

As free, and not using your liberty for a cloke of maliciousness, but as the servants of God.

Be of the same mind one toward another. Mind not high things, but condescend to men of low estate. Be not wise in your own conceits.

But to us there is but one God, the Father, of whom are all things, and we in him; and one Lord Jesus Christ, by whom are all things, and we by him.

For we walk by faith, not by sight.

Now the God of patience and consolation grant you to be likeminded one toward another according to Christ Jesus.

Likewise, ye husbands, dwell with them according to knowledge, giving honour unto the wife, as unto the weaker vessel, and as being heirs together of the grace of life; that your prayers be not hindered.

I know that there is no good in them, but for a man to rejoice, and to do good in his life. And also that every man should eat and drink, and enjoy the good of all his labour, it is the gift of God.

Behold, how good and how pleasant it is
for brethren to dwell together in unity!

For though we walk in the flesh, we do not war after the flesh.

The earth is the L

ord

's, and the fulness thereof;
the world, and they that dwell therein.

Hereby know we that we dwell in him, and he in us, because he hath given us of his Spirit.

If we say that we have fellowship with him, and walk in darkness, we lie, and do not the truth.

Honour thy father and thy mother: that thy days may be long upon the land which the L

ord

thy God giveth thee.

Follow peace with all men, and holiness, without which no man shall see the Lord.

God setteth the solitary in families:
he bringeth out those which are bound with chains:
but the rebellious dwell in a dry land.

See then that ye walk circumspectly, not as fools, but as wise, Redeeming the time, because the days are evil.

For we know that if our earthly house of this tabernacle were dissolved, we have a building of God, an house not made with hands, eternal in the heavens.

Brethren, if a man be overtaken in a fault, ye which are spiritual, restore such an one in the spirit of meekness; considering thyself, lest thou also be tempted.

For ye have not received the spirit of bondage again to fear; but ye have received the Spirit of adoption, whereby we cry, Abba, Father.

Six days shall work be done: but the seventh day is the sabbath of rest, an holy convocation; ye shall do no work therein: it is the sabbath of the L

ord

in all your dwellings.
He loveth righteousness and judgment: the earth is full of the goodness of the Lord.
Personal Bible reading plan
Create an account to configure your Bible reading plan and you will see your progress and the next chapter to read here!
Read more...