«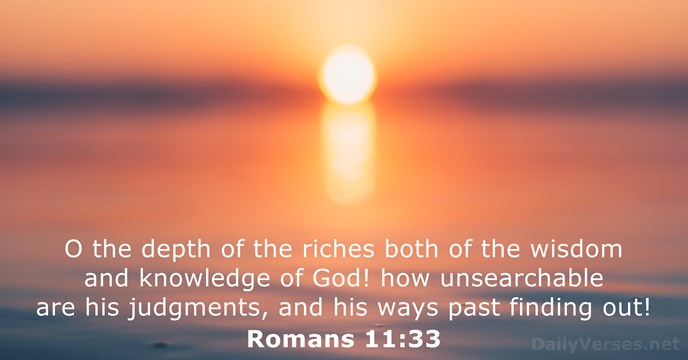 »
O the depth of the riches both of the wisdom and knowledge of God! how unsearchable are his judgments, and his ways past finding out!

For the L

ord

giveth wisdom:
out of his mouth cometh knowledge and understanding.
I stretch forth my hands unto thee:
my soul thirsteth after thee, as a thirsty land. Selah

And he led them out as far as to Bethany, and he lifted up his hands, and blessed them. And it came to pass, while he blessed them, he was parted from them, and carried up into heaven.

Ye that love the L

ord

, hate evil:
he preserveth the souls of his saints;
he delivereth them out of the hand of the wicked.

And if thy right eye offend thee, pluck it out, and cast it from thee: for it is profitable for thee that one of thy members should perish, and not that thy whole body should be cast into hell.

Ye are the salt of the earth: but if the salt have lost his savour, wherewith shall it be salted? it is thenceforth good for nothing, but to be cast out, and to be trodden under foot of men.

It is he that buildeth his stories in the heaven,
and hath founded his troop in the earth;
he that calleth for the waters of the sea,
and poureth them out upon the face of the earth:
The L

ord

is his name.

But ye are a chosen generation, a royal priesthood, an holy nation, a peculiar people; that ye should shew forth the praises of him who hath called you out of darkness into his marvellous light.

Have mercy upon me, O God,
according to thy lovingkindness:
according unto the multitude of thy tender mercies
blot out my transgressions.
Wash me throughly from mine iniquity,
and cleanse me from my sin.

The Lord knoweth how to deliver the godly out of temptations, and to reserve the unjust unto the day of judgment to be punished.

The L

ord

shall preserve thee from all evil:
he shall preserve thy soul.
The L

ord

shall preserve thy going out and thy coming in
from this time forth, and even for evermore.

He hath made every thing beautiful in his time: also he hath set the world in their heart, so that no man can find out the work that God maketh from the beginning to the end.

So shall my word be that goeth forth out of my mouth:
it shall not return unto me void,
but it shall accomplish that which I please,
and it shall prosper in the thing whereto I sent it.
In my distress I called upon the L

ord

,
and cried unto my God:
he heard my voice out of his temple,
and my cry came before him, even into his ears.

But when they saw him walking upon the sea, they supposed it had been a spirit, and cried out: For they all saw him, and were troubled. And immediately he talked with them, and saith unto them, Be of good cheer: it is I; be not afraid.

When a man hath taken a new wife, he shall not go out to war, neither shall he be charged with any business: but he shall be free at home one year, and shall cheer up his wife which he hath taken.

Blessed are ye, when men shall hate you, and when they shall separate you from their company, and shall reproach you, and cast out your name as evil, for the Son of man's sake.

A new heart also will I give you, and a new spirit will I put within you: and I will take away the stony heart out of your flesh, and I will give you an heart of flesh.

But thou, Bethlehem Ephratah, though thou be little among the thousands of Judah, yet out of thee shall he come forth unto me that is to be ruler in Israel; whose goings forth have been from of old, from everlasting.

Who is a wise man and endued with knowledge among you? let him shew out of a good conversation his works with meekness of wisdom.

A faithful witness will not lie:
but a false witness will utter lies.

While he yet spake, behold, a bright cloud overshadowed them: and behold a voice out of the cloud, which said, This is my beloved Son, in whom I am well pleased; hear ye him.

And the L

ord

said unto Satan, Behold, all that he hath is in thy power; only upon himself put not forth thine hand. So Satan went forth from the presence of the L

ord

.

Touching the Almighty, we cannot find him out: he is excellent in power, and in judgment, and in plenty of justice: he will not afflict.
Now I beseech you, brethren, by the name of our Lord Jesus Christ, that ye all speak the same thing, and that there be no divisions among you; but that ye be perfectly joined together in the same mind and in the same judgment.
Personal Bible reading plan
Create an account to configure your Bible reading plan and you will see your progress and the next chapter to read here!
Read more...