«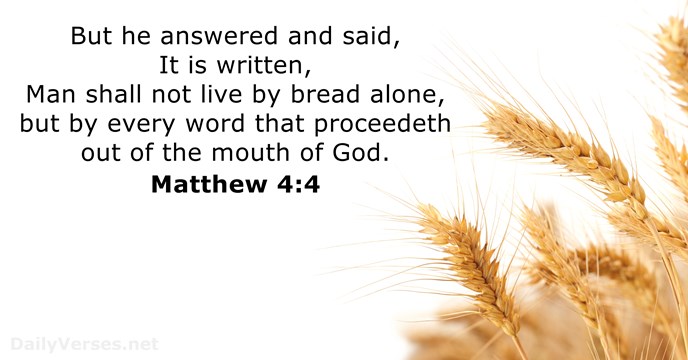 »
He sent his word, and healed them,
and delivered them from their destructions.

But he answered and said, It is written, Man shall not live by bread alone, but by every word that proceedeth out of the mouth of God.

Ah Lord G

od

! behold, thou hast made the heaven and the earth by thy great power and stretched out arm, and there is nothing too hard for thee.

And when Jesus had cried with a loud voice, he said, Father, into thy hands I commend my spirit: and having said thus, he gave up the ghost.

And the rib, which the L

ord

God had taken from man, made he a woman, and brought her unto the man. And Adam said, This is now bone of my bones, and flesh of my flesh: she shall be called Woman, because she was taken out of Man. Therefore shall a man leave his father and his mother, and shall cleave unto his wife: and they shall be one flesh.

For I know that this shall turn to my salvation through your prayer, and the supply of the Spirit of Jesus Christ.

Bring ye all the tithes into the storehouse, that there may be meat in mine house, and prove me now herewith, saith the L

ord

of hosts, if I will not open you the windows of heaven, and pour you out a blessing, that there shall not be room enough to receive it.
Blessed is the man that trusteth in the L

ord

,
and whose hope the L

ord

is.
For he shall be as a tree planted by the waters,
and that spreadeth out her roots by the river,
and shall not see when heat cometh,
but her leaf shall be green;
and shall not be careful in the year of drought,
neither shall cease from yielding fruit.

But unto you that fear my name shall the Sun of righteousness arise with healing in his wings; and ye shall go forth, and grow up as calves of the stall.

He that walketh uprightly walketh surely:
but he that perverteth his ways shall be known.

Therefore being by the right hand of God exalted, and having received of the Father the promise of the Holy Ghost, he hath shed forth this, which ye now see and hear.

Save now, I beseech thee, O L

ord

:
O L

ord

, I beseech thee, send now prosperity.
Blessed be he that cometh in the name of the L

ord

:
we have blessed you out of the house of the L

ord

.

And Joseph also went up from Galilee, out of the city of Nazareth, into Judaea, unto the city of David, which is called Bethlehem; (because he was of the house and lineage of David:) To be taxed with Mary his espoused wife, being great with child.

In the last day, that great day of the feast, Jesus stood and cried, saying, If any man thirst, let him come unto me, and drink.

Likewise also the cup after supper, saying, This cup is the new testament in my blood, which is shed for you.

And hope maketh not ashamed; because the love of God is shed abroad in our hearts by the Holy Ghost which is given unto us.

I cried unto him with my mouth,
and he was extolled with my tongue.
Rest in the L

ord

, and wait patiently for him:
fret not thyself because of him who prospereth in his way,
because of the man who bringeth wicked devices to pass.
And I will walk at liberty:
for I seek thy precepts.

This book of the law shall not depart out of thy mouth; but thou shalt meditate therein day and night, that thou mayest observe to do according to all that is written therein: for then thou shalt make thy way prosperous, and then thou shalt have good success.

Then Job arose, and rent his mantle, and shaved his head, and fell down upon the ground, and worshipped,
And said, Naked came I out of my mother's womb, and naked shall I return thither: the L

ord

gave, and the L

ord

hath taken away; blessed be the name of the L

ord

.

And he saith unto them, Follow me, and I will make you fishers of men.

Labour not to be rich:
cease from thine own wisdom.
And he humbled thee, and suffered thee to hunger, and fed thee with manna, which thou knewest not, neither did thy fathers know; that he might make thee know that man doth not live by bread only, but by every word that proceedeth out of the mouth of the L

ord

doth man live.

Now I beseech you, brethren, mark them which cause divisions and offences contrary to the doctrine which ye have learned; and avoid them.
Now I beseech you, brethren, by the name of our Lord Jesus Christ, that ye all speak the same thing, and that there be no divisions among you; but that ye be perfectly joined together in the same mind and in the same judgment.
Personal Bible reading plan
Create an account to configure your Bible reading plan and you will see your progress and the next chapter to read here!
Read more...