«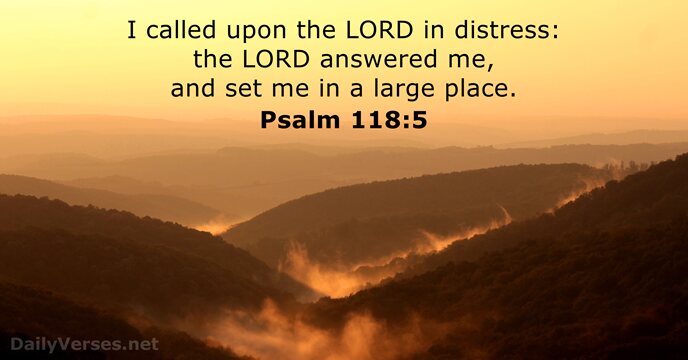 »
I called upon the L

ord

in distress:
the L

ord

answered me, and set me in a large place.
Wash you, make you clean;
put away the evil of your doings
from before mine eyes;
cease to do evil.

For the customs of the people are vain: for one cutteth a tree out of the forest, the work of the hands of the workman, with the axe. They deck it with silver and with gold; they fasten it with nails and with hammers, that it move not. They are upright as the palm tree, but speak not: they must needs be borne, because they cannot go. Be not afraid of them; for they cannot do evil, neither also is it in them to do good.

In the day of prosperity be joyful, but in the day of adversity consider: God also hath set the one over against the other, to the end that man should find nothing after him.

Look to yourselves, that we lose not those things which we have wrought, but that we receive a full reward.

The face of the L

ord

is against them that do evil,
to cut off the remembrance of them from the earth.

Let nothing be done through strife or vainglory; but in lowliness of mind let each esteem other better than themselves.

If we say that we have fellowship with him, and walk in darkness, we lie, and do not the truth.

Beware of false prophets, which come to you in sheep's clothing, but inwardly they are ravening wolves.

And I heard a great voice out of heaven saying, Behold, the tabernacle of God is with men, and he will dwell with them, and they shall be his people, and God himself shall be with them, and be their God. And God shall wipe away all tears from their eyes; and there shall be no more death, neither sorrow, nor crying, neither shall there be any more pain: for the former things are passed away.

Though an host should encamp against me,
my heart shall not fear:
though war should rise against me,
in this will I be confident.

And I saw the dead, small and great, stand before God; and the books were opened: and another book was opened, which is the book of life: and the dead were judged out of those things which were written in the books, according to their works. And the sea gave up the dead which were in it; and death and hell delivered up the dead which were in them: and they were judged every man according to their works.

Ye shall not afflict any widow, or fatherless child. If thou afflict them in any wise, and they cry at all unto me, I will surely hear their cry; And my wrath shall wax hot, and I will kill you with the sword; and your wives shall be widows, and your children fatherless.

Yet I am the L

ord

thy God from the land of Egypt, and thou shalt know no god but me: for there is no saviour beside me.

Ye are of your father the devil, and the lusts of your father ye will do. He was a murderer from the beginning, and abode not in the truth, because there is no truth in him. When he speaketh a lie, he speaketh of his own: for he is a liar, and the father of it.

And he said unto them, Take heed, and beware of covetousness: for a man's life consisteth not in the abundance of the things which he possesseth.

My son, attend to my words;
incline thine ear unto my sayings.
Let them not depart from thine eyes;
keep them in the midst of thine heart.

For ye have not received the spirit of bondage again to fear; but ye have received the Spirit of adoption, whereby we cry, Abba, Father.

Moreover if thy brother shall trespass against thee, go and tell him his fault between thee and him alone: if he shall hear thee, thou hast gained thy brother.

But when the Comforter is come, whom I will send unto you from the Father, even the Spirit of truth, which proceedeth from the Father, he shall testify of me.

Now therefore, if ye will obey my voice indeed, and keep my covenant, then ye shall be a peculiar treasure unto me above all people: for all the earth is mine.

The heavens declare the glory of God;
and the firmament sheweth his handywork.
Day unto day uttereth speech,
and night unto night sheweth knowledge.
But he knoweth the way that I take:
when he hath tried me, I shall come forth as gold.
My foot hath held his steps,
his way have I kept, and not declined.
And the multitudes that went before, and that followed, cried, saying,
Hosanna to the son of David:
Blessed is he that cometh in the name of the Lord;
Hosanna in the highest.

Having therefore these promises, dearly beloved, let us cleanse ourselves from all filthiness of the flesh and spirit, perfecting holiness in the fear of God.
Now I beseech you, brethren, by the name of our Lord Jesus Christ, that ye all speak the same thing, and that there be no divisions among you; but that ye be perfectly joined together in the same mind and in the same judgment.
Personal Bible reading plan
Create an account to configure your Bible reading plan and you will see your progress and the next chapter to read here!
Read more...