20 Bible Verses about 'Rather'
«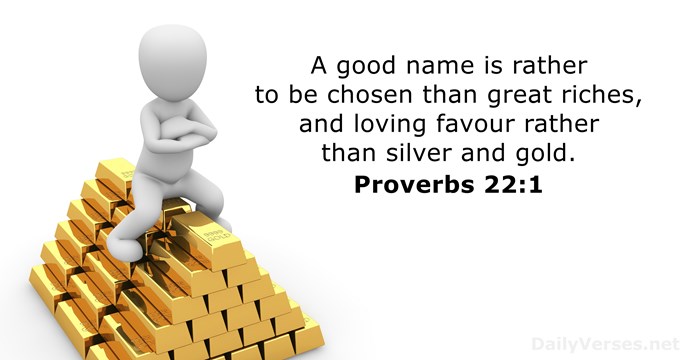 »
A good name is rather to be chosen than great riches,
and loving favour rather than silver and gold.

But he said, Yea rather, blessed are they that hear the word of God, and keep it.

How much better is it to get wisdom than gold!
and to get understanding rather to be chosen than silver!

And fear not them which kill the body, but are not able to kill the soul: but rather fear him which is able to destroy both soul and body in hell.

For a day in thy courts is better than a thousand.
I had rather be a doorkeeper in the house of my God,
than to dwell in the tents of wickedness.

Let us not therefore judge one another any more: but judge this rather, that no man put a stumblingblock or an occasion to fall in his brother's way.

Notwithstanding in this rejoice not, that the spirits are subject unto you; but rather rejoice, because your names are written in heaven.

And have no fellowship with the unfruitful works of darkness, but rather reprove them. For it is a shame even to speak of those things which are done of them in secret.

And he said unto me, My grace is sufficient for thee: for my strength is made perfect in weakness. Most gladly therefore will I rather glory in my infirmities, that the power of Christ may rest upon me.

Wherefore the rather, brethren, give diligence to make your calling and election sure: for if ye do these things, ye shall never fall: For so an entrance shall be ministered unto you abundantly into the everlasting kingdom of our Lord and Saviour Jesus Christ.

Let nothing be done through strife or vainglory; but in lowliness of mind let each esteem other better than themselves.

But speaking the truth in love, may grow up into him in all things, which is the head, even Christ.

Whose adorning let it not be that outward adorning of plaiting the hair, and of wearing of gold, or of putting on of apparel; But let it be the hidden man of the heart, in that which is not corruptible, even the ornament of a meek and quiet spirit, which is in the sight of God of great price.

Therefore by the deeds of the law there shall no flesh be justified in his sight: for by the law is the knowledge of sin.

For, brethren, ye have been called unto liberty; only use not liberty for an occasion to the flesh, but by love serve one another.

Now no chastening for the present seemeth to be joyous, but grievous: nevertheless afterward it yieldeth the peaceable fruit of righteousness unto them which are exercised thereby.

For ye have not received the spirit of bondage again to fear; but ye have received the Spirit of adoption, whereby we cry, Abba, Father.

For I say, through the grace given unto me, to every man that is among you, not to think of himself more highly than he ought to think; but to think soberly, according as God hath dealt to every man the measure of faith.

Neither yield ye your members as instruments of unrighteousness unto sin: but yield yourselves unto God, as those that are alive from the dead, and your members as instruments of righteousness unto God.

Who, being in the form of God, thought it not robbery to be equal with God: But made himself of no reputation, and took upon him the form of a servant, and was made in the likeness of men: And being found in fashion as a man, he humbled himself, and became obedient unto death, even the death of the cross.
Pleasant words are as an honeycomb,
sweet to the soul, and health to the bones.
Yea, though I walk
through the valley of the shadow of death,
I will fear no evil:
for thou art with me;
thy rod and thy staff they comfort me.
Read more
Pleasant words are as an honeycomb, sweet to the soul, and health to the bones.
Personal Bible reading plan
Create an account to configure your Bible reading plan and you will see your progress and the next chapter to read here!
Read more...