15 Bible Verses about 'Think'
«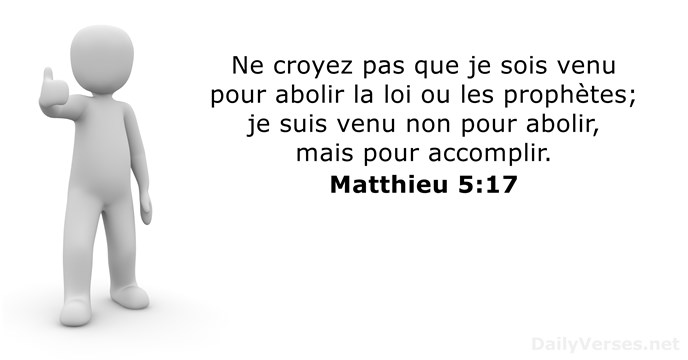 »
For I say, through the grace given to me, to everyone who is among you, not to think of himself more highly than he ought to think, but to think soberly, as God has dealt to each one a measure of faith.

Par la grâce qui m'a été donnée, je dis à chacun de vous de ne pas avoir une trop haute opinion de lui-même, mais de garder des sentiments modestes, chacun selon la mesure de foi que Dieu lui a donnée.

Do not think that I came to destroy the Law or the Prophets. I did not come to destroy but to fulfill.

Ne croyez pas que je sois venu pour abolir la loi ou les prophètes; je suis venu non pour abolir, mais pour accomplir.

And when you pray, do not use vain repetitions as the heathen do. For they think that they will be heard for their many words.

En priant, ne multipliez pas les paroles comme les membres des autres peuples: ils s'imaginent en effet qu'à force de paroles ils seront exaucés.

Or do you think that I cannot now pray to My Father, and He will provide Me with more than twelve legions of angels?

Penses-tu que je ne puisse pas faire appel à mon Père, qui me donnerait à l'instant plus de douze légions d'anges?

For I know the thoughts that I think toward you, says the L

ord

, thoughts of peace and not of evil, to give you a future and a hope.

En effet, moi, je connais les projets que je forme pour vous, déclare l'Eternel, projets de paix et non de malheur, afin de vous donner un avenir et de l'espérance.

Now to Him who is able to do exceedingly abundantly above all that we ask or think, according to the power that works in us, to Him be glory in the church by Christ Jesus to all generations, forever and ever. Amen.

A celui qui peut faire, par la puissance qui agit en nous, infiniment plus que tout ce que nous demandons ou pensons, à lui soit la gloire dans l'Eglise [et] en Jésus-Christ, pour toutes les générations, aux siècles des siècles! Amen!

I have made a covenant with my eyes; Why then should I look upon a young woman?

J'avais fait un pacte avec mes yeux. Comment aurais-je pu porter mes regards sur une jeune fille?

Finally, brethren, whatever things are true, whatever things are noble, whatever things are just, whatever things are pure, whatever things are lovely, whatever things are of good report, if there is any virtue and if there is anything praiseworthy—meditate on these things.

Enfin, frères et sœurs, portez vos pensées sur tout ce qui est vrai, tout ce qui est honorable, tout ce qui est juste, tout ce qui est pur, tout ce qui est digne d'être aimé, tout ce qui mérite l'approbation, ce qui est synonyme de qualité morale et ce qui est digne de louange.

Every way of a man is right in his own eyes, But the L

ord

weighs the hearts.

Toutes les voies d'un homme sont droites à ses yeux, mais celui qui évalue les cœurs, c'est l'Eternel.

Therefore you also be ready, for the Son of Man is coming at an hour you do not expect.

C'est pourquoi, vous aussi, tenez-vous prêts, car le Fils de l'homme viendra à l'heure où vous n'y penserez pas.

Let no one deceive himself. If anyone among you seems to be wise in this age, let him become a fool that he may become wise.

Que personne ne se trompe lui-même: si quelqu'un parmi vous pense être sage selon les critères de l'ère actuelle, qu'il devienne fou afin de devenir sage.

Love suffers long and is kind; love does not envy; love does not parade itself, is not puffed up; does not behave rudely, does not seek its own, is not provoked, thinks no evil.

L'amour est patient, il est plein de bonté; l'amour n'est pas envieux; l'amour ne se vante pas, il ne s'enfle pas d'orgueil, il ne fait rien de malhonnête, il ne cherche pas son intérêt, il ne s'irrite pas, il ne soupçonne pas le mal.

Now He was teaching in one of the synagogues on the Sabbath. And behold, there was a woman who had a spirit of infirmity eighteen years, and was bent over and could in no way raise herself up. But when Jesus saw her, He called her to Him and said to her, "Woman, you are loosed from your infirmity." And He laid His hands on her, and immediately she was made straight, and glorified God. But the ruler of the synagogue answered with indignation, because Jesus had healed on the Sabbath; and he said to the crowd, "There are six days on which men ought to work; therefore come and be healed on them, and not on the Sabbath day." The Lord then answered him and said, "Hypocrite! Does not each one of you on the Sabbath loose his ox or donkey from the stall, and lead it away to water it? So ought not this woman, being a daughter of Abraham, whom Satan has bound—think of it—for eighteen years, be loosed from this bond on the Sabbath?" And when He said these things, all His adversaries were put to shame; and all the multitude rejoiced for all the glorious things that were done by Him.

Jésus enseignait dans une des synagogues, le jour du sabbat. Or il y avait là une femme habitée par un esprit qui la rendait infirme depuis 18 ans; elle était courbée et ne pouvait pas du tout se redresser. Lorsqu'il la vit, Jésus lui adressa la parole et lui dit: «Femme, tu es délivrée de ton infirmité.» Il posa les mains sur elle; immédiatement elle se redressa, et elle se mit à célébrer la gloire de Dieu. Mais le chef de la synagogue, indigné de ce que Jésus avait fait une guérison un jour de sabbat, dit à la foule: «Il y a six jours pour travailler, venez donc vous faire guérir ces jours-là et non pas le jour du sabbat.» Le Seigneur lui répondit en ces termes: «Hypocrites! Le jour du sabbat, chacun de vous ne détache-t-il pas son bœuf ou son âne de la mangeoire pour le mener boire? Et cette femme, qui est une fille d'Abraham et que Satan tenait attachée depuis 18 ans, ne fallait-il pas la délivrer de cette chaîne le jour du sabbat?» Ces paroles remplirent de honte tous ses adversaires, et la foule entière se réjouissait de toutes les merveilles qu'il faisait.

But Peter said, "Ananias, why has Satan filled your heart to lie to the Holy Spirit and keep back part of the price of the land for yourself? While it remained, was it not your own? And after it was sold, was it not in your own control? Why have you conceived this thing in your heart? You have not lied to men but to God."

Pierre lui dit: «Ananias, pourquoi Satan a-t-il rempli ton cœur, au point que tu aies menti au Saint-Esprit et gardé une partie du prix du champ? S'il n'avait pas été vendu, ne te restait-il pas? Et, après l'avoir vendu, n'avais-tu pas le droit de disposer du prix? Comment as-tu pu former dans ton cœur un projet pareil? Ce n'est pas à des hommes que tu as menti, mais à Dieu.»

Therefore, since Christ suffered for us in the flesh, arm yourselves also with the same mind, for he who has suffered in the flesh has ceased from sin.

Ainsi donc, puisque Christ a souffert [pour nous] dans son corps, vous aussi armez-vous de la même pensée: celui qui a souffert dans son corps en a fini avec le péché.
Therefore, since Christ suffered for us in the flesh, arm yourselves also with the same mind, for he who has suffered in the flesh has ceased from sin.
If we confess our sins, He is faithful and just to forgive us our sins and to cleanse us from all unrighteousness.
Read more
Therefore, since Christ suffered for us in the flesh, arm yourselves also with the same mind, for he who has suffered in the flesh has ceased from sin.
Personal Bible reading plan
Create an account to configure your Bible reading plan and you will see your progress and the next chapter to read here!
Read more...